Stay Hydrated Ice Queen: A Winter CamelBak Review
I've never owned a hydration pack but after a few days on the slopes, I knew there had to be a better way to stay hydrated than continual trips into the lodge for a few sips of water. So I was thrilled to be able to try and now share a CamelBak Review.
CamelBak Review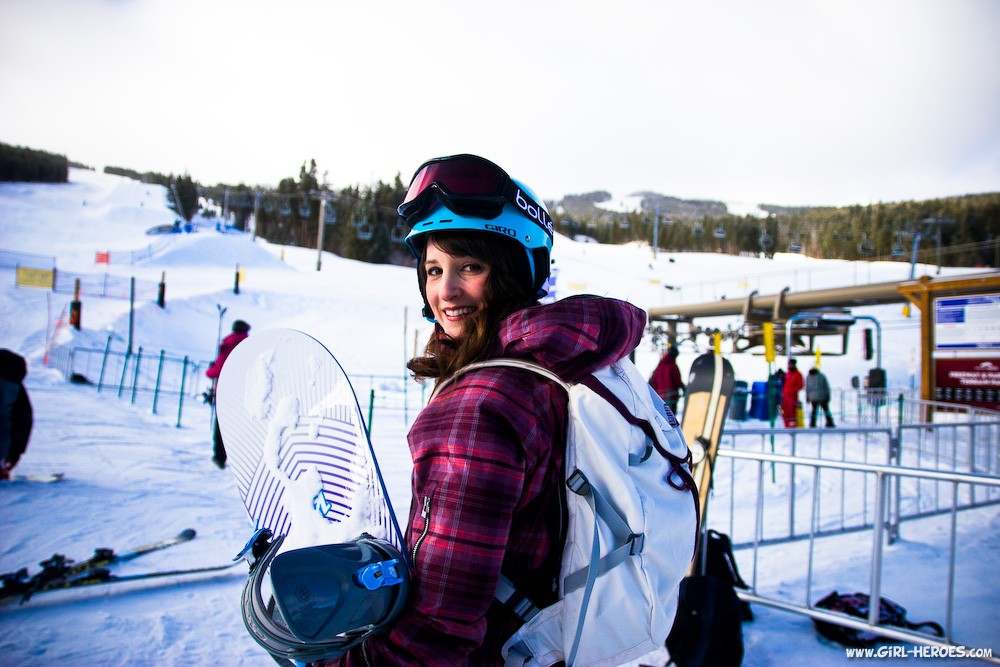 The Ice Queen CamelBak was designed for winter weather. It's a ski/snowboard hydration pack designed to keep you hydrated during cold temperatures.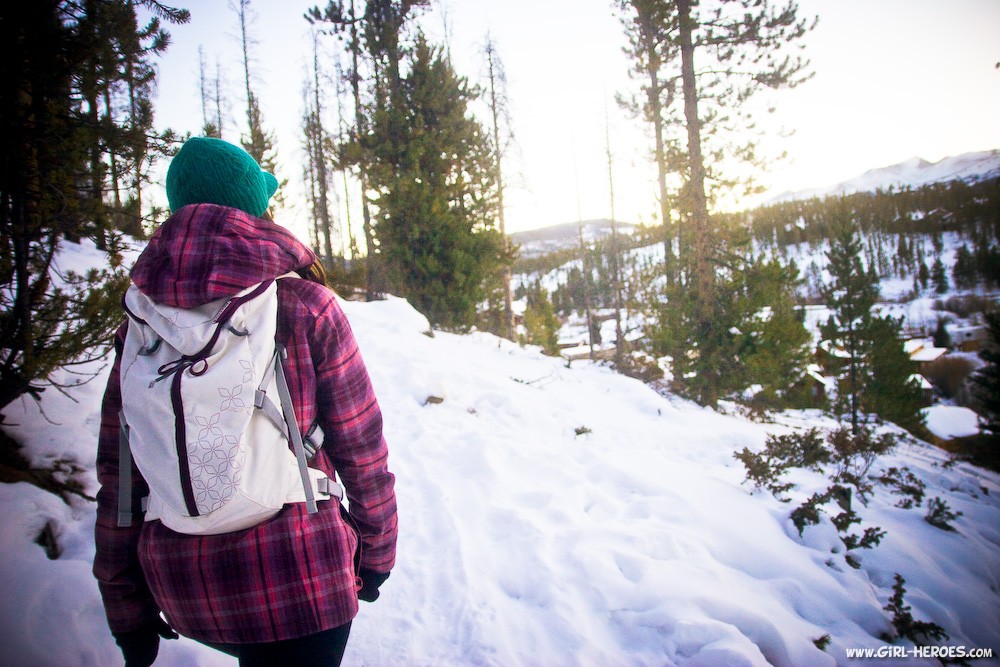 It's also been perfect for winter hiking.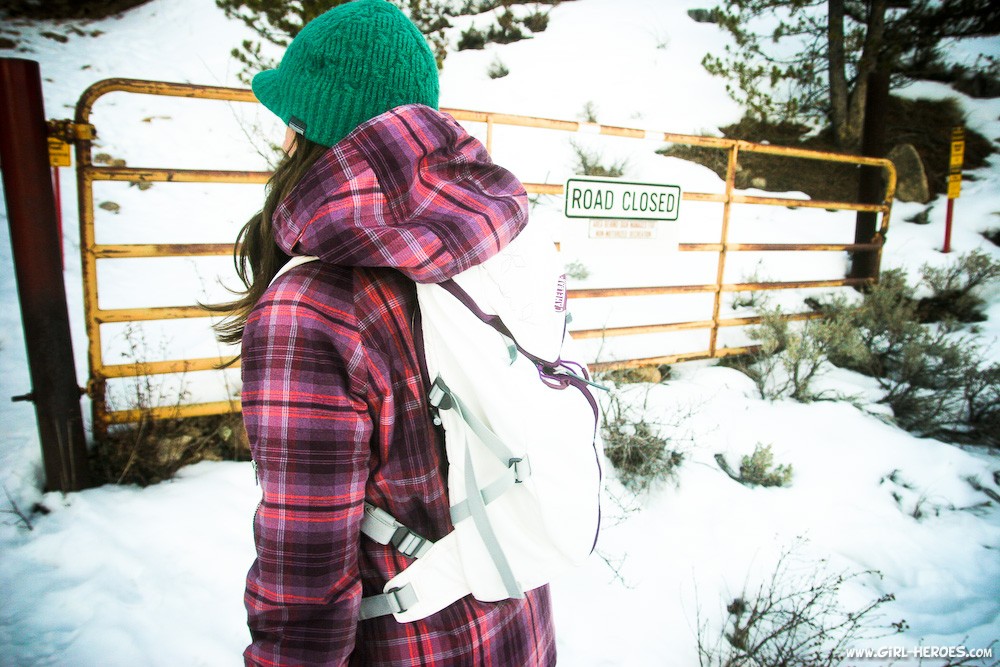 If I get lost I may become lunch for a mountain lion but at least I won't have to worry about dehydration.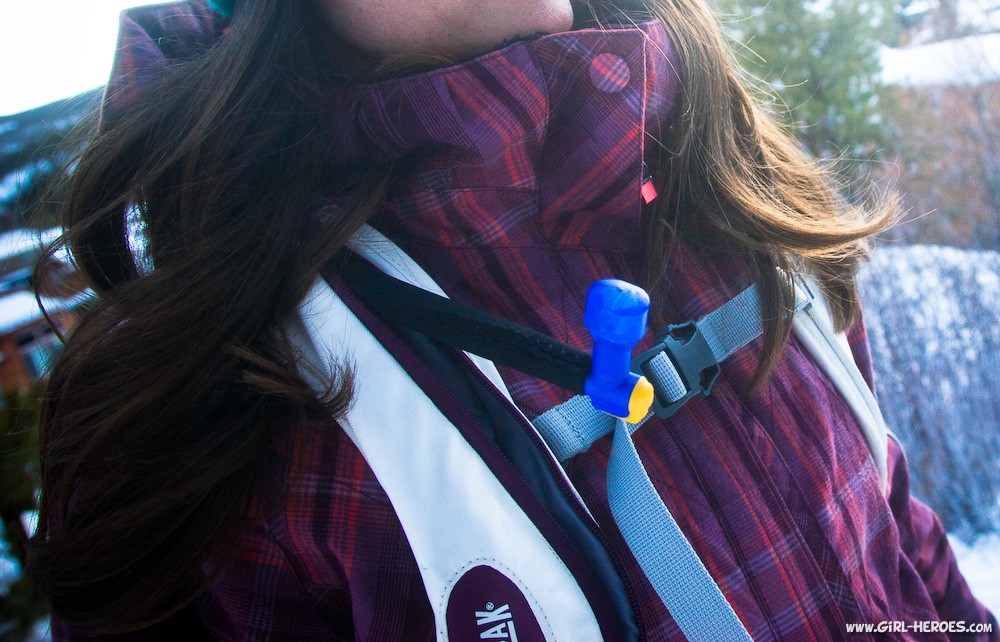 Unless you count the garden hose (or a straw), I had never drank out of a tube so I was unsure how I would feel about drinking out of Camelbak's patented Big Bite™ valve. Would it feel weird? Would would I have to suck so hard to get water that I'd pass out? Nope. You just gently bite the tube and sip like a straw. It couldn't be easier.
To insure all day hydration, the tube from the reservoir to the Big Bite™ valve is insulated  to prevent freezing and (it's a little hard to see in the picture) if you are going out on a really cold day the tube and valve can be zipped into the  shoulder strap to further prevent freezing.  So unless you are hiking in Antartica you shouldn't have any freeze ups.

(While I' haven't tried it I'm guessing the insulation may help keep water cool in the summer.)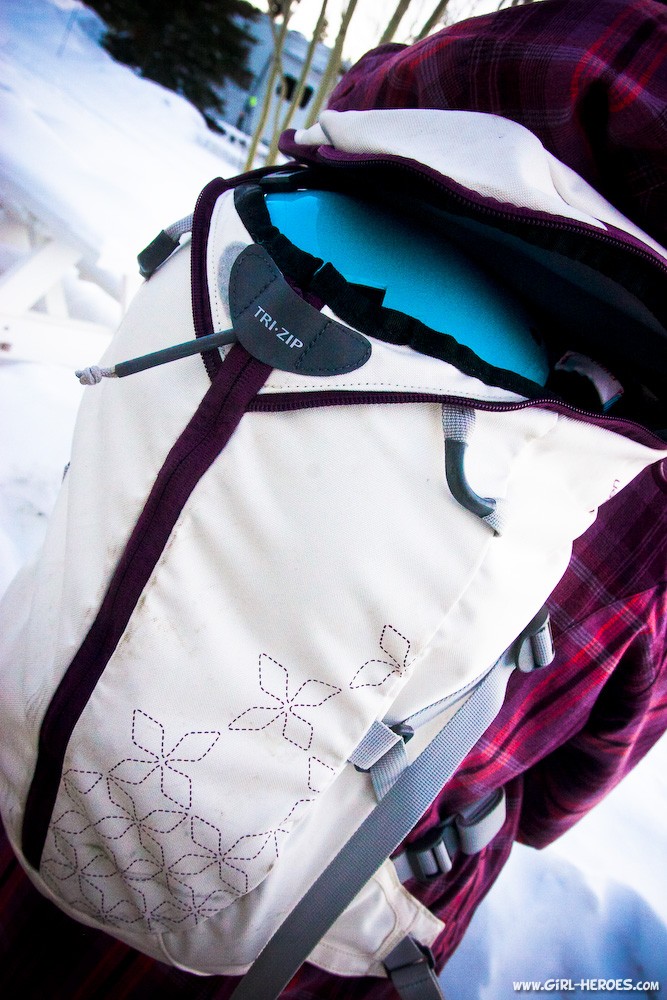 The Ice Queen CamelBak (and the men's version Snoblast) is designed to carry helmet, goggles, extra layers, lunch, phone, wallet, and keys. When I first pulled it out of the box I was a little skeptical that it could carry all that but I was wrong. As you see in the picture above my helmet fits just fine and there is plenty of room in the bottom of the pack for my other essentials: lunch, wrist guards, gloves, glove liners, hat, and keys.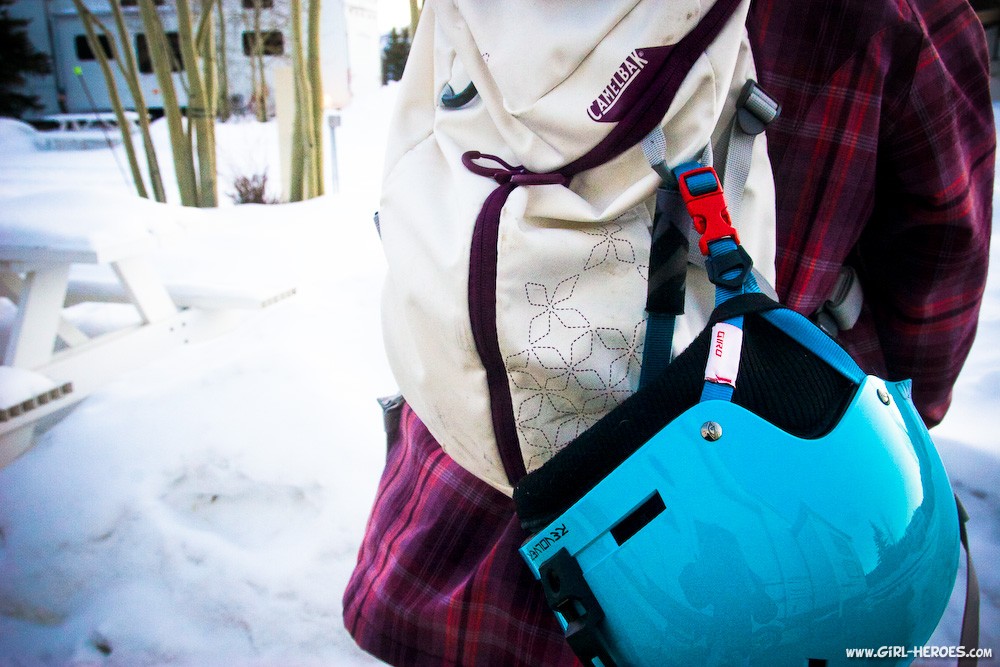 Although there is room for my helmet, I prefer to clip it to one of the lash points for convenience.
(If there is one downside to this pack it's the color. The white looks really pretty and feminine especially with the deep purple embroidery against my jacket but it's a little hard to keep clean. I recommend going with a darker color unless you just love the white.)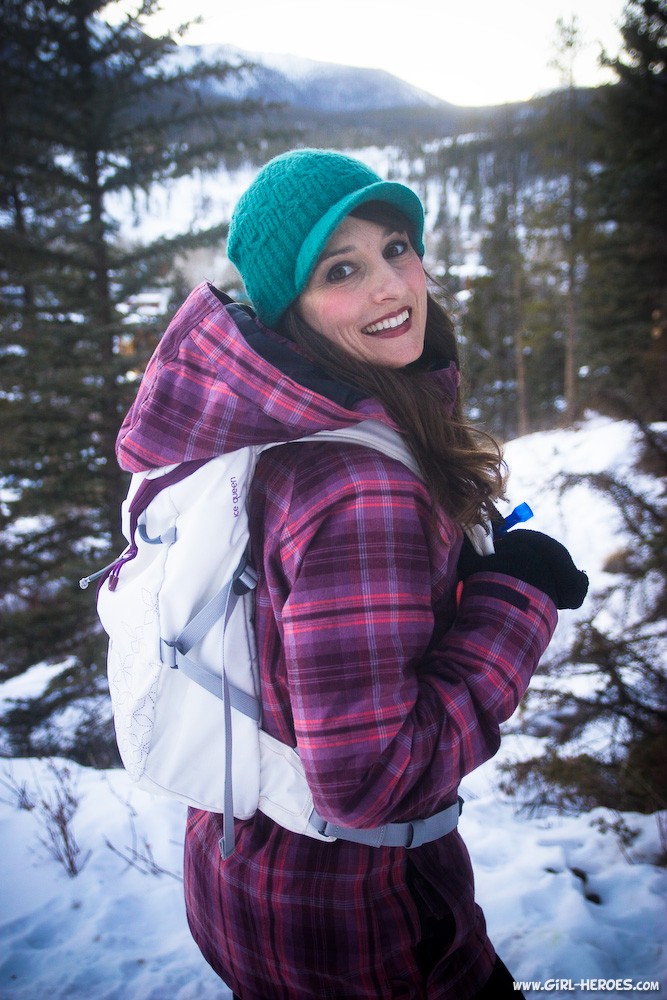 The Ice Queen CamelBack harness is specifically designed to fit women. I've worn my CamelBack for up to 7 hours on the slopes without any discomfort.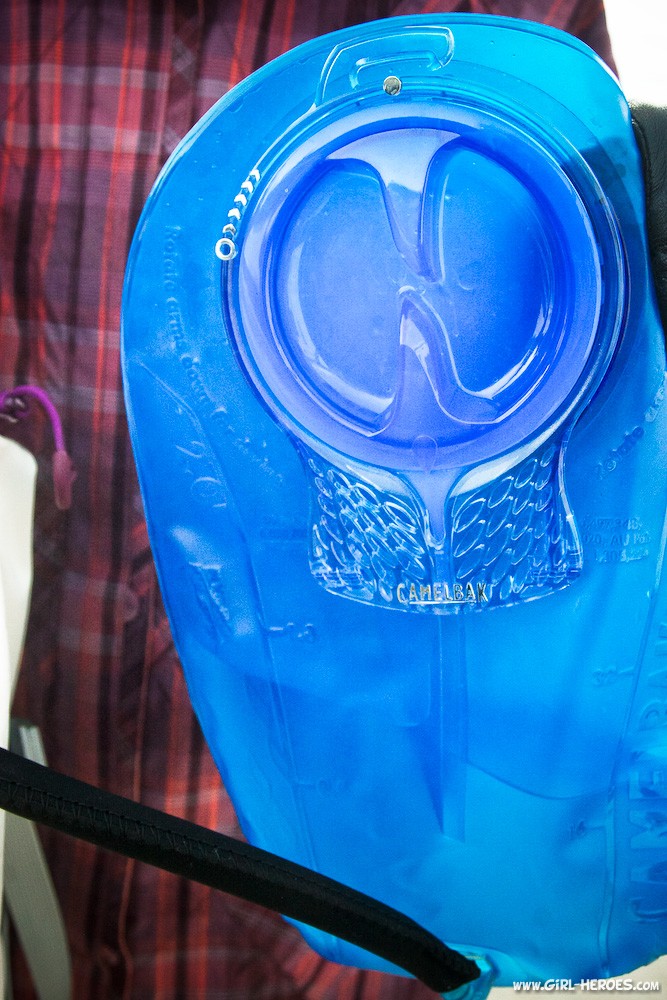 The Antidote™ reservoir is easy to fill and features a 1/4 turn – easy open/close cap.  However, the most import thing to me was that it's 100% BPA free. The second most important thing to me when looking for a winter hydration pack was finding one that didn't leak and the CamelBak Ice Queen has lived up to my expectations.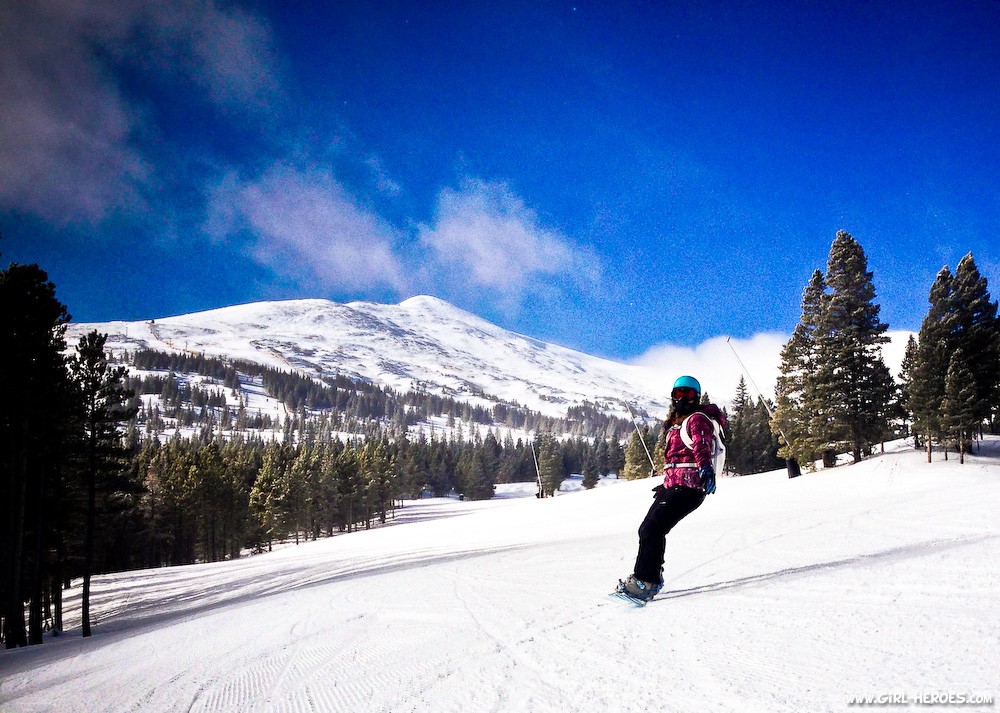 It has also held up during two months of riding. I've fallen hard on my back more than I care to admit and the reservoir shows zero signs of wear or leakage. Not only has it been durable I forget it's there while I'm on the snow. I can feel it on the lift but it's not uncomfortable by any means. In fact, on the ride up is when I'm most thankful for my CamelBak because that is when I hydrate.
Or sometimes I just sit and take in the view while having a few sips of water.
Like I said, I never owned a hydration pack before and after using the Ice Queen CamelBack for two months, I can sum up my CamelBak review in one sentence.
I'm never going back to carrying water bottles for outdoor adventures.
Not only can water bottles be cumbersome to carry around, I find myself too lazy to pull it out of my backpack. With a CamelBak there is not excuse not to stay hydrated.
As if the convenience factor of being able to stay hydrated while you play isn't enough, CamelBak also offers a lifetime "Got Your Bak™" guarantee for all reservoirs, backpacks, bottles and accessories. That is customer service I can "bak". 😉
Anyway…
Do you use a hydration pack? What's your experience? Anything to add to my CamelBack review?
Hugs and High Fives,
Jenn
Keep up with my kettlebell workouts, real food recipes, and more in one of three ways! 1. Sign up to have posts emailed to your inbox. 2. Subscribe to the RSS Feed or 3. "like" Girl Heroes on Facebook. Simple dimple!
Journey with our family on the road at Newschool Nomads as we travel fulltime in RV through the United States!
Disclosure: I was provided a Ice Queen CamelBak  for the purpose of this review.  All opinions are my own.
Pin It