Girl Hero Suzanne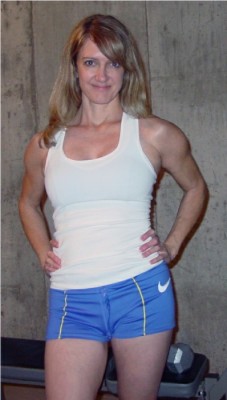 As a mom to an 8-year-old daughter, Suzanne has a laser-like focus on setting a good example and being healthy into old age. Her passion for weightlifting began over 15 years ago after teaching herself at home using a Dummies book and a couple of dumbbells. In 2002 she was in a car accident that left her in constant neck pain and fearful of reinjuring it. Slowly she regained more strength and confidence with weights along with discovering how clean eating could dramatically increase her energy and health. Suzanne started her blog Workout Nirvana in 2010, which led her to leave her job as a technical writer and become certified as a personal trainer in August of 2011. She now writes fitness articles and provides both virtual and in-studio personal training. 
Meet Girl Hero Suzanne!
1. Getting strong has clearly had an effect on your body. Has strength training changed you on the "inside" in any way?
I credit weightlifting with changing my life and I love sharing about it in my blog.  Owning your power in the weight room increases your self-confidence outside the weight room. There's something about allowing yourself to feel physically strong and capable that gives you a "bring it" attitude in life. Lifting weights makes you push your limits and continuously surprise (and please) yourself! And if you train primarily around guys in in a gym you start to own your space and be proud of your strength instead of feeling self-conscious. Weightlifting makes you feel like a badass – something we can all use when life gets us down!
2. What does a typical week of training look like for you? 
I train four to five times a week using a body-part split. Each muscle gets trained once every four to five days. My split has been legs/chest, shoulders/triceps, and back/biceps, but I'm thinking of changing that soon. Abs get trained twice a week.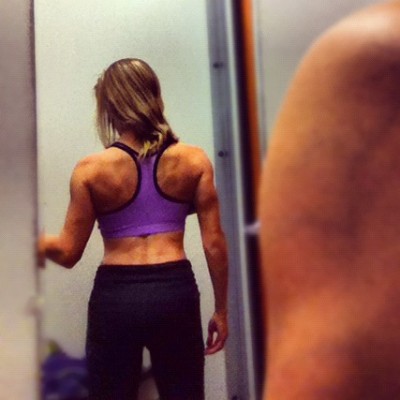 3. What motivates you?
I love weightlifting so I'm compelled to do it. I love the way it makes me look and feel. I love spending time at the gym. I love planning my workouts (and other people's). I suppose that's the typical answer from a personal trainer!
4. What do you like about being a personal trainer?
Trainers have the ability to make a profound impact on people's lives. We push clients beyond their self-imposed limits while at the same time standing nearby as steadfast support. It's a meaningful career with aweing responsibility.
 5. What is the most challenging part of being a personal trainer?
When you give someone the tools they need to succeed and they don't use them, it can be frustrating and sad. You know they'll get substandard results when they could be getting killer results that would change their life. But if someone won't follow through and show up 100% for training, there's only so much we can do.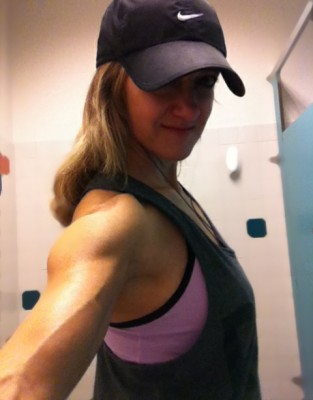 6. I know you love strength training, how do feel about cardio?
I'm not a cardio freak, haha. It's not that I hate cardio, it's just that with my weightlifting schedule I don't have time for it. Couple that with not needing to lose weight and I'm very unmotivated! However, I know I need it for cardiorespiratory health so I've started leaving 20-30 minutes for cardio before weightlifting. In the warm weather I do a lot of power walking but that doesn't increase endurance quite as well as cardio.
7. What does an average day of food look like for you?
I follow clean eating principles and write about this in my blog frequently. One of my tenets for good health is to eat the same basic foods all the time, making small changes for variety. This allows me to control my diet (and calories) quite well. I eat a big breakfast (such as Greek yogurt with toppings and oatmeal), snacks, and lunch and dinner. All meals (including snacks) include lean protein and complex carbs for energy and satiety.
8. Do you get cravings? If so how do you respond to them?
I'm proud to say I don't crave food of any kind! I quit sugar and sweets a few years ago when I adopted the clean eating lifestyle. I believe that "cheating" encourages cravings and I follow the 90/10 rule so no cheating is necessary. Ninety percent of the time I eat clean and the other 10 percent I let it go for whatever comes up – holidays, special occasions, an occasional dinner out. I feel that keeping junk out of the house and minimizing dining out makes it much easier to maintain a healthy weight.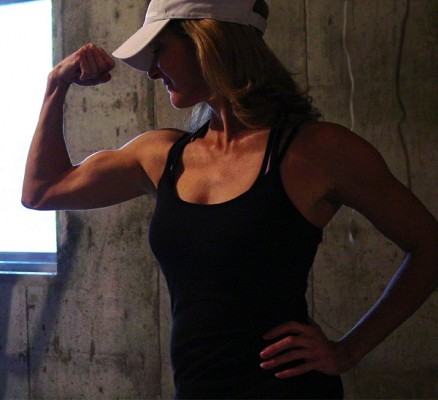 9. Any advice for new lifters? 
Practice with light weight first. Condition your body to get used to weightlifting then slowly progress. Study and focus on form, first and foremost. When you're confident your form is good then start increasing the weight – and never stop increasing it. Weightlifting works best when there's progressive overload; that is, continuously adding more resistance to stay ahead of your body's adaptations.
10. And just for fun…if you could have any superpower what would it be and why?
Ha! I'd have the ability to make anyone laugh at any time. I don't take myself very seriously and I love seeing people smile and lighten their load. I have what I like to think of as a highly honed sense of humor but sometimes it's rather dry and hard to "get." My superpower would make me funny anyway.
Thank you so much Suzanne for sharing your knowledge and life with us. I know I'm motivated to lift some iron! You are beautiful inside and out !!!!
Connect with Suzanne on Facebook, Twitter, and her blog, Workout Nirvana.
Hugs and High Fives,
Jenn
Keep up with my kettlebell workouts, real food recipes, and more in one of three ways! 1. Sign up to have posts emailed to your inbox. 2. Subscribe to the RSS Feed or 3. "like" Girl Heroes on Facebook. Simple dimple!
Journey with our family on the road at New School Nomads as we travel fulltime in RV through the United States!
Pin It