12 Ways to Really Live. Not Just Exist.
What does it mean to live? I mean really live?
I've been asking myself this question this month as we have been preparing to head west for a spot 10,000 feet above sea level where we will spend the winter snowboarding and freezing our butts off in our RV. 
It's insane.
For starters, it's stretching our budget. In order to do this, we are saying no to a lot of things we would like to say yes.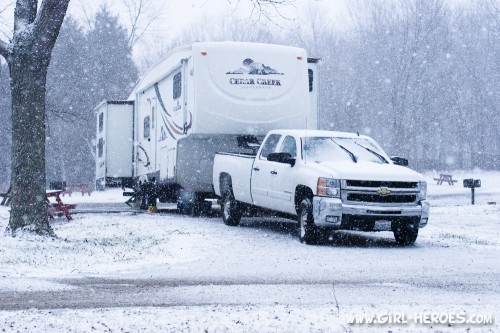 Secondly, we are going to live for three months in our 320 square foot RV with a preteen in weather where the average low is 0°. ZERO. That is insane on more than one level. Mothers of preteens will understand.
Thirdly, I don't even know how to snowboard.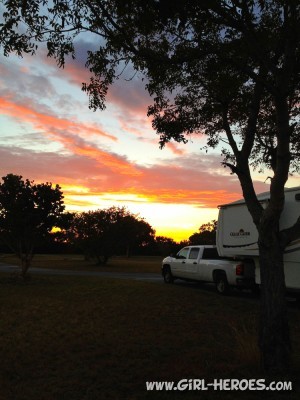 We spent last winter in Florida. It was wonderful. We swam with manatees, explored empty beaches, experienced romantic island sunsets, and canoed with alligators. We seriously considered this option again and, right now, with my little heater going full blast by my feet I'm thinking we should have considered Florida a little more seriously for this winter.
There are so many reasons why we should be going back to Floria or to our "home" in California this winter.
But if I've learned anything living on the road, it's that I want to live. Really live not just exist.
We lived a lot of our life playing it safe with Brent working in a cubicle and the boys sitting in a classroom while I wasted time on the internet took care of our household duties. Not those things are bad in and of themselves and I certainly don't want anyone who lives a traditional lifestyle to feel judged. I'm sure someday we will return to a version of that life.
But, for us, going back to Florida or California would have been playing it safe. We didn't sell our stuff and leave our comfy life in Ventura to play it safe. We left all that stuff to fill our lives with adventure and to really live.
Really living doesn't mean you have to create a mobile income, sell all your stuff, and hit the road in an RV. Although I highly recommend it.

Really living is living with intention.
Really living is focused on things that matter to you not things that the culture tells you should matter.
12 ways to live. To really live.
1. To really live,  means, for most of us, saying no to some things so you can can yes to other things when making a budget or schedule.
2. To really live, means valuing time and people over money and things.
3. To really live, means facing discomfort and challenges.
4. To really live, means learning new things or being open to new ideas. 
5. To really live, means trusting your gut instinct even if conventional "wisdom" says otherwise.
6. To really live, means developing relationships with people that stretch you.
7. To really live, means doing life and not letting life do you.
8. To really live, means sometimes taking the path less traveled or forging your own.
9. To really live, means shutting out the messages in the media that you are not enough.
10. To really live, means facing our fears and kicking them in the face.
11. To really live, means recognizing a big picture where we aren't the center.
12. To really live, means realizing we are not in complete control of our lives and going with it.
Going to the mountains in our RV for the winter is hard for a terrified control freak like myself who doesn't like the cold.
I'm terrified our heater will break and we won't be able to afford a new one.
I'm terrified of the possibility that my kids may hate me for taking them on the road like gypsies when other kids are hanging out with friends talking about the lastest pop star.
I'm terrified that I'm going to feel trapped and depressed during the long winter nights in our RV.
I'm terrified one of us is going to break a wrist or a tailbone or worse.
Yet even with all my fears lined up, aimed, and ready to fire, I'm running full speed, like Red Rover, straight into the line trusting there are invisible hands to lift us when we fall.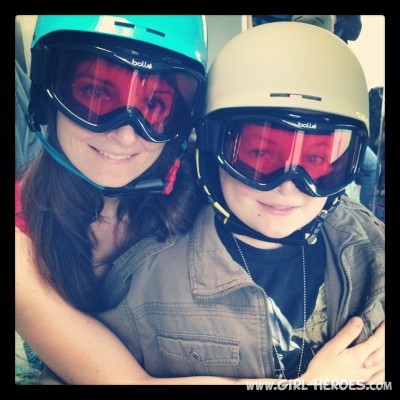 Yes, tomorrow we will pack up those snow chains, pile up the blankets, and grab our helmets to head for a new adventure in the mountains.  
Do you have irrational fears of the cold? Can you snowboard? Any tips to keep me from breaking my neck? What does it mean to you to really live?
Hugs and High Fives,
Jenn
Keep up with my kettlebell workouts, real food recipes, and more in one of three ways! 1. Sign up to have posts emailed to your inbox. 2. Subscribe to the RSS Feed or 3. "like" Girl Heroes on Facebook. Simple dimple!
Journey with our family on the road at New School Nomads as we travel fulltime in RV through the United States!
Pin It