31 Days to a Better Body: Day 27 – It's Okay to be Boring
We have many choices available in this country.
Take vaccum shopping for example. Do I want upright, cannister, robotic, bagless, windtunnel, HEPA filter, wet/dry, cordless, or handheld?  All I want is something that will consistently clean my floor.  Guess what?  Most vacuums will give me what I want…if I use it.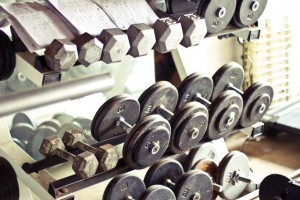 The same with strength training.
There are so many choices walk into any big box gym and you'll see rows and rows of contraptions.  Then there is the question of programming.  Do I do straight sets, drop sets, supersets, descending/ascending ladders, timed sets, speed sets, pyramids, etc.
Here's my advice pick up heavy stuff and use good form.  The only way to get stronger is to challenge your body and it doesn't have to be flashy. The truth is the flashier it is the less effective it probably is. You don't need (and, for the most part, shouldn't use) fancy machines and flashy programs. A banged up kettlebell or a rusty barbell will do.  It may not be as exciting as the shiny new program you just saw on TV but if used consistently those boring old dumbbells will work.
And success is never boring.
Hugs and High Fives,
Jenn
Check out our family's adventures at New School Nomads as we plan to take a year long road trip through the United States!
If you enjoyed this post you can follow one of three ways! 1. Subscribe to the RSS Feed 2. "like" on Facebook, or 3. Sign up to have posts emailed to your inbox. Simple dimple!
Pin It