31 Days to a Better Body: Day 18 – SMARTIE Goals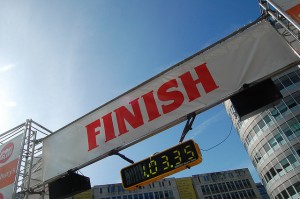 (source)
I can't even begin to tell you how important goal setting has been in my life especially in regards to maintaining my weight loss.
I've mentioned before that I naturally gravitate towards sedentary activities.  While, I've learned over the years to love exercise, I can't say I would have gotten to this place without setting goals.  Goals keep me motivated and give my workouts a greater sense of purpose.  The last three years I've done two figure competitions, trained for the RKC, and just spent a year competing in taekwondo.  Each thing, while very different, all served the same purpose – motivation.
We've heard of SMART goal setting.  I'm adding a few things to call it SMARTIE goal setting.
Specific – What specifically do you want to accomplish?  Drink more water?  Lift heavier?
Measurable – Can you measure it?  The goal to "be happy" is not only unspecific, it's also hard to measure.
Action Based  – What can you do to make it happen?
Realistic – The goal should be within reach.  I believe we should reach high and most people probably don't aim high enough but there is a difference between reaching high and ridiculous.  I have never run more than 6 miles so it's not likely I'll ever be an Olympic marathoner.  Not being a joy kill just being realistic.  Maybe I'll be an Olympic sprinter. 😉
Timely – It's helpful to have an end date.  That is what what so helpful when I trained for the figure competition.  There was a date that helped to keep me motivated.
Internal – Goals like a number on the scale or a pant size while helpful in some instances are not enough to keep me motivated long term.  I need goals that give me an internal sense of strength like being able to do pull ups or lift heavier.
Enjoyable – It's not really about the destination. I want my journey to be enjoyable.  Many times, this doesn't mean I need to stop what I'm doing.  It means I need a shift in perspective.
Speaking of goals, we have a list of family goals and tomorrow we are hopefully crossing something off after we test for out black belts.
Nervous?
YES.
I'll be soooo glad when it's over.  I'll also need to start thinking about a new goal!
Hugs and High Fives,
Jenn
Check out our family's adventures at New School Nomads as we plan to take a year long road trip through the United States!
If you enjoyed this post you can follow one of three ways! 1. Subscribe to the RSS Feed 2. "like" on Facebook, or 3. Sign up to have posts emailed to your inbox. Simple dimple!
Pin It