31 Days to a Better Body: Day 12 – Remember to Eat
Sounds silly but it's really quite common.
Life is busy and many of us have such jammed packed schedules that we can forget to eat until we are so hungry that we'd rather eat that half a box of stale crackers that's been sitting on the shelf then wait  the 20 minutes it takes to broil some salmon and make a salad.  I know.  I've been there.
Last night, in fact.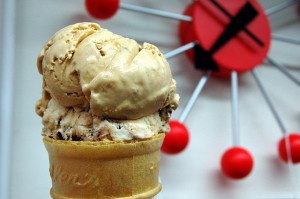 (Source)
I had been at the beach all afternoon and had not eaten a very good lunch or packed snacks.  Oooops.  On the way home, the I-need-to-eat-now feelings hit so hard I thought my stomach was turning inside out.  When I saw the frozen yogurt shop, the clouds parted and angels sang.  Can I get a hallelujah!  I ordered a chemical laced sugar free yogurt covered in nuts.  However, after a long day at the beach what I really needed was some protein and complex carbs not a strange little frozen yogurt that only fueled my hunger and triggered cravings.  As soon as I got home, I started dinner but it was too late.  I ended up eating what was easy which was a stale piece of sourdough bread, a peach, and cold rubbery oatmeal leftover from breakfast.  Had I had chips or pretzels in the house, have no doubt, that is what I would have eaten.  Unfortunately, when dinner was ready 20 minutes later I didn't eat much nor did I enjoy it because I was already full.
This is why I try to remember to eat every 2-3 hours.  It's not that there is magic in eating every 2-3 hours and it will suddenly give you the metabolism of  a thoroughbred horse. Eating every two to three hours helps most people avoid hunger and, to some extent, emotional "binges".  (I use "binge" loosely as I realize a piece of sour dough, a peach, and some oatmeal is not a real binge.)  Just like it's easier to make more nourishing choices when we are well rested it's easier to make more nourishing choices when we don't wait until we are so hungry that we want to eat everything that's not nailed down in the kitchen.
Hugs and High Fives,
Jenn
Check out our family's adventures at New School Nomads as we plan to take a year long road trip through the United States!
If you enjoyed this post you can follow one of three ways! 1. Subscribe to the RSS Feed 2. "like" on Facebook, or 3. Sign up to have posts emailed to your inbox. Simple dimple!
Pin It