How to (How I) Make Kombucha Tea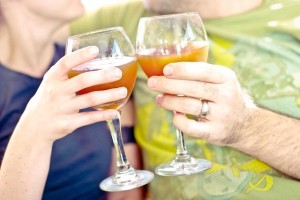 It's time for my How to How I Make series.  First off, kombucha tea!
How to How I Make Kombucha Tea
The first time I tried kombucha tea from a store bought bottle I shuddered.  Not only was a taken aback by the taste, I couldn't believe I was paying $2+  per bottle. Yikes!
Over time, I have acquired a taste for kombucha tea and now regularly enjoy it.  It  helps that I make my own which I personally think tastes much better than the store bought kombucha tea I have tried and it costs pennies. Pennies!
For a long time, I was too intimidated to make kombucha because it seemed "complicated".  Boy, was I wrong.  (Wouldn't be the first time.) It's easier than making a box of macaroni and cheese and a heck of a lot healthier.
When I first started brewing, the first thing I knew I had to acquire was a kombucha scoby, often referred to as a "mushroom".  "Scoby" stands for a Symbiotic Colony Of Bacteria and Yeast. Appetizing right?  Maybe that's why some people call it a "mushroom" even though it's not a mushroom.
There are 3 ways to get a kombucha scoby or mushroom.
1. Buy one. There are plenty of places on the internet or look on Craigslist.
2. Grow your own kombucha scoby/mushroom.  While I haven't done this, supposedly, you can grow your own scoby from a bottle of store bought kombucha tea.  Put the kombucha in a glass jar, cover with a towel, and leave it in a warm dark place until  the scoby/mushroom forms on top.  When it is about 1/4″ think it is ready to use for your own kombucha tea.  The time it takes to form varies.  A warmer climate usually results in a quicker scoby.
3. Ask on Facebook or other social media.  This is what I did and within an hour a friend from my church who I had no idea even made kombucha offered a scoby to me. Just goes to show you never know what happens behind closed doors. 😉 If a local reader ever wants one just let me know and I'm happy to pass one along.
When my friend brought me the kombucha scoby she also gave me photocopied directions.  I have since lost them but I have been following those basic directions for almost a year and have yet to have a batch go bad.
Home Brewed Kombucha
Ingredients
10 cups of filtered or bottled water (Don't use tap)
1 Cup of White sugar*
6 Tea Bags (I use black)
1 Kombucha Scoby
1 cup of Kombucha from a previous batch
Instructions
Bring the water to a boil.
Stir in the sugar and tea.
When tea returns to room temperature (I typically just let it sit over night.) pour it into a gallon sized or larger glass container, add the scoby, and cup of kombucha.

Cover container with rubber towel and rubber band.**
Let sit in a warm still place for 5-12 days. (I put mine in the top of a cabinet.) The longer it sits the more it will ferment.  A baby scabby will grow on top of the mother.  A longer ferment time mean it will be less sweet, i.e., have a more vinegary taste.***
Pour kombucha into mason jar and store in the fridge.  As you pour, you will notice the carbonation and if you are like me will experience and odd sense of completion and giddiness.

You can separate the baby scoby from the mother by peeling them apart.  Now you have two scobies and can make two batches, reunite them in one batch, give or throw one away.
*Kombucha is the only thing I'll use white sugar for because of the fermenting process there is not a lot of sugar left when the kombucha is ready.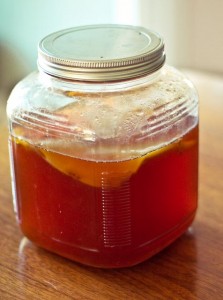 ** Despite what most directions say you can actually cover it with a lid and it will still ferment.  I know this because I one day I accidentally screwed on the lid in place of the towel and got a really delicious brew. I suspect because there was less oxygen for it to ferment.  I wrote Cultures for Health asking them if I could brew kombucha with a lid and they kindly wrote me back saying, "An air tight lid is fine—as you discovered the kombucha will brew up nicely.  The reason we don't recommend it is that during the fermentation process a considerable amount of gas builds and when you go to remove the lid, there's a significant danger of the lid flying off and causing injury to the face.  There's also a chance of the kombucha spraying everywhere.  A towel over the lid though and downward pressure and complete control of the lid during opening can negate those issues though."  So there you go, use a lid at your own risk.  I have since gone back to using towels just to be on the safe side.
***I've noticed that 5-10 days seem to be the ideal length of fermentation for me.  If it's cooler I let it ferment longer or shorter if it's warmerl. The few times I have let it ferment 10+ days it has been too vinegary for my taste and reminds me of apple cider vinegar.
A few more things to keep in mind.
1. Alway wash your hands to avoid contamination.
2. Use clean towels.  (I know 1 and 2 are so "duh".  Really, I know you're smart but I feel like I need to say it anyway.)
3. Use a clean glass container.  Metal and plastic can supposedly cause some problems for the scoby.
4. Some people say you shouldn't clean the utensils with regular dishsoap and tap water.  I do and haven't had a problem.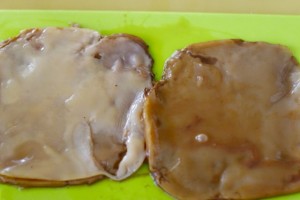 5. Scobies can vary in appearance from batch to batch.  Both of the above scobies are healthy.  While I've never had it happen they can mold so keep an out for a funky smell or weird spots.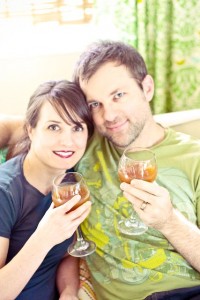 So why even drink kombucha tea?  I can only speak for myself but I drink it for a few reasons variety, the health benefits, and if you serve it in a wine glass and try hard enough it can even feel romantic.
There is a long list of health claims for kombucha tea but very few studies if any (I couldn't find them if they exist.) to back them up.  Like most of my food choices, I go with my gut feeling. Figuratively and literally. My gut tells me that if people have been drinking this for hundreds of years for good health then there must be something to it.  Literally, my gut tells me it needs a healthy dose of probiotics to function at its best.  Kombucha is an easy, tasty, and inexpensive way to get some of these healthy little living organisms. Plus one of my friends (whose is not a nut job)  told me a story of his grandma who had breast cancer and started following a traditional food diet and brewing kombucha.  The cancer disappeared without any treatment.  I just don't see and reason not to drink it when there is a myriad of potential benefits including improved immune system, protection against cancer, and eternal youth. (I'm being facetious with the eternal youth but one can hope.)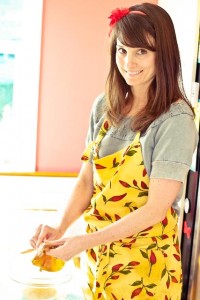 As far as any sort of risk that may be associated with kombucha tea, I'm not worried about it.  At all.  Personally, I think I'm taking a bigger risk when I occasionally pass through a drive up window than when I pour myself a little glass of homemade kombucha.
Do you drink or make kombucha tea?  Any advice?  Did I leave something out?  Know of any studies relating to Kombucha?
Hugs and High Fives,
Jenn
Check out our family's adventures at New School Nomads as we plan to take a year long road trip through the United States!
If you enjoyed this post you can follow one of three ways! 1. subscribing to the RSS Feed 2. "liking" on Facebook, or 3.  Sign up to have posts emailed to your inbox. Simple dimple!
Pin It