FFF Challenge Update and Plans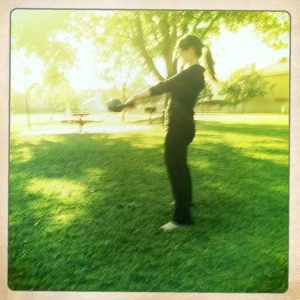 It's Sunday night Monday morning which means I better get on this week's fitness and meal plans.
Last week, was crazy busy.   Between it being our boy's last week of school, helping Brent with a big video project, training my clients, and my best friend was in town from Austin, I hardly had time to breath much less blog.  I managed to get in most of my workouts even if I had to improvise.  I only get to see my best friend every few years so I'm not sweating a missed workouts. No put intended. 😉 However, this week I plan to get in all my workouts as planned.
Monday – Full Body Strength Training + Walk + Stretching
Tuesday – Taekwondo  + Walk + Stretching
Wednesday – Full Body Strength Training + Walk +  Stretching
Thursday – Taekwondo + Walk +  Stretching
Friday – Full Body Strength Training+ Walk + Stretching
Saturday – Walk + Stretching
Sunday – Walk + Stretching
Strength training will consist of kettlebells, bodyweight and suspension training exercises.  I'm still working on those pistols and pull ups.  Along with my regular workouts I'm going to focus on walking more.  I'm shooting for 10,000 steps a day.   Then there is the extra stretching.  My best friend's husband is a physical therapist and he gave me exercises for my tight psoas and hamstring.  (I have lower back pain from a tight psoas and I pulled my hamstring last fall.)
Meal Plan
Monday – I Can't Believe They are Collard Patties
Tuesday – Beef Broccoli
Wednesday – Going out with Brent
Thursday – Crock Pot Chicken
Friday – Soup using Chicken Broth from previous nights dinner.
Saturday –  BBQ at friends (I'm taking this quinoa salad)
Sunday – Lentil Sloppy Joes
Well I'm heading out the door to teach my kettlebell class this morning.  I do have more interesting posts for later this week but since I'm working on my Fit(ter) for the Fourth challenge I wanted to get this out there.  Posting my plans helps me to stay accountable.

If you want to read something a bit more interesting, I posted more pictures from my trip to Baltimore for Fitbloggin'.
Hugs and High Fives,
Jenn
Pin It