Fit(ter) for the Fourth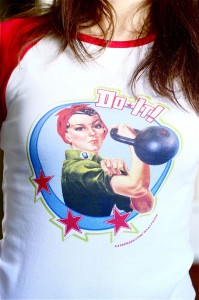 A few weeks ago, I talked about  "the cobbler's children have no shoes" syndrome", i.e., I've been finding it difficult to make time for my own workouts.
Then, I read this post by Alwyn Cosgrove.  (He and his wife Rachel have written some of the BEST stuff about fitness out there.)  While I don't agree about the 4th of July being judgement day, (Yuck…as if we women need that sort of pressure.) I do like, periodically, giving myself challenges within a set timeframe. Alwyns's advice about 4-6 days a week of full body metabolic and interval training is spot on.  I've been working out like this for 3 years.  It was how I lost my initial weight and how I've mostly maintained.
Except as of late, I haven't been maintaining quite like I desire.  I'm not out of shape by any means but I would like to be a little stronger and have a little more definition, i.e. a bit leaner, for summer.
To top it off, I read Mizfit's FitAfterFitbloggin' post poem and I want to play too!
So I'm joining Miz by doing my own 4 week Fit(ter) for the Fourth challenge.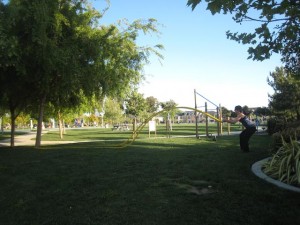 For the next 4 weeks I will do four things to get fit(er) for the fourth.
1. I will do 2-3 full body resistance workouts a week using kettlebells, bodyweight, and my suspension trainer.
2. I will do 2-3 interval based cardio sessions a week consisting of sparring, sprinting, heavy bag work (kicking and punching my bag), heavy ropes, or kettlebells.  (I need variety when it comes to card work.)
3. I will be mindful of mindless munching, i.e., eating an entire meal while I'm cooking dinner.  Gets me all time!
4. I will also be mindful of  when I eat my starches by planning to eat  starches around workouts.  For me, this is a very simple change that always works.  It helps me build strength and lean out.
My goals for the next 4 weeks are
1. Multiple consecutive pull ups from a dead hang.
2. Improve my pistol squat.
3. Improve my endurance.
4. Reduce my body fat by a few percent. Nothing major. (Guesstimating by clothing fit will have to do b/c I don't want to take the time to do actual measurements and the scale is not very accurate.)
My workout plan for this week is
Monday – Minute Full Body Kettlebell Workout – Done
Tuesday – Rope/Kettlebell Intervals
Wednesday – Full Body Workout
Thursday – Sparring Class
Friday – Full Body Workout
Saturday – Rest
Sunday – Rest
I haven't made my weekly meal plan yet.  I'll update later.
That's it.  Nothing extreme.  Just a few weeks to focus on consistency because if I've learned anything it's that, no matter how cliché it sounds, consistency not perfection is key when it comes to getting (and maintaining) fit.  Add an intense (and safe), not long workout plan with real food nutrition and it's hard not to see and feel results.
Lastly, thank you so much for checking out my new site, Newschool Nomads!  Just to clarify, we aren't taking off for about 4-6 months.  We haven't even bought our RV but I wanted a place to talk about simplifying life and share the process anyone who might be insane interested in taking off on the road.
Hugs and High Fives,
Jenn
If you enjoyed this post please Subscribe to the RSS Feed
or
Sign up to have posts emailed to your inbox.
Pin It