Simple Sweet Potato Chips Save the Day
How and why (far more important) to make sweet potato chips.
PMS, which I like to refer to as Present Monster Syndrome, presents a set of challenges almost every month not the least of which are the cravings.  C.R.A.V.I.N.G.S.  Cravings, if not managed, will leave unwanted additions to my thighs every month and over time, left unchecked, I could be right back where I started.  No thanks.  So how do I manage to mostly maintain my weight when the monster comes a clawing?
Plan.
Plan. Plan.
Plan. Plan. Plan.
This weekend, I made a few batches of sweet potato chips in my dehydrator to get ready to fight beast.  Love these chips because they are easy, healthy, and satisfying when all I really want to do is eat my weight in Cheetos.  Just being honest.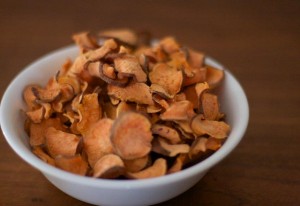 It seems most people will tell you need a mandoline to slice the potatoes.  While I'm sure this results in lovely uniform slices that would feed my OCD, I'm trying to simplify my life which means the less stuff the better.  I also saw a video where someone suggested slicing the potatoes into nice little strips with a peeler after you peeled them.  I'd be able to to the grocery store and back 3 times with a party sized bag of Funyuns (Yeah I used to eat those back in the day, don't judge.) before that got done.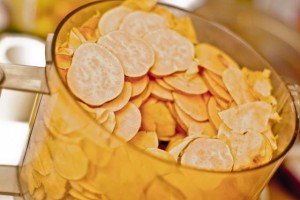 1. I opted to forgo the peeling altogether and ran those puppies through the food processor.  (Hmmm…something about that sentence just sounds wrong.)  It took about 3 minutes to slice a few pounds of potatoes.  Being the rebel I am, I even used a 4mm instead (that's the only kind I own) of a 1 or 2 mm blade and it worked fine.  Just don't press too hard or at all on the potatoes to keep the slices on the thinner side.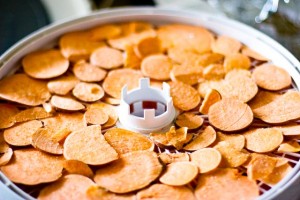 2. Next, I laid the slices neatly for the picture, the rest I threw on the dehydrator tray, sprayed them with olive oil, sprinkled on sea salt, and turned the dehydrator to about 140º.  (While I've never done it, I've heard an oven can be used in place of a dehydrator if the temperature is able to be set low.) Despite the "do not to overlap pieces" directions on my dehydrator, I've found that since the potato slices shrink so quickly they can be overlapped (saving time) and they still dry out evenly.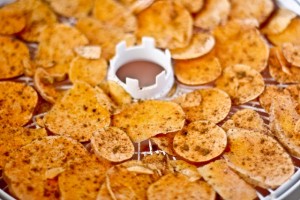 3. On the second batch I added some cinnamon.  Cinnamon has been linked to lowering blood sugar thus reducing the glycemic index.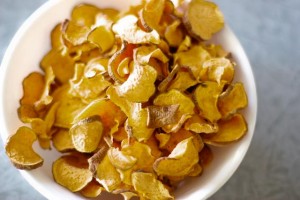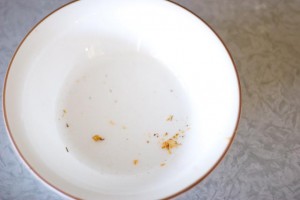 4.  A few minutes hours later.
Has anyone successfully made sweet potato chips in the oven?  Do you get cravings? What do you do about them?
Hugs and High Fives,
Jenn
If you enjoyed this post please Subscribe to the RSS Feed.
or
Sign up to have posts emailed to your inbox.
Pin It