Girl Hero Lori
"Beauty is a radiance that originates from within and comes from inner security and strong character." – Jane Seymor
There are few things quite as lovely as inner beauty and spend some time on Lori' blog, Finding Radiance, you'll quickly see she posseses an abundance of it.  Lori has taken quite the journey and her determination to lose 115 pounds is nothing short of inspirational. Lori has been married to her husband, John, for 14 years and they have a 4-legged child. She works from home as a medical transcriptionist. Lori loves to garden and during the summer she updates her readers weekly with what has been blooming.  A woman of a million hobbies, Lori makes soap, roasts her own coffee, and is learning classical guitar.
Girl Hero Lori
=
What was your catalyst for change?  Was there a defining moment or was it a gradual change?
I think that when you are overweight, you always are thinking about weight and weight loss.  At least I did.  I was always so conscious of being overweight for most of my life.  You just can't hide an extra 100 pounds, no matter which way you turn for pictures or how baggy your shirts are.  When I actually saw 250 on the scale, it scared me.  I could just envision the scale going up and up and never stopping.  While that was a defining moment for me, it did take me a while to actually make much progress.
How does your lifestyle before compare to your lifestyle now?
My lifestyle is really different.  I never would have thought I would enjoy running (ever!!!) and I eat brussel sprouts now.  Sometimes I wonder who this lady is. My husband and I plan physical activities on Saturdays now, which usually is a really long bike ride (and we often reward ourselves with a cupcake).  It's funny because way back, I would never have envisioned that this would be a lifestyle that I would enjoy.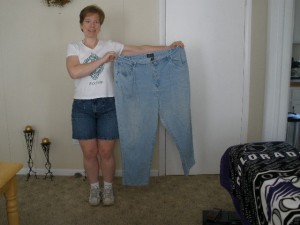 You've tried a few different weight loss programs?  Are there any that come to mind that were particularly useful or you learned something particularly valuable?
I have done a lot of programs.  I don't think there is anyone who is/was very overweight who hasn't tried them all!  LOL!  I did Weight Watchers for a long time, but then hit a looooooong plateau (months).  It was because I wasn't eating enough.  I also did Nutrisystem.  I know a lot of people knock programs like that, but I needed to stop thinking about food for a while and just eat what I was supposed to.  Losing a lot of weight is an exhausting process mentally and the same tools that worked at first may not work 6 months later.  So, I did NS for 6 months.  One thing that I really picked out from that program was that every meal and snack included protein.  That is a very satisfying way to eat.  That is something that I pretty much do to this day.
I read on your blog that you don't eat much sugar.  Why not?  Was it hard to come to that place?
Well, I do eat sugar.  What I don't eat are processed sugars for the most part.  When I want something sweet, I want it to be a good cupcake or good chocolate and not some 100-calorie snack pack that is very unmemorable.
About 5 years ago, I read a book (when I hit 250 pounds) called "The Sugar Addict's Recovery Program" and realized that I was addicted to white things and sugar.  Not kidding.  It really is an addiction.  I slowly eliminated processed foods and actually went totally no sugar for a bit, including a pumpkin pie made without sweetener (which we will never mention again).  The hardest thing for me was removing the sugar from my coffee.  I always had that sweetened.   That took a lot of getting used to.
The benefit to doing this was that I learned what real food tastes like.  My tongue was so numbed by sugar and processed foods that I really didn't notice what went into my mouth.  I learned that milk has a natural sweetness to it and fruit makes an amazing dessert.  I also was able to discriminate the different natural flavors of varietal coffees and have learned to appreciate those.  These are things that I would have scoffed at in the past.
I began adding more things back into my diet as treats and learned what my tolerance level is for having sugar without it setting off huge cravings or binges for me.  Not that I don't cross that line from time to time (hello holidays), but I do so knowingly.  I still do not sweeten my coffee or lattes.
You say this on your blog "about" page, "I feel like I now have the complete puzzle put together on the best type of eating for me! I can eat this way for the rest of my life, and have learned that if I really want something – I should make room for it. I definitely don't like feeling deprived and would eat it anyway, so why not plan for it and really, really enjoy it?" I love this and couldn't agree more!  Any advice for planning?  Or how do you do it?
Eating for me has become so habitual.  I think advice for planning is to practice.  Yes, it takes time at first and it will feel like a real chore.  Maybe just start with planning your breakfasts for the week and really getting those down.  Then start planning lunches, too.  It helps when you have certain staple meals that you can rotate in for those days when you don't want to think too hard. 😉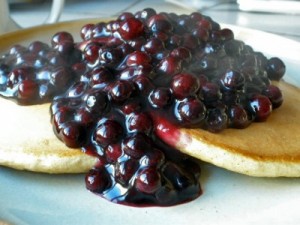 What is one of your favorite "go to" recipes?
Well…I will give you 2 of my very favorite recipes.  I love my protein pancake/waffle recipe.
I also love custard style oats, which I give a tutorial on here:
Can you tell breakfast is my favorite meal of the day?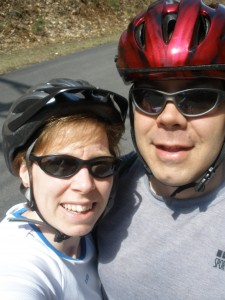 What part did exercise play in your weight loss?
Exercise played an enormous role in weight loss, but even more in maintaining the loss.  I like to eat.  So, I need to exercise to help offset some of that.  I also learned that I could eat more by building more muscle!
Have you always loved being active or was it something that you learned to love?
I do love the exercise that I do now.  I used to dislike any exercise a lot.  Being very overweight, it just was hard to do.  I used to think that I had to go all out for exercise (like go from nothing to running miles).  It wasn't until I realized that I could actually start slow and progress that I finally found things I like to do.  With that said, I don't love all exercise, though.   I found some things that I just don't enjoy – yoga and kickboxing come to mind.  I thought I had to do those things and kept trying them, but really, what's the point if you aren't enjoying it?
What does a typical week of exercise look like for you?
I strength train full body 3 days a week.  I do cardio on other days, either running or biking.  I try to take 1 or 2 days off each week for rest days.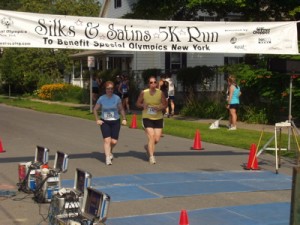 I know you've run races.  How many?
Officially, I have done 1 triathlon, 1 duathlon, 1 metric century bike ride, and 14 5Ks since I started running in 2008.  My husband and I also created a couple of our own events that we did (a 100-mile bike ride and a home duathlon).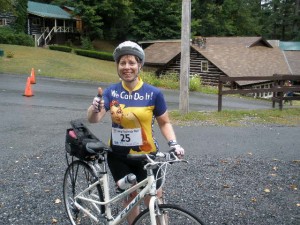 What was it like to do a triathalon?  How long did you train?  Any advice for those who might be interested but don't know where to start?
The triathlon was really amazing to me.  I cried when I finished, which surprised the heck out of me (and my husband!) It was never something that I thought I would want to do, so it was such a strange idea to have pop into my head.  I was already biking and running, so the swim was just something to practice.  There are many training programs out there for triathlons.  You basically just need to work on each event at least once a week.  Swimming was my very weakest area (and still is).  So, I spent more time with that.
One tip for training for something like this is to practice the transitions.  It feels really, really weird to hop off the bike and start running.  The more you practice that, the more used to that feeling you get.
I have learned that I just don't like swimming that much, so I definitely prefer the duathlon format, which is run/bike/run!
How long have you been blogging?
I have blogged off and on since 2005, but kind of left the blog for a bit, then came back the last few years with really regular blogging.  It has evolved a lot.  I used to have several blogs, one for weight loss, one for fitness, and one for food.  Then I had the brilliant idea to combine them into one, saving myself a lot of time LOL!
What's the story behind the title of your blog "Finding Radiance"?
There was a phrase in the Sugar Addict's Recovery book about the 7 steps involved in giving up sugar and getting your life back.  The last step was something about finding radiance.  I just loved that turn of phrase because it really means loving yourself and finding the joy in life that shines through from the inside out.  Getting thin won't make you happy.  Running marathons won't make you happy.  You have to be happy inside and speak kindly to yourself and that will radiate outwards and make the rest of your life that much more enjoyable.  That's how I want to live my life.
Beautiful!  Thank you so much, Lori, for sharing a part of your life with us.  You are clearly a Girl Hero!
If you haven't already, please go check out Lori's blog, Finding Radiance.
Hugs and High Fives,
Jenn
If you enjoyed this post please Subscribe to the RSS Feed.
or
Sign up to have posts emailed to your inbox.
Pin It