Creamy Artichoke Dip
Just because I can't make cookies don't eat many sweets around the holidays doesn't mean I don't indulge.   Oh no.
This is one of my favorite indulgences.  Not just because it taste so good but it couldn't be any easier to make.  Me procrastinate?
Brent has been making this dip as an appetizer for special occasions since we met.  I have no idea where the recipe originated.   A friend gave him the recipe and I've since passed it on to friends.  I've yet to hear a complaint.  In fact, more than once it's been the hit of the party.  Yeah it's really really good.  Just look at the ingredients list and your jeans will get tighter you'll see why.  I love it and every once in a while it's so worth it.  However, if you just can't bear the thought of that much creamy goodness check out my sun dried tomato artichoke dip with a fraction of the calories.  It's a good everyday dip but for special occasions go with this one.
Trust me.
Creamy Artichoke Dip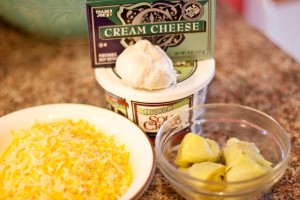 2 Cups Shredded Cheddar Cheese (Mozzarella is good too but stringy.)
1 Cup Sour Cream
4 oz Cream Cheese
1/2 Can (about 1/2 cup) of Artichokes (coarsely chopped)
2 Cloves of Garlic (pressed)
1. Preheat overn to 350°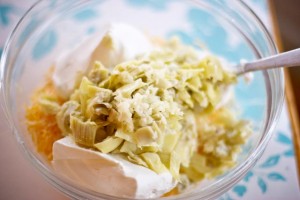 2. Mix all the ingredients in a bowl.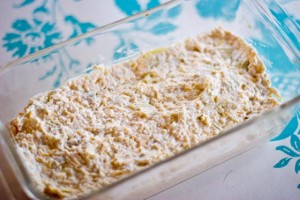 3. Put mixture into a baking dish (if you are classy like me a bread pan)and bake for 25 minutes until everything is melted through.  (If it's a larger group,I double the ingredients and use a 9×9 baking dish.)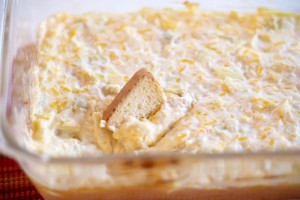 Serve with bread or mini-toast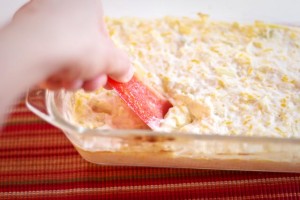 Or veggies.  Red bell peppers are really good.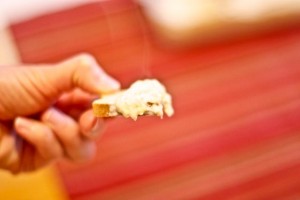 Or mini toast.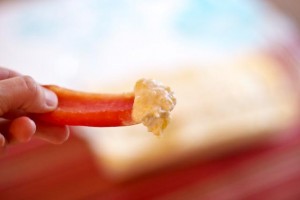 Or bell peppers.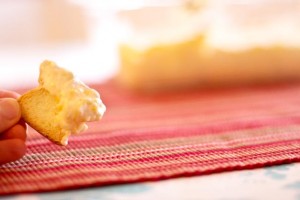 Or mini toast.
What is your favorite holiday indulgence?
Hugs and High Fives,
Jenn
If you enjoyed this post please Subscribe to the RSS Feed.
or
Sign up to have posts emailed to your inbox.
Pin It