Persimmon Pancakes and More
Did you know there are two types of persimmons?  I didn't until a few weeks ago when my husband saw that one of our friends on Facebook had gotten more persimmons than she could use from her CSA.  Brent quickly commented telling her how much I looooove persimmons and a few hours later we had a big bag of persimmons on our counter.  Excited, I pulled one out and noticed it was of a different shape.  Interesting.
CHOMP.
AAAACK PUUUHEY!!!!  I was being poisoned.  My mouth felt like it was turning inside out.
Google to the rescue.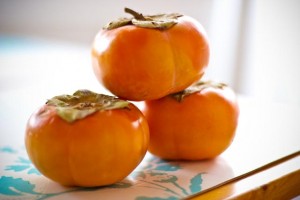 Fuyu Persimmon
As it turns out there are two kinds of persimmons, Fuyu and Hachiya.  Fuyu is squatty and looks sort of like a tomato. They can be eaten firm or soft.  I like them firm and sliced across their "equator"  so I can look at the pretty star before devouring them.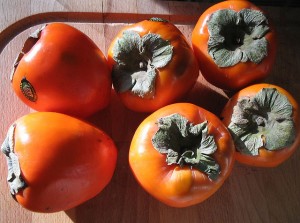 (source)
Hachiya Persimmon
Hachiya persimmons look like acorns and, despite their taste when unripe, cannot be used to poison people.  Hachiya persimmons take some patience as you have to wait until they are really soft to lose the astringent quality therefore becoming edible.  Once they are squishy scoop the insides out and purée it to use in cakes, cookies, or, as in our case, pancakes and ice cream.
Persimmon Pudding* Pancakes
2 Cups of Whole Wheat Flour
2 Cups of Filtered Water
2 Tbs Whey
1 Cup of Hachiya Persimmon Purée
1 Tbs Maple Syrup
2 Eggs
1 Tbs Melted Butter
1/2 Tsp Sea Salt
1 Tsp Baking Soda
1. Soak the flour in the water and whey overnight.
(This neutralizes phytic acid allowing for better mineral absorption and easier digestion.)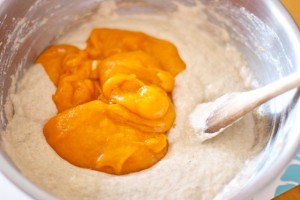 2. Add rest of the ingredient. Slowly add water until batter is thinned out a bit.
3.  Pour batter onto a hot greased skillet making sure to spread batter out thin to help reduce cooking time.
4. Top with maple syrup and chopped Fuyu persimmons.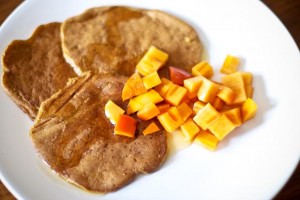 *I called these Persimmon Pudding Pancakes for a reason.  Now matter how long I cooked them they were still squishy on the inside.  I'm not sure if this was result of soaking the flour or adding the persimmon purée.  I don't bake or cook with flour that often because of the soaking factor so maybe one of you will have some advice for me.  Regardless of the texture, they were really good.
We still had a lot of persimmon purée left but not a lot of patience so Brent used the rest of the purée for ice cream.  We adapted this recipe from Sally Fallon's book Nourishing Traditions: The Cookbook that Challenges Politically Correct Nutrition and the Diet Dictocrats
.  This is my favorite cook/reference book.
Persimmon Ice Cream
3-4 Cups of HachiyaPersimmon Purée
2 tbs of Lemon Juice
3/4 Cup of Maple Syrup
3 Egg Yolks
2 Cups of Heavy Cream
1. Mix everything together using a hand mixer and put it in the ice cream maker following manufacturer's directions.
I topped mine with fresh Fuyu persimmon and bee pollen.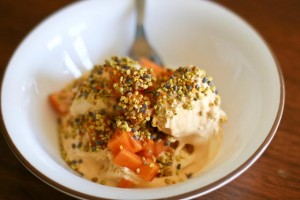 Brent is a master at making homemade ice cream.  He makes a maple ice cream that gives Haagen Dazs's Dulce de Leche a run for it's money.  This persimmon ice cream was no different and came out near perfect.  Rich and creamy.  Sweet but not too sweet.
___
This week is the last week to enter to win a $100 Visa Card.  Check out my V8 V-Fusion Review and leave a comment to enter!  Sweepstakes ends December 10th.
___
Do you like persimmons?   (I find it tragic that every fall the pumpkin steals the show from the persimmon.)   What is your favorite fall produce?
Hugs and High Fives,
Jenn
If you enjoyed this post please Subscribe to the RSS Feed.
or
Sign up to have posts emailed to your inbox.
Pin It