Summer Salad Series: Chimichurri Lentils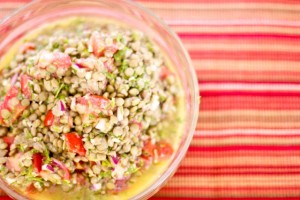 I love Trader Joe's.  LOVE it.  I love it so much that I have been seen waiting outside 15 minutes before they open their doors with the other crazies.  I've also said many times that I couldn't live in a town where there wasn't a Trader Joe's.  That's not spoiled, that's being realistic.  However, believe it or not,  there is one thing about Trader Joe's that I don't like and it's not even the small aisles. Occasionally, they discontinue an item I love without personally consulting me.  Oh the horror.  A few years ago they discontinued their fresh chimichurri sauce.   I have been lamenting ever since.  Thankfully, I scribbled the ingredient list down on a post it and tried to recreate the sauce.  (I mentioned it a few months ago after Brent and I went out on a date to a little Argentinian restaurant.)   The sauce goes really well with grilled chicken or fish.  (Or bread but anything goes well with bread.)  It also goes well with lentils. I've put the lentil salad on top of a green salad as a salad dressing.  Make sense?  Probably not.  Oh well.  I like it better by itself anyway.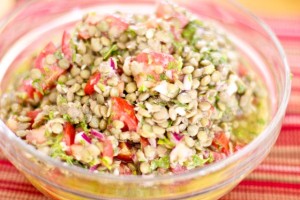 Chimichurri Lentils
1 Cup of Fresh Parsley (finely chopped)
1/4 Cup of Fresh Cilantro (finely chopped)
6 Garlic Cloves (minced)
1/2 Small Red Onion (finely chopped)
1/2 Cup of Red Wine Vinegar
1/2 Cup of Olive Oil
1/2 Tbs Lemon Juice
4 LargishTomatoes (Chopped into bigger chunks)
4 Cups of Cooked Lentils*
Salt and Pepper (to taste)
Stir the parsley, cilantro, garlic, onion, vinegar, olive oil, and lemon juice together in a small bowl.  After the sauce is thoroughly mixed add the tomatoes and lentils.  I'v noticed the parsley turns brown after a day.  Anyone have any advice to keep it green?
* I typically soak my lentils in water with a bit of lemon juice overnight before cooking.  To over simplify, this makes them more digestible.  

Hugs and High Fives,
Jenn
If you enjoyed this post please Subscribe to the RSS Feed.
Sign up to have posts emailed to your inbox
Pin It