Girl Hero Deb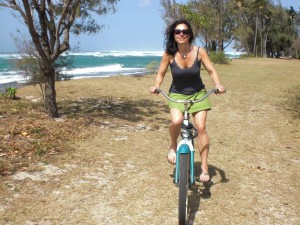 I'd like to think for every creepy internet story there are a million happy ones.  Deb, from Smoothie Girl Eats Too,  is one of my internet "gifts".  We met in person a few months ago and after our 20 minute turned 2 hour workout followed by a 3 hour talk on the beach, I knew I had a happy internet story to tell.  Deb is a doll.  Truly.  She is kind, thoughtful, and hilarious!  Formerly, a dentist by trade, turned hygienist by choice, Deb is now the go-to family caregiver as her dad battles cancer. Deb has been married for 16 years to a British chap, Derek, and they have one cat Samantha who lovingly controls their lives. When Deb is not caring for others (or being forced to work as a "brushie slave" for Samantha) you will more than likely find her enjoying the outdoors or making smoothies.  (Of course!)  As well as caring for others, Deb has learned to care for herself.  Formerly, a yo-yo dieter Deb lost over 90 pounds and learned to love exercise.  Read on to see how Deb changed her world by choosing health!

Was losing weight all that it is cracked up to be?
Yes, actually it was.  There is an incredible "high" that comes from losing weight steadily and quickly.  You feel better.  You look better.  You get compliments.  It seems easy once you are on a roll.  Sadly, it's trying to maintain the new "low" weight that was hard.  I ended up gaining 15-20 of the 90 pounds and maintaining that for 8 years.  Then three years ago, I subsequently lost back about 25 lbs, then gained back about 5-10…confused much?
What caused you to make your lifestyle change?  Was there "a moment" you just knew you had to change your habits?
A girlfriend told me about a mutual friend who had always been chubby and had lost 60 pounds on HMR (Health Management Resources).  I had tried every other program, so I figured, why not try this too?  The difference was that HMR taught me how to weigh, measure, and count calories.  It recommended food and exercise records.  It was a weekly "class" that you attended, and sat and learned like in school.
What was your diet like before?  Your exercise program before?
I ate whatever I wanted whenever I wanted with absolutely no regard for calories.  I ate a ton of sweets, any fried foods I desired, and a lot of fast food. I basically ate if there was ever a TINY bit of room in my belly.  The only time I was not eating was when I was stuffed silly from a huge meal.  I never realized that it is NORMAL to feel a little bit hungry before your next meal or snack!  Shock!
How different was the HMR program from your current (at the time) lifestyle?  Was it hard to change?
Actually, HMR trained me to eat how I live currently.  I still have one to three shakes a day and the rest of my meals are balanced, if a bit heavy on the protein.  When I was "on" HMR, my calories were lower than they are now..  I currently eat lower carb than what HMR recommends.  I still weigh and/or measure my food.  I also still keep a food diary (I tried to go without it, with disastrous consequences), and I still make exercise a priority.  It's a lot of work but it is worth it.
What were the top three things you learned at HMR that you continue to use today?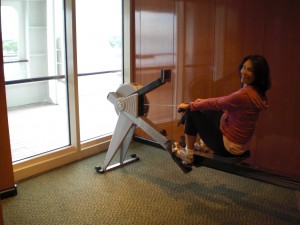 Making shakes, counting calories and making exercise a non-negotiable priority.
What have been your biggest roadblocks and more importantly how do you get past them?
Every so often I will hit a time where I am just not as motivated to keep the calories as low as I might want to achieve my weight goal range.  The last time this happened was after I got back from a vacation.  I found it hard to get back on track.
On your personal health journey have you had any moments that just made you want to throw in the towel and say f-it?  What did you learn something from that experience?
Not really.  I do say that I can feel bitter inside when I look over at a tiny little skinny woman throwing back 800 calorie pina coladas and then has a full meal on top of it.  Meanwhile I sit there with my ceviche and salad, washed down with a diet coke. Grr.  Life's not always fair I suppose!
What do you find to be the easiest aspect of your lifestyle?  What do you think makes it "easy" for you?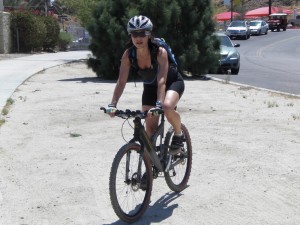 Honestly the easiest part is the exercise.  For me, it's like oxygen for my lungs.  I need to exercise.  Not every day, but consistently.  If I miss two days in a row I start to feel icky.  By the third day I'm nearly insane.
I've heard a lot of women who have lost a lot of weight say that they have a hard time seeing their "new body".  Do you ever feel this way?  What do you tell yourself to combat this negative self talk?
I think that I see my body for what it truly is.  It's far from perfect, but it's a heck of a lot better than it was before.   I think I am pretty realistic.
What are you most proud of?
Being consistent in making good food choices, yet being able to treat myself too.  I can't live without some treats.  Life would not be worth living.
How have your friends and family reacted to your transformation?
Everyone has been very supportive.  When I got very lean about 3 yrs ago, my Mom freaked out and was not supportive.  She was relieved when I put back on about 5-10 of those pounds.
Does Derek (husband) share your lifestyle?
Um, not so much.  He did Daily Plate for about 5 minutes and he is doing the 10,000 swing Kettlebell challenge this month (however I think he has a lot of catching up to do).  But otherwise he exercises not one iota and eats way more sweets (British) than I ever could imagine doing now.
You are known for your smoothies.  What is your favorite one??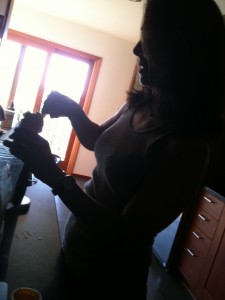 Deb working the vita!
My PB&J.  (I've had it and it's GOOOD. Check it out!)
Do you go out to eat a lot?  How do you eat when you go out?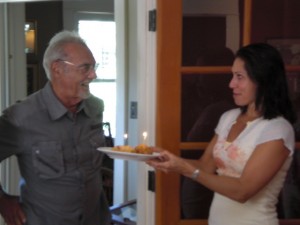 Singing to her dad at his birthday last year.
When my Dad was not ill, we would go out to lunch all the time- perhaps 2-3 times per week. And the family would go out on the weekends at least one.  I make healthy choices but always have some small treat.  So I may order a salad and some protein, but if a place is known for its bread, sweet potato fries or dessert, I will definitely have some.
I have heard you refer to some foods as "Frankenfoods". (Which always cracks me up.) What would you classify as a "frankenfood" and how do they fit into your life?
I do use a lot of Frankenfoods.  These are usually faux foods of the real thing and they are laden with chemicals and artificial sweeteners.  They work for me because I get to feel like I'm indulging, but for a fraction of the calories.  Examples:  Torani Sugar Free Syrups, Sugarfree pancake Syrup, Fat Free Reddi-Whip, Frozen yogurt (from the FroYo shops).
How often do you exercise?
Roughly 5 days a week
I know you used to be a cardio queen but then came over to the darkside with us grunting "meatheads".  😉  What sort of impact did strength training have on your life?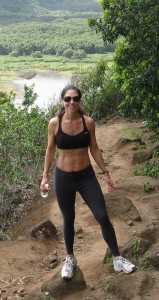 Deb at her leanest.
When I introduced heavy lifting to my life, I went from ~157 to about 133 and stayed there for about a year.  However, I should point out that I also concurrently re-introduced low-cal smoothies into my life and re-introduced my food diary (all HMR techniques)
What motivates you?
Fear of being heavy again.  That fear never leaves you.
What goals are you working towards?
Honestly the only goal I have is to lose a few vanity pounds.  Nothing more.
What would you say to a friend who was upset about having a lot of weight to lose?
I would say "when you are ready, you'll know it."  I would only ever broach the subject if they asked for my advice. One thing I have learned is that if you're not ready, you're NOT READY.  And there is nothing more annoying than a 'slimmer' person who has lost weight telling you how to do it.  Very very annoying.
What is your favorite part of the day?
I love the mornings because that is always my exercise time.  It is the only time of the day that is really and truly 100% mine all mine.  I love the afternoons because I love the orange glow of the late sun.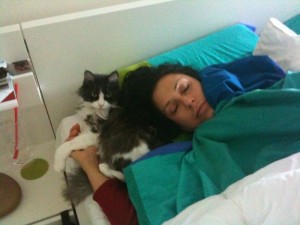 (I have a feeling that this is one of her favorite parts of the day, as well.)
Anything else you would like to share???
I see very busy people with poor eating habits.  They ask for my advice and I can only impress upon them that unless they take a good chunk of time to prepare their healthy eats for the day, they will have a hard time losing weight.  It takes a huge commitment, but it's very important.
Also, learning to love exercise is the biggest gift that you can give yourself.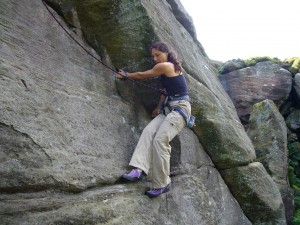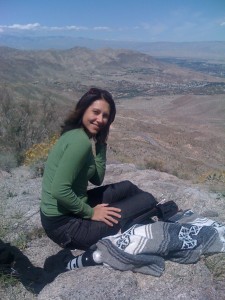 Thank you Deb for sharing your story with us!  You are a true inspriation and Girl Hero.  You can read more about Deb at her blog, Smoothie Girl Eats Too.
Hugs and High Fives,
Jenn
If you enjoyed this this post please Subscribe to the RSS Feed.
Sign up  to have posts emailed to your inbox.
Pin It