Pesto (Mediterean) Rice Stuffed Bell Peppers
This year for Lent my husband and I decided not to eat meat.  Through that experience I learned some things about myself and I came up with a few new recipes including my Mediterranean Stuffed Peppers.  That sort of sounds like I stuffed them with the Mediterranean.  That would be one big pepper. (Okay that joke was DUMB.  Don't feel obligated to laugh.)
Come to think of it, I overuse the word "Mediterranean".  We got Brent's Mediterranean Chicken Salad, Simple Mediterranean Chicken, and my Mediterranean Quinoa Salad.)  That's a lot of Mediterranean.  Not only that but I can't spell Mediterranean to save my life.  (I'm not a very good speller in general.) EVERY TIME I type it the little red line comes up underneath.  You'd think since I use "Mediterranean" the way Paris Hilton uses "hot" (that's like sooo three years ago.), I'd be able to spell it correctly.  Nope.  I'm not even close b/c the spell check always says "No Guesses Found".
Hmmm….I think I'll call them Pesto Rice Stuffed Peppers instead.
Anyway…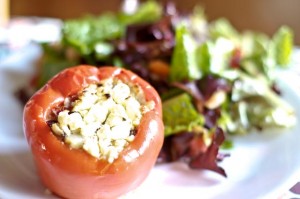 Pesto Rice Stuffed Peppers~ Inspired by the Mediterean 😉
2 bell peppers (I like red)
1/2 cup of pesto (I use my pesto b/c it rocks.)
1 cup cooked brown rice
2 tbs of sundried tomatoes (I use one packed in oil~gasp!)
1/4 onion – minced
6 olives
4 tbs feta cheese (2 in the mixture, one on top of each pepper)
Bit of olive oil
Preheat oven to 350°.
Cut out the stem and remove seeds from the pepper.
Boil (the pepper, not the stem) for 5 minutes.
Sauté the onion in a bit of olive oil
In a bowl combine the rest of the ingredients (including onion) saving 2 tbs of feta.
Pat the boiled pepper dry with paper towels and stuff it with the brown rice mixture.
Put 1 more tbs of feta on each pepper.
Bake in the oven for about 20 minutes.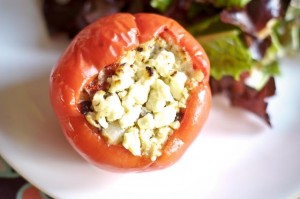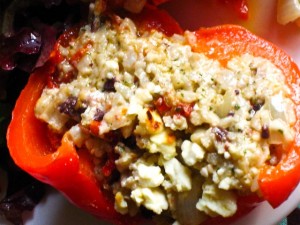 (I can't decide if this photo looks appetizing or not…just trust me it's good!)
I served this with a green salad tossed with My Favorite Dressing.
Enjoy!
Hugs and High Fives,
Jenn
If you enjoyed this this post please Subscribe to the RSS Feed.
Sign up for up to have posts emailed to your inbox.
Pin It