My Favorite Dressing
A few years ago my friend made something like this. Since then, I've been playing around trying get the ingredients in just the right proportions to fit my taste and it has become, by far, my favorite dressing. So much that I brought it in a cooler with me on vacation. It is a tasty way to get in your healthy fats and it masks the dirt flavor of spinach! Wooohooo!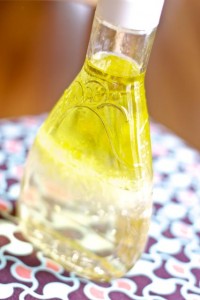 My Favorite Dressing
1 cup rice vinegar
1/2 cup flaxseed oil
1/2 cup olive oil
1/4 cup lemon juice – If I have lemons on hand I use fresh squeezed but bottled works just fine
2-6 cloves of minced garlic – I tend to use a lot of garlic because I don't like to people to get to close to me when we talk 😉
Put everything is a large bottle and shake.
Makes about 18 2 tbs servings. Approx. 136 calories, 6 grams of carbs, 1 gram protein and 12 grams of fat per serving
Don't be afraid to play with amounts based on your taste. Personally, I usually make this with only flax oil but some people find the taste of flax to be a little strong so that's why I suggest 1/2 cup olive oil and 1/2 cup flax instead of just 1 cup flax. But if you like flax then just use that. Or if you hate flax then just use olive oil. I also like to use flax because it doesn't harden in the fridge. If you are using olive oil it may solidify in the fridge.  Just stick the bottle in a bowl of hot water for a few minutes to get the oil all oily-like again.
Quick everyday salad – 2 cups of spinach, 1/4 cup of dried cranberries, 1/4 slivered almonds and 2 tablespoons of Favorite Dressing.
Hope you like it too!
Hugs and High Fives,
jenn
If you enjoyed this this post please Subscribe to the RSS Feed.
Sign up for up to have posts emailed to your inbox.
Pin It