Middle Eastern Chopped Salad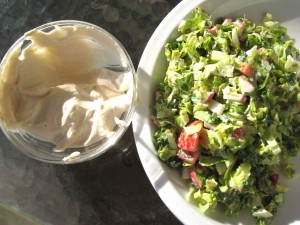 One of my favorite resturants here in town is a total dive but soooo good.  It's Middle Eastern and Mexican.  Yep, I said Middle Easter/Mexican. They even have a falafel burrito.  One of the many things I love on the menu (Besides their chips and salsa, I could eat those until I go into a coma.) is the salad that comes with the kebabs.  I tried to talk the owner into giving me his recipe but he wouldn't so I did my best to recreate it.  This is the fruit or rather the vegetables of my labor.   I love it, a little too much because I kept licking my fingers.  I also threw together a new marinade for chicken kebabs to go with the salad.  I'll post that next week.
Tahini Dressing/Dip
4 tbs tahini (Tahini is ground sesame seeds and is similar in texture to peanut butter.  You can usually find it in the ethnic food aisle.)
2 tbs lemon juice
8 tbs Greek yogurt
1 garlic clove
2 tsp agave nectar
Throw everything into a blender or food processor and blend until smooth and creamy.  Add a little water if it's too thick for your taste.
Salad
4 hearts of romaine – finely chopped
4 tomatoes – diced
6 radishes – diced
1/4 cup of fresh parsley – finely chopped
Toss the salad with the dressing.  Serve along side grilled chicken.  If you prefer this dressing can also be used at a dip or as spread for sandwiches.  I had a little cheat and rolled some up in a tortilla SO GOOD.

Makes 4 very LARGE servings.  Approximately 191 calories, 12 grams of carbs, 6 grams of protein, and 10 grams of fat per serving. 
If you like hummus you will probably like this. 
xoxo
j
Pin It