Girl Heroes Janetha & Momma B
Janetha and Momma B are an amazing mother and daughter team.  In 2008, they completed a Body for Life challenge together and have not looked back!  I've been reading Janetha's blog, Meals and Moves, for a long time and I have to say I was THRILLED when she and her mom agreed to featured as Girl Heroes!  Janetha is SO SWEET, FUNNY, BUBBLY, and COMMITED to being an inspiration to others.   Momma B shares the same passion and heart for inspiring others.
Janetha runs a window company.  Over the last five years she has gained more and more responsibility (in other words she does everything!) so her employer has asked her to get an accounting degree (on their dime).  Go Janetha!  Always up for adventure, Janetha, is a snowboarder by winter and a wakeboarder by summer. One of my favorite parts of her blog (besides her awesome meals and moves) are her adorable dogs.  She is serious animal lover and has the pictures to prove it.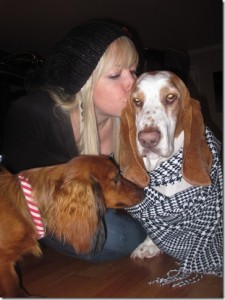 Momma B  has been a real estate agent for 17 years.  She loves her job because it allows her to serve people!  We know where Janetha gets her sense of adventure, as Momma B also enjoys waking boarding as well as playing golf and shopping.
So whose idea was it to begin the challenge?
J:  My mom had done BFL in the past but for our challenge that really transformed us, it was my idea.  I was fed up with not fitting into all of my cute clothes and not feeling confident about my body.  I was hell bent on changing and I knew my mom would be up for the challenge so I asked her to come along for the ride!
MB: Janetha called me and asked if I would do the 12 week challenge with her – I'm so glad she did!
So what caused you to make your lifestyle change?  Was there a moment you just knew you had to change your habits?  Was it a major change?
J: Well, like I said, I was hell bent on changing when the time came for me to start my challenge.  But honestly, it was a gradual thing.  Each day I would get more and more unhappy about my body and more and more irritated with how I was living.  I think that when I went to Hawaii in August of 2008 I had a "breaking point" and decided that I was going to change things, once and for all.
MB:  As I was doing the challenge I realized that it really did affect my lifestyle – I felt so much better eating clean and exercising.
What was your diet like before?  Your exercise program before?
J: I ate out a lot.  My boyfriend (Now fiance! Congrats Janetha!) eats out on the regular and I would just eat out with him.  I did go to the gym before my challenge, I would say three times a week.  The difference is that I was wasting my time at the gym and not using the time I was there in the most efficient way I could.  BFL taught me how to make the most of my gym time so I would see results.
MB: I ate greasy hamburgers, fries, candy, cheese sauces, mayo, butter, etc, etc!  I basically have never had an exercise program before!
What have been your biggest roadblocks and more importantly how do you get pass them?
J: I broke my arm in March of 2007 and I now have a metal rod along my humerus.  It has definitely been a challenge for me to work around this injury as it still gives me trouble (almost 3 years later!).  Also, working 40+ hours a week and trying to have a social life can sometimes get in the way of my healthy eating and exercise habits.  To get past this, I just make a lot of lists and do a lot of planning and prioritizing.  There really is time for it all!
Have you had any super low moments?
MB: No, no super low moments – I may fall off the wagon and eat a whole container of English toffee at Christmas time (Yes I really did!) but I just get up the next day and make the choice to do better!
What do you find to be the easiest aspect of your lifestyle?  What do you think makes it "easy" for you?
J: Eating healthy.  I like to cook and create healthy meals and try to turn unhealthy things into something that is good for me.  I can see how this would be the hardest aspect for a lot of people—especially those who don't like to cook—but for me, it is the easiest.
MB: Once I really started to understand what clean eating meant I found it very easy to stay in the groove.  We also installed an incredible gym in our basement so the exercise is a lot easier!
What is the silliest thing you've done to lose weight?
J: Three words: cabbage soup diet. Don't you dare try it!
MB: Whoa you name it I have tried it, no lie!!! Grapefruit diet, Atkin diet, Diet pills, Slim fast, Detox programs, Isagenix, Usana, etc etc etc!
What do you think about people who say you've just got "good genes"?
Bullshit.  I am short and stubby and had to work dang hard to achieve my goals.  Sometimes I wish I had skinny legs or a long torso, but I have learned to embrace my body type and don't really like to even think about my genes being "good" or "bad".  They are what they are!
How did completing your challenge together affect your relationship with each other?  Did you ever have to use "tough love".
J:  As if it was even possible, it actually brought us closer.  We were bouncing our energy off of each other and would talk on the phone daily about what was working and what was not and what we were excited about.  We both developed a love for healthy eating and working out and so those were two new bonds we developed with each other.  My mom lovingly referred to me as "Olga"~ her trainer~because I was such a slave driver at times.  But it was all worth it.  Sometimes you need a little push!
How have your friends reacted to your transformation?
MB: In the beginning some friends made fun of what I was doing but slowly I have gained their respect – I would just smile and tell them that I felt better when I ate better and exercised, I tried to be a quiet example
I love those pictures of you guys!  How did it feel to finally get those pictures done together?
J: Oh, it was a riot!!  It was so much fun to get the photos.  We went to my friend's house to do them.  He is not a professional photographer so it was not too intimidating.  We had a couple wardrobe changes in the bathroom together and it was fun to giggle about what we were doing.  This was one of my favorite ones!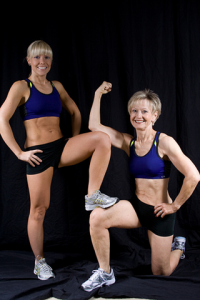 You have so many yummy meals on your blog!  What is one of your favorites?
J: You mean I have to pick?  One of my favorites would have to be my garbanzo bean/cottage cheese/Hidden Valley Ranch seasoning combo.  I eat it all the time and never tire of it.  One of the recipes I am most proud of coming up with is my Pumpkin Enchilada recipe.
How do you deal with cravings????
J: First I will try to think up a healthy alternative.  For example, if I am craving ice cream I will make a protein shake with a frozen banana because it will lend the exact consistency of ice cream to the shake, no joke!  If I am feeling like a big bowl of fettuccini alfredo I use grated zucchini and squash as "noodles" and melted Laughing Cow cheese mixed with water and corn starch as the sauce.  If it is something that simply cannot be substituted, I will write down my craving and "set it aside" for my free meal/free day.  When the time comes to cheat, I will look at my list and see if I really am still craving whatever it is that I wrote down.  If I still want it, I have it!
What sort of workouts do you do?
J: I alternate between cardio and strength training, every other day.  I also alternate between upper and lower body days as far as the strength training workouts go. It takes me between 30-60 minutes each time.
What is your favorite exercise?
J: Anything lower body!  I have very strong legs, mainly from snowboarding, and I love feeling them work and get stronger.  I also think it is fun, which may sound a tad masochistic 😉 Check out Janetha's moves page for more detailed workouts!
MB: I LOVE dead lifts with a lot of weight, doing it very slow and feeling that wonderful stretch! Never gets old!!
Are you a cardio hater or lover?  What is your favorite form of cardio?
J: Hater.  I can't handle long sessions of cardio!  They are the worst.  I love to do HIIT (High Intensity Interval Training) because it gets the same amount of work done in less time.  During my BFL challenge I only did cardio three times a week, in the form of three 20-minute-long HIIT sessions and had great results.  You have no idea how happy it makes me to know I don't have to run on the treadmill for hours on end to get results.
MB: Nope I really DON'T like cardio, but I know its benefits and therefore I do it about 2 or 3 times per week
How do you measure "progress"?
J: How my clothes fit, the way I feel, the documentation on my blog (ie: if the weight I lift is heavier, if the distance I run in "X" amount of time is further than the time before).  I do NOT weigh myself.  EVER.
MB: I measure progress by the way I feel and the way my clothes fit – I will sometimes take my measurements just to make sure I'm not gaining too much.
What motivates you?
J: Photos of myself when I looked my best and my before photos. Check out this girls before picture here.  Amazing!
MB: I am motivated by Janetha, and also the way I feel and the way my clothes fit!!!
Do you have any heroes you look up to?
J: My mom is my #1 hero!!!!  I honestly could not live without her. I learned every value I possess from my mom.  Determination, honesty, perseverance.. you name it.
MB: MY KIDS are my heros!!  They all have incredible talents and work SO hard at what they do.  They do things well and they are the very best examples to me!!
What goals have you reached?
J: Initially, my goal was to lose weight and I reached that.  I lost almost 10% body fat.  Um, that is a TENTH of myself.  That baffles me!  (Here is a complete run down of her BFL challenge.) But I have also reached several other goals in the meantime.  I am more organized and I don't have the bad habits I used to have (some of these habits were drinking, procrastinating and slouching).
MB: Better weight, less body fat and wonderful muscle tone – my osteoporosis isn't as bad, my degenerative disk disease doesn't bother me, I have better bone density
What goals are you working towards?
J: I am currently working toward getting back into school so I can get an accounting degree.  As far as food and fitness goals go, I am working on developing more original recipes as well as custom workouts, both of which I post on my blog, meals & moves.
MB: I want to drink more water everyday, continue to eat clean, get my lower body better toned
Do you know if any friends or family have made lifestyle changes because of you?
J: Yes!  Several of my friends started Body For Life because of me. That makes me so happy.  They have all had really great success.  I hope that my famiy members make better choices when it comes to food & exercise because of my example.
MB: Yes, I work with some wonderful women who are working hard on their own goals through the Body for Life program, I am so proud of them!
What Disney princess do you most relate to?
J: She is not a princess, but I believe I relate most to Alice from Alice in Wonderland.  I am really curious and love to explore!
MB: Snow White and the 7 dwarfs!
What is your most irrational fear?
J: Spiders and closed in spaces.  I literally FREAK OUT when I see a spider.  To the point where people think I am having a seizure.  Also, I am so claustrophobic that I get really bad anxiety just thinking about closed in spaces.
MB: Sometimes I have really crazy random thoughts, please don't think I am a total nut case, I worry that I may just stick my hand in a moving garbage disposal…….really long story!!  Haha
Anything else you would like to share???
J: I just want to thank Jenn for allowing me and my mom to be featured on her AWESOME blog.  It truly is an honor because her transformation is one of the most amazing I have seen. (Awww thanks Janetha!) I also want to say that if you want to make a change in the way you feel and/or look, just go for it.  You never know what you are capable of until you try.
I would like to leave you with a few of my favorite quotes, I have no idea who said any of them, but I often say them out loud to myself!
"Whether you think you can or you think you can't, you're right!"
"Nothing tastes as good as being fit feels" (I say this when I am about to have an unauthorized "cheat!")
"If you want to have things you've never had, you have to do things you've never done!"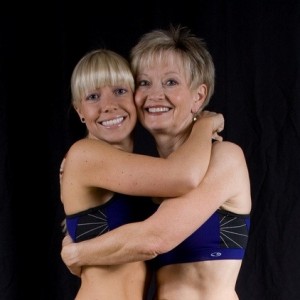 THANK YOU Janetha and Momma B.  You both are TRUE GIRL HEROES!!!!!
xoxo
jenn
If you enjoyed this this post please Subscribe to the RSS Feed.
Sign up for up to have posts emailed to your inbox.
Pin It