Tilapia and Ice Cream
I think Cupid's arrow must have missed me because I'm just not a Valentine's Day type of girl.  It works out because I don't eat chocolate, I don't own a suitable vase for flowers, and too much red stresses me out.  I'm not one of those people who dislike Valentine's day because "we should fill our lives with love every day"…yadda yadda yadda. I just tend to forget it's Valentines day.  I even forgot to give my husband his card.  Here's a picture of it.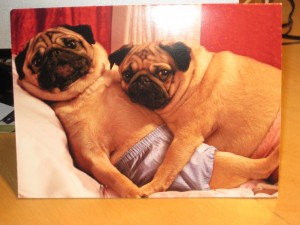 Romantic huh?
Regardless of my ambivalence towards Valentine's day, I love my husband and I love cooking with my husband. We've been working on a bunch of new recipes lately but before posting them I want to give them all one last test drive.  In the meantime, I wanted to share a delicious new recipe I found from another blogger Rhodey Girl.  (See, there is a point to this post.  Thanks for staying with me so far). I found her site through Janetha's blog (whom you'll be hearing more about this week) and I was immediately drawn to Baked Tilapia with Pear and Mango Salsa which we made over the weekend.  It was so good I had to show you a picture!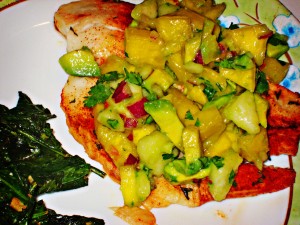 Delicious.  Try it!  You can get the full recipe here.  The only thing we did different was add a little lemon juice and cilantro to the salsa not because it needed it but because we have cilantro falling out of our ears due to our CSA subscription.  For the side, I overcooked sauteed some mustard greens in garlic and coconut oil.  The next day we made a fish burrito with the leftovers using TraderJoe's organic whole wheat corn tortillas, blacks beans, cabbage, and a bit of cheese.  So good.  I love multi-purposeful food.  I love my mini-van for the same reason.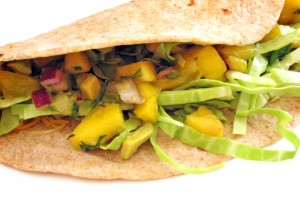 I need to get some colored plates.  My white ones are are a little boring for food pictures.
Afterwards, Brent made blueberry ice cream.  I'm really pushing the boundaries of my only natural sugar rule because we used turbinado sugar better known as Sugar in the Raw.  It's not really raw just minimally processed.  So far, I'm pretty happy with how adding sugar back into my life is going.  It's feeling a little easier to grasp that crazy-in-the-head word, moderation. Aside from that one day, it hasn't been as hard as I imagined.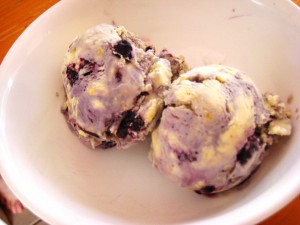 Just so you know I'm not a total Valentine grinch here's a picture my son took of Brent and I on Valentine's day while the fish was cooking.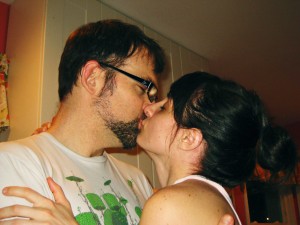 xoxo
jenn
If you enjoyed this this post please Subscribe to the RSS Feed.
Sign up for up to have posts emailed to your inbox.
Pin It