Shoveling with a Spoon
Last week, we discovered a leak in the gas line at our rental property.   To save money, my husband helped dig the trench for the plumbers and after it was fixed I was commissioned to go fill the trench back up with dirt.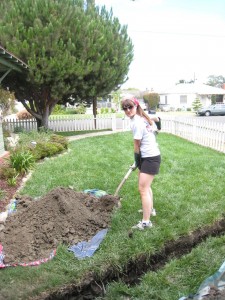 As I was shoveling the dirt  I started to think about how losing fat and regaining health is a lot of like shoveling a big pile of dirt.  HARD.  (You can only see part of the dirt the pictures.  There was A LOT.)  In the beginning, I have a lot of energy and excitement to get the job done.  A new decision to change your  lifestyle?  After a while, it starts to feel uncomfortable.  My hands and back are feeling the strain and the dirt pile doesn't look like it's getting much smaller.  It starts to feel like I'm shoveling Mount Everest with a spoon.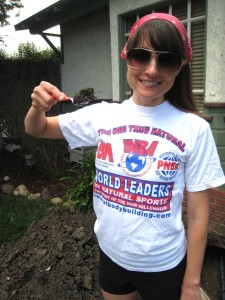 This is the Y in the road for most people who are trying to lose weight.  It's uncomfortable and because you don't see much progress it's easy to quit.  But IF you keep shoveling the pile will grow smaller and you will feel stronger.  Despite the discomfort, I continued to throw dirt back into the trench and it wasn't long until I noticed that I had made progress.  And not long after that I was raking the last bit of dirt into the trench and I felt the satisfaction that comes from finishing a hard job.  I was happy I hadn't quit out of frustration because I would have had to come back to finish it later.  I don't know how many times I decided to lose weight but quit when it got tough only to come back to finish later.  About a million.  Reaching your goals is not always easy.  It takes some sweat, discipline, and a willingness to endure some discomfort but in the end it is all worth it.  So worth it for reasons far beyond skinny jeans.  Even if you are shoveling a with a spoon.
xoxo
j
Pin It