Why Exercise Won't Make You Thin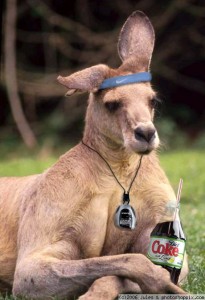 (source)
A friend posted this article on Facebook yesterday from Time Magazine Why Exercise Won't Make You Thin.  I commented on FB but thought I'd expand more on my little slice of cyber space.  It's a long article but the gist of it is that exercise alone won't make you thin because exercising increases hunger causing you to eat more.
For the most part, I agree with the article, exercise as a mean to weight loss is way overrated.   You many have heard the phrase, "abs are made in the kitchen" or you can't "out train a poor diet".  For example, we've all seen people at the gym who are there everday busting their butt yet look the same for weeks or months on end.   I was one of those people going to classes, lifting weights, and doing long cardio sessions yet always looking the same.  Yes, over the years my workouts have changed but what really changed was my diet.  When I started being really consistent with what and how much I was eating my thighs finally started to shrink and I could see the muscle that was hiding beneath the fat.
However the article gives humans little to not credit as is that it infers humans beings have little to no will power.  I don't believe it.  Why?  Maybe because I think we are more advanced than dogs.  Personally, I feel the idea that we are slaves to biological urges is a big fat excuse at best and dangerous at worst.  Yes, it's natural to be hungry after a workout but we can choose a protein shake or a piece of chicken and fruit over a box of Fruity Pebbles.  Two, I've met people who have developed iron will power.  I'm not yet one of those people but aspire to be.  Strong will power can be cultivated.  It wasn't too long ago that I could sit down and eat an entire loaf of King Hawaiian Bread and wash it down with a liter of soda.  Back then I felt like I couldn't stop no matter how full I was but you know what I've learned that I can stop.  I could and often would like to do the same thing but for the most part I don't.  How?  My will power has gotten stronger with practice.
The article talks about how we eat more on days we exercise.  This has not been my experience.  I find I eat better on days I exercise because I don't want to ruin all my hard work and some days I feel like working out actually suppresses my appetite. The feeling of strength I get from pretending I'm She-Hulk in the gym spills over to my will power.  Exercising gives me strength of mind.  Exercising helps me to care more about my body and what I put into it.  When I don't exercise I'm more likely to blow the day off and "get back on track tomorrow."
The article makes some mention of the health benefits of exercise but it doesn't mention the benefits of lifting weights in regards to vanity such as sculpted shoulders or tight thighs (or in my case semi-tight thighs).   I'm sure we all exercise to simply feel and age better.  None of us really care about how we look in a bikini.  But for you vain people out there 😉 if you want to see all your hard work in the gym then you got to watch it in the kitchen.  Chances are if you simply "diet" without  exercise you'll end up skinny fat.
Overall, I think the article was spot on in stressing importance of diet in regards to weight loss but I  felt it didn't give us enough credit as humans beings.  We can make choices that will get us to our goals.  Lift some weights, do some cardio, resist those Krispy Kream cravings (unless it's a sane day) and you will feel great and get your best body.
Hugs and High Fives,
Jenn
Pin It