Fluffy Friday: I Dream of She-Hulk.
This morning my husband tells me he had a dream about me last night.  "Oh really", I respond smiling coyly suddenly feeling irresistible.
He continues, "It was so funny."
"Huh…funny?" feeling like a beautiful song I was hearing had just turned to static. (pause)  Well okay, I'll take funny.  He is always telling me how much he loves my sense of humor.
"Yeah you were flexing and I was really jealous of your muscles.  They were all veiny and I kept thinking I want muscles like yours!" he says laughing his head off.
Hmmmmm?????  I'm not quite sure this is the sort of dream I want my husband to be having about me.
Kinda makes me feel like this.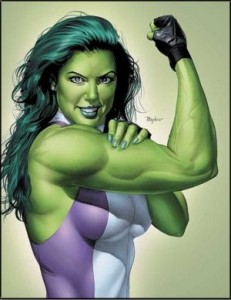 Enjoy your weekend!!
Hugs and High Fives,
jenn
If you enjoyed this this post please Subscribe to the RSS Feed.
Sign up to have posts emailed to your inbox.
Pin It