Evil Scale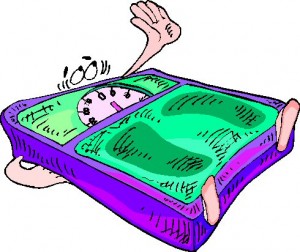 This week has been a rough week.  Damn PMS.  EVERY TIME I stepped on Evil Scale it was up a pound or half a pound. And every time I start to feel mental.  During a normal week, I would remind myself that weight fluctuates and is NOT an accurate tool for weight loss. BUT this is not a normal week.  It's PMS week and I was obsessing hard.  I told myself to stay off the dang scale.  But before I walked out this morning Evil Scale stopped me and we had an argument that went something like this.
Evil Scale – "Hey whacha doing? Aren't you going to weigh yourself?"
Me – "No I'm waiting until Sunday."
Evil Scale – "You weighed yourself yesterday. I'm down today."
Me – "No you're not.  LIAR!"
Evil Scale – "Down. Look in the mirror.  I think I see some abs."
Me – "Leave me alone. You just want to upset me."
Evil Scale – "Awww come on. Just step on me and see. I might be down. Besides it's only water weight."
Me – "Well, maybe you're right. Maybe you will be down."
Evil Scale – "Come on. Besides, you know you need to know so you can eat accordingly."
Me – "Oh yeah. You're right. Well okay."
I hopped onto Evil Scale and stared in horror at a number that I would have cheered at two months earlier.   Nooooooooo!!!!  I spent the next hour consoling myself and cursing Evil Scale.
xoxo
j
Pin It