Best Yoga App – Yoga Studio App Review
When I  love something I want to share it. In my last post, I mentioned that I'm doing a summer yoga challenge and I've been using an app called Yoga Studio.
Yoga Studio is the best yoga app I've found. It is perfect for those of us who are looking for yoga options that don't involve going to a studio. While going to a studio is ideal it can also be inconvenient or cost prohibitive for some. Or perhaps you already go to a studio but would like another yoga at home option.
Yoga Studio is it!
I've been trying a number of different ways to do yoga while traveling. I borrowed a few DVDs  from the library when we were in Breckenridge but didn't like being stuck in front of my computer. (For those of you who don't know, I'm the self-proclaimed outdoor workout queen. I take my kettlebells to the beach, to mountain tops, to lakes, anywhere to avoid being stuck inside.) So I started a search the best yoga app and I found it with the Yoga Studio App. It's like having a yoga studio in your pocket.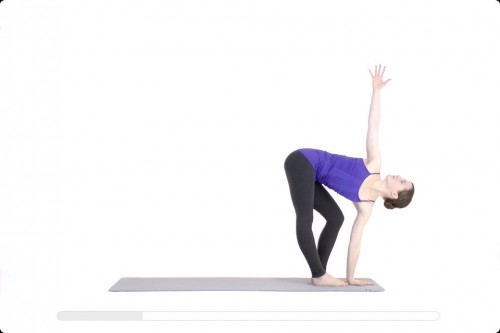 Before buying Yoga Studio, I tried a few other free yoga apps that either had a few free workouts and then you had to buy individual or the instruction was unclear or the video play wasn't smooth. After a few weeks of trying the free apps, I decided to spend a whopping $2.99 for Yoga Studio which has over 16 hours of easy to follow classes plus a whole lot of other cool features. It's the best yoga app I've found.
The best yoga app? Why?
Okay. So let's take a look at the Yoga Studio features and see why I think it's the best yoga app I've found.
Studio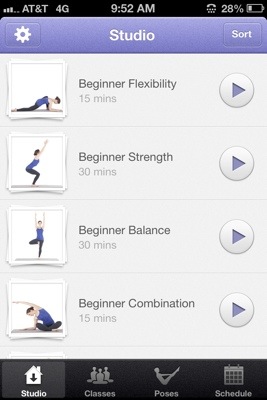 Your "studio", the classes you have downloaded, is the home screen of the app. From here you can start a class, change your settings (see below), or sort your classes.
Classes
You can choose studio classes or create your own classes.
Studio Classes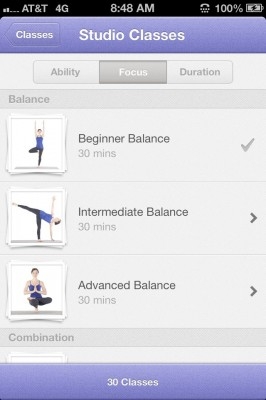 There are 30 ready made studio classes available for download. They can be sorted by ability, focus, or duration. In the screenshot above I have them sorted by focus. The checkmark indicates a class I have downloaded.
Let's talk about downloading for a second since many of us are mindful about how much space we use on our phones. I have downloaded most of beginner classes which take up 389 MB of space on my phone. That's not too bad considering I have immediate access to 8 different classes ranging from 15 to 60 minutes in duration.
Custom Classes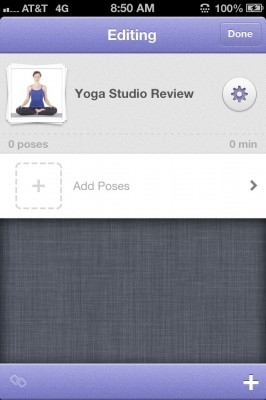 You can create your own classes by adding poses and pose blocks from the pose library. After you add a pose you can use their timing or you can adjust how long you want to hold each pose.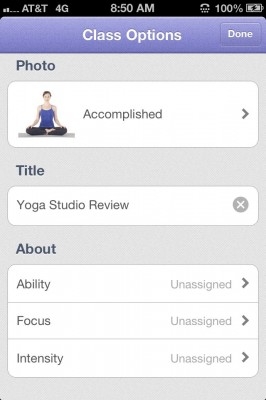 Once you create a class you can set the photo, title of the class, and classify your class by ability, focus, and intensity.
I have yet to create my own class other than for the purpose of this review but I can imagine that this would be a fun option for those who are more familiar with yoga sequencing.
Pose Library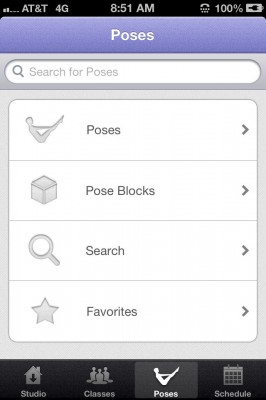 Poses is the third main screen. From here you can search or scroll through all the poses, pose blocks, or just see your favorites.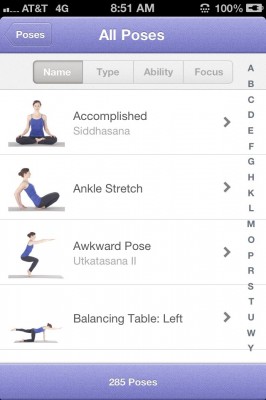 There are 285 poses that can be sorted by type, ability, and focus.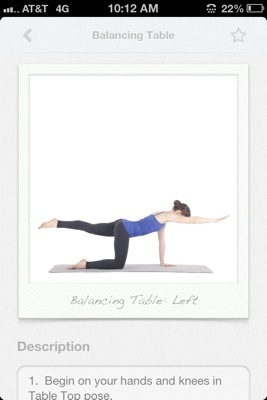 By tapping on a pose you will be given a written description, a list of benefits, modifications for beginners, advanced variations, and how to "be careful", i.e., you may want to avoid if you have (insert body part) inflammation. You can also "star" poses as favorites on this screen.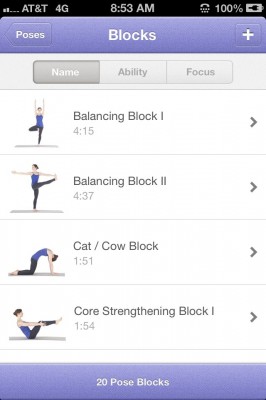 There are also 20 ready made pose blocks that you can look at in detail or add to your custom classes.
Schedule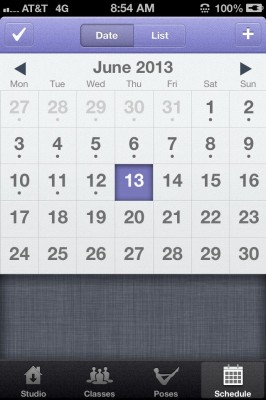 Yoga Studio also gives you option to schedule classes on your phone. I don't do this but it could be a helpful tool is you are prone to putting off your practice/workout.
Settings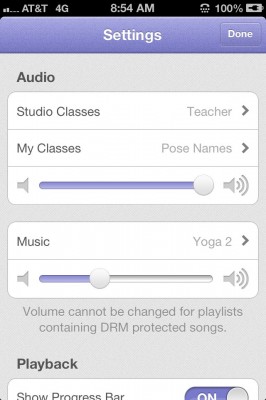 It took me a few days to realize you could customize your settings which are accessed from the studio screen. For the "studio classes" you can choose between the teacher, pose names, or a glass ting for cueing. I prefer the directions of the teacher as I find them helpful and her voice is not at all annoying.
If you choose to make your own custom classes, "my classes",  you can choose between pose names and a glass ting to indicate pose changes.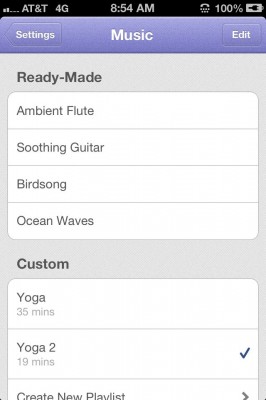 While the ready made music isn't bad at all (I sometimes choose to use it) I was really excited to discover I could make my own playlists from the music on my phone and then select my custom playlist to be played during the classes. You can also control how loud you want the music in relation to the instruction or you can turn off the music all together.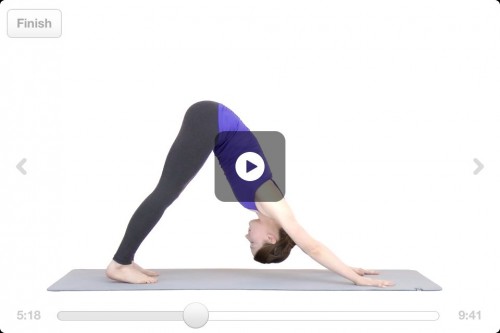 You can also choose to turn on or off the progress bar (shown in the picture above) as well as have the option to swipe the screen to skip poses.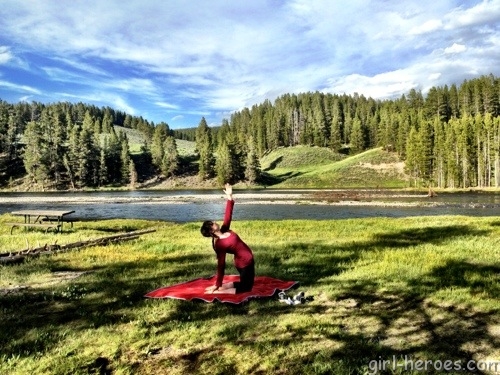 Like kettlebells, I love the convenience of being able to practice whenever I want wherever I want. The other day I found a quiet spot in Yellowstone and did a 15 minute Yoga Studio class. It was bliss!
My only complaint is that I didn't try Yoga Studio sooner. Seriously.
And just for the record all the reviews I write are always my own opinion. While I sometimes receive items for free (always stuff I really want to try) to review, I purchased Yoga Studio with my own hard earned money, all three dollars of it. It works out to 10 cents a class. If you create your own classes then it's even less.  I would not have been disappointed to have paid ten times as much. It is the best $2.99 I've spent in a long time. You can buy Yoga Studio here.
Do you have any fitness apps that you just love? I've tried a few different ones but right now Yoga Studio is my favorite. It's the best! I'm using it every day.
Hugs and High Fives,
Jenn
Keep up with my kettlebell workouts, real food recipes, and more in one of three ways! 1. Sign up to have posts emailed to your inbox. 2. Subscribe to the RSS Feed or 3. "like" Girl Heroes on Facebook. Simple dimple!
Journey with our family on the road at Newschool Nomads as we travel fulltime in RV through the United States.
Pin It