How to Make Green Veggie Powder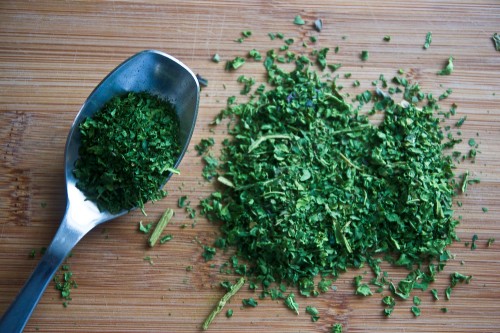 How to Make Green Veggie Powder
When we decided to spend the winter in the mountains of Colorado, I panicked I imagined being huddled around the table over bowls of steaming soup. I also imagined a long winter without any fresh veggies. (Apparently, I forgot I live in the United States where grocery stores are plentiful.) The truth is store bought veggies just aren't the same as farmers market veggies.
So I took matters in my own hands and decided to make my own green veggie powder. We  headed over to the farmers market to buy whatever greens I could find in the the last days of the growing season. I came back with bunches of kale and swiss chard…bunches so large that people in the farmers market stared as we hauled the bags back to our car.
Anyway, I don't know if I would call this green veggie powder a recipe per say. It's more of a method and it couldn't be more simple.
Like I said, I used  kale and swiss chard for the veggie powder because those were the only veggies available at the farmers market late in the season but you could use any variety of veggies.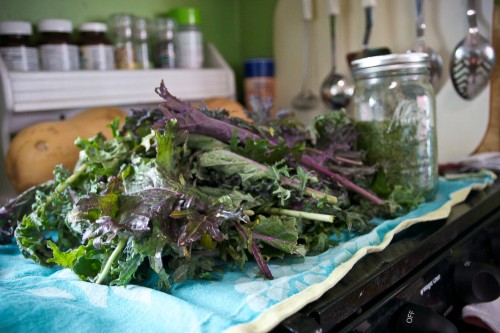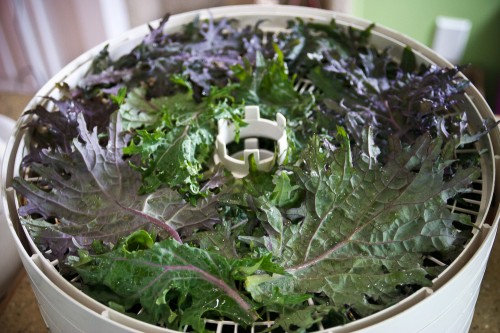 Homemade Green Veggie Powder
1. Rinse and pat the veggies dry.
2. Layered the veggies in a single layer on a dehydrator tray.  They can overlap a bit but not too much because you want them to be able to dry out. (I remove the thick park of the stems before drying. I noticed if I didn't do this I was left with thick hard pieces in my veggie powder.)
3. Set dehydrator to the veggie setting or about 130°
4. Wait about 12 hours or until veggies are dry and crisp. I tested them by crumbling a leaf in my fingers.
5. Blend leaves in a food processor until you have a fine veggie powder.
6. Store in mason jars for later use.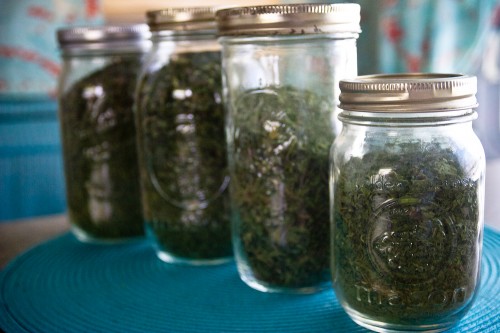 You need a lot of greens to fill one jar. It took about 15 LARGE bunches of greens to fill these four jars.
So maybe you are wondering what I've been doing with all this green veggie powder?
I've been adding veggie powder to soups, chili, casseroles, curries, meatballs, and taco meat.
Have you ever made green veggie powder? If so what do you use it for?
Hugs and High Fives,
Jenn
Keep up with my kettlebell workouts, real food recipes, and more in one of three ways! 1. Sign up to have posts emailed to your inbox. 2. Subscribe to the RSS Feed or 3. "like" Girl Heroes on Facebook. Simple dimple!
Journey with our family on the road at Newschool Nomads as we travel fulltime in RV through the United States!
Pin It