The Pull Up Project and a Free Standing Portable Pullup Bar Review
Since hitting the road fulltime in our RV last fall, I've managed to keep working out. However, it's been hard to consistently find a place to do pull ups and over time I "lost" them.  But now I'm prepared to "find" them again with my new free standing portable pull up bar from Trapeze Rigging.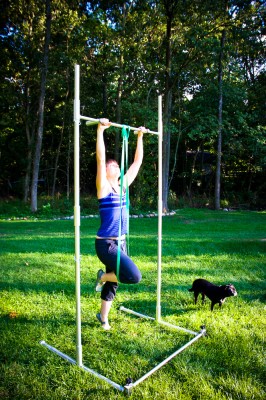 A workout doesn't feel complete without pullups. I love my kettlebells but if there is one thing kettlebells lack, it's getting a heavy pull. I've tried to get by with row variations and my suspension trainer but there is nothing quite like being able to pull your bodyweight.
The last few months, I've been on the lookout for playgrounds but not every campground has a playground and not every playground has a suitable place for pullups. A doorway pullup bar wasn't an option because we don't have a suitable door frame and not to mention the damage that door frame pullup bars can cause.
A few weeks ago, I received a  free standing portable pull up bar from Trapeze Rigging. It's a pullup bar/dip station from a company who makes custom circus equipment. How cool is that!
Trapeze Rigging was started by Trevor Boswell. Trevor spent 30 years traveling the world as a catcher on the flying trapeze! If there is anyone who understands the importance of a strong and safe pullup bar, it will be Trevor.
I've been using my portable pull up bar regularly and I love it. Really, truly, love it.
It's perfect for home gyms, P90X users, in-home personal trainers who bring their own equipment, and travelers like me!
Not only is the  free standing portable pull up bar sturdy, it's also light (made of high quality aluminum) and easy to assemble.  Here's the proof.
Easy and Fast Assembly of the Free Standing Portable Pullup Bar
Less than a minute to assemble it even for a mechananically challenged girl like myself. It's even quicker to disassemble.
Other reasons I love my portable pull up bar.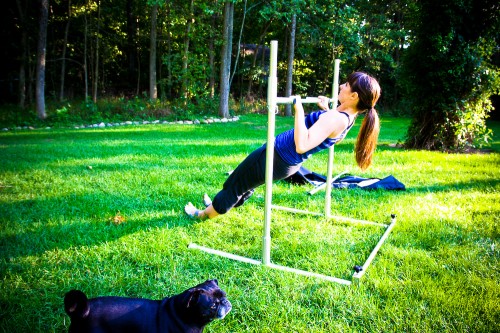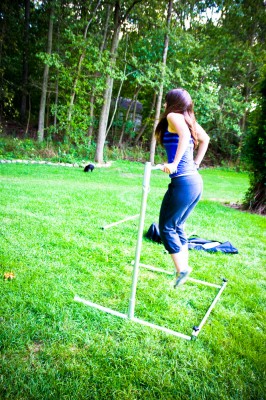 Not only can you do pullups but the bar can easily be configured for inverted rows or dips by leaving out the top pipe.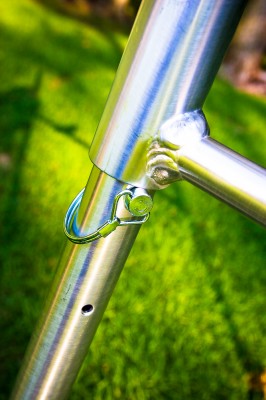 Height adjustments can be made in a combination of ways. You can move the pins up and down.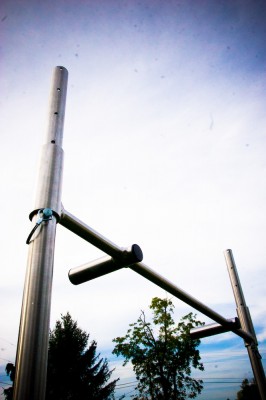 And/or you can position the pull up bar (the horizontal cross bar) over the side pipes with the bar on the bottom.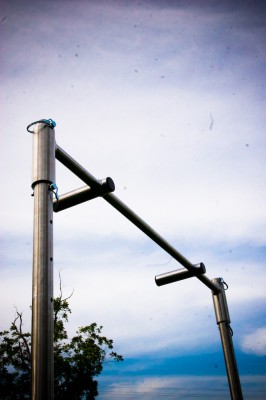 Or you can flip over the pull up bar for more height.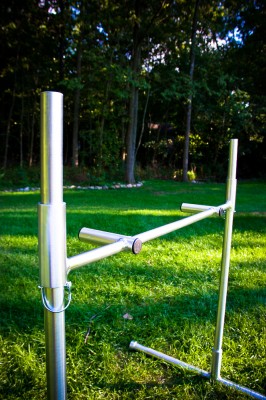 It's made in the USA.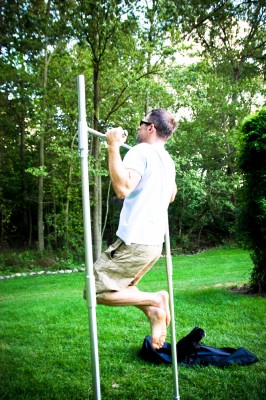 The handles allow for a variety of grips.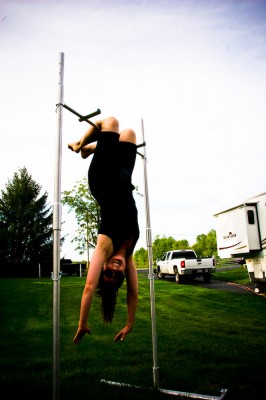 It's sturdy. While there is some slight movement of the bar during motion, it feels very solid. Brent was spotting me during this picture. While it's awesome for pull ups, dips, rows, and hanging ab exercises, it's not made for wannabe gymnasts.
I also love that some of my fitness heroes use it.  Check out  Mark Sisson using his portable pull up bar  and Steve Maxwell using it in his backyard.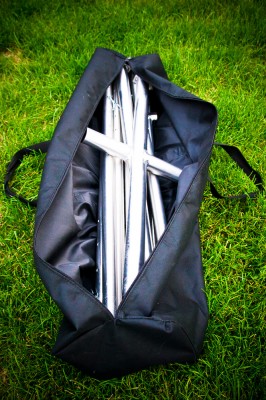 There is also a custom fit carrying bag for easy transport.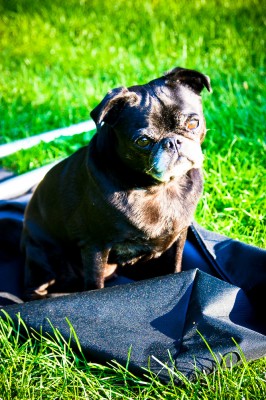 Lastly, Nico says it makes a comfy pug bed.
You can't put a price on the feeling that comes with being able to do a pull up. This first time I did an unassisted pull up I was ecstatic. For most women, being able to perform a dead hang pull up is a big milestone. There is nothing like it and I can't wait to get my pull up back.
So the next few months, I'm taking on The Pull Up Project. I'm going to be setting up my new free standing portable pull up bar at every campsite with the goal of being able to once again do unassisted pull ups by the end of the year.
Hugs and High Fives,
Jenn
Keep up with my kettlebell workouts, real food recipes, and more in one of three ways! 1. Sign up to have posts emailed to your inbox. 2. Subscribe to the RSS Feed or 3. "like" Girl Heroes on Facebook. Simple dimple!
Journey with our family on the road at New School Nomads as we travel fulltime in RV through the United States!
Disclosure: I was provided the free standing portable pull up bar for the purpose of this review.  All opinions are my own
Pin It