31 Days to a Better Body: Day 17 – Fantastic Flora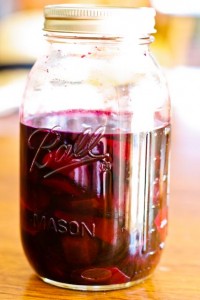 Healthy flora.  Lactobacilli. Good bacteria.
Better known as probiotics.
Probiotics are the good microorganisms that live in the intestinal tract and are an important aspect of overall health.  Unfortunately, our crazy wonderful modern world is not always friendly to these fantastic flora.  An overuse of antibacterial products and antibiotics themselves can throw things out of balance.
What are the benefits of pro-biotics?
– Restore balance to the intestinal tract.  Very important if you've gone through a round of anti-biotics.
– Improve digestion
– Strengthen Immune System
– Makes nutrients more available to the body.
– Prevent or treat yeast infections.
– Help alleviate constipation and help treat diarrhea.  Smart little buggers.
Where do you get probiotics?
Yogurt
Yogurt Cheese – (It's easy to make and you can use the whey to culture vegetables.)
Fermented or Cultured Fruits and Vegetables like cultured beets
Fermented or Cultured Drinks like kombucha, milk kefir, and water kefir – (A "how to I make" coming next month.)
Fermented Condiments like ketchup and salsa.
Raw Dairy Products
Supplements
For the same reason I prefer to get my protein from food rather than protein powders, I prefer to get my probiotics through food.  It's easier, cheaper, and, I trust that is what my body prefers. Although, I have gone out and bought supplements when I have had to take antibiotics or had digestive issues.  But my day to day consumption of probiotics include kombucha, water kefir (my favorite!), and some yogurt.  Occasionally, I make lacto-fermented veggies like sour kraut and beets.  I am working on making fermented veggies a regular part of my diet.  They are super easy to make and I love the salty tangy flavor.
Do you make an effort to include probiotics in your diet?  If so, what sources?
Hugs and High Fives,
Jenn
Check out our family's adventures at New School Nomads as we plan to take a year long road trip through the United States!
If you enjoyed this post you can follow one of three ways! 1. Subscribe to the RSS Feed 2. "like" on Facebook, or 3. Sign up to have posts emailed to your inbox. Simple dimple!
Pin It