Coconut Pumpkin Stew
So I'm a little late to the game. Pumpkins are so like last October.  Duh.
But this evening while trying to organize my photos I came across these pictures and remembered how much I had enjoyed this dish.  Then I looked in my recipe notebook and saw I had actually scribbled something that resembled written down the recipe.   No small miracle.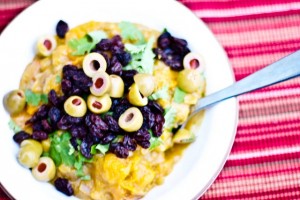 Coconut Squash Stew
1 large squash of your choice
(We used what I think is called a Fairy Tale Pumpkin)
1 Red Onion (coarsely chopped)
1 Orange Bell Pepper (coarsely chopped)
1 Clove of Garlic (minced)
1 Can of Coconut Milk
2 Ripe Bananas
1/2 – 1 of Jalapeno
1/4 Tsp Turmeric
Sea Salt to taste
Optional Topping Ideas
Raisins
Cilantro
Spanish Olives
Shredded Coconut
Apple
?
Directions
1. Put small slices in the squash with a knife.  Bake in the oven at 350º until easily pierced with a fork. (I bake everything at 350º) About 30-45 minutes.
While the squash is cooking…
2. Sauté the onion, bell pepper, and garlic until soft in a large pan.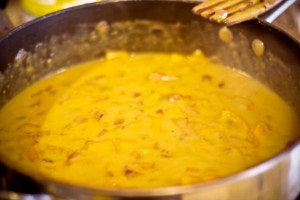 3. In food processor combine the coconut milk, banana, jalapeno, and turmeric.  Process until fairly smooth.  A few lumps are fine. Add this to the onion mixture and bring to a boil. Reduce heat and simmer over low until squash is done.  Add water a bit of water if stew is too thick for your liking.
4. Once squash is done cut into pieces and add to coconut stew mixture.
5. Serve in a bowl and add toppings.
(I topped it with raisins, cilantro, and olives.)
Anyone know if that was a Fairy Tale Pumpkin?  Any topping suggestions?
Hugs and High Fives,
Jenn
If you enjoyed this post please Subscribe to the RSS Feed.
or
Sign up to have posts emailed to your inbox.
Pin It