Tron and Chasing Perfection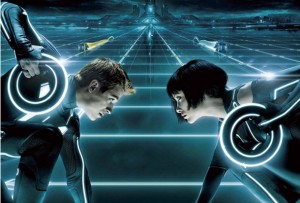 Over the weekend I saw Tron.
A few times in the movie Flynn says that he was so busy chasing perfection that he failed to see it in front of him. Or something like that.
In fact, Flynn missed 20 years of his son's life because he was busy chasing perfection.
20 years.
Gone.
We know there is no such thing as pefection yet we chase it.  Some of us do.  I know I have.
Our culture certainly wants us to chase it.  At the root of most advertising is the promise of perfection.  Buy this.  Buy that.  Go here.  Go there.  Look this way.  Look that way.
Then…
Then what?
We'll find happiness?  We'll find peace?  We'll find contentment?  We'll find perfection?
Or will we find we spent 20 years chasing something that never existed and missing the small moments of almost perfection that surround us everyday.
Perfection is not found in a bikini body.  A sleek car.   A porcelain complexion.  A paycheck.  A workout.  A food plan.
Not that those are "bad things" they just aren't the treasure chest full perfection that "they" would like us to believe.
I do know I don't want to miss enjoying what I do have because I am so busy thinking about what I don't have and chasing perfection.
Instead, I'll chase moments.
I'll run hills not entirely because I want  a tighter butt or to be able to wear a catsuit like Quorra (even though that suit is crazy cool).  I'll run hills because of the exhilaration I'll find at the top. At the top, I'll take in a big breath of gratitude.  Grateful for the heart, the lungs and the soul that carries me.  I'll even be thankful for my legs sprinkled with dimples that catch shadows.
Hugs and High Fives,
Jenn
If you enjoyed this post please Subscribe to the RSS Feed.
or
Sign up to have posts emailed to your inbox.
Pin It