Tasty Tuesday: Classic BBQ Chicken Pizza
I've not kept it secret that I enjoy the taste of junk food, especially pizza. I've also shared my food ideals and reality.  Most days, I pass on junk food including traditional pizza.  However, deprivation isn't any fun (and can lead to a binge) so to satisfy my junk food cravings I make healthier substitutes.  Not long ago I used an Ezekiel tortilla to make a grilled southwest pizza.   It turned out so well that I've been using it to make all sorts of pizzas since.  Not only does this BBQ Chicken Pizza satisfy my California Pizza Kitchen craving, it's also so easy it can hardly be called a "recipe". It's perfect for the all to often "I'm too tired to cook" last minute dinners or quick lunches.  It helps to keep some plain grilled chicken in the freezer to pull out for this purpose.
Classic BBQ Chicken Pizza
1 Ezekiel Tortilla
1 Tbs BBQ sauce
1/2 Cup Shredded Mozzarella Cheese
4 oz Grilled BBQ chicken
Cilantro
Red Onion (thinly sliced)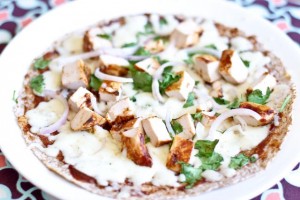 1. Preheat the oven to 350°.
2. Top the tortilla with BBQ sauce, cheese, chicken, cilantro and red onion.
3. Set on the oven rack and bake until tortilla is crisp and cheese melted.
463 calories, 32 g of carbs, 49 g of protein, 17 g of fat.
Speaking of substitutions, I recently tried the V8 V-Fusion +Tea and decided it makes a good substitution when I'm craving something with more flavor than water or tea but don't want to grab a soda.  If you haven't already you can also enter to win a $100 Visa Card.
Last but certainly not least, thank you for all the kind comments regarding my mom's diagnosis.  Your encouragement means more than I can say.
Love you guys!
Hugs and High Fives,
Jenn
If you enjoyed this post please Subscribe to the RSS Feed.
or
Sign up to have posts emailed to your inbox.
Pin It