The Halloween Grinch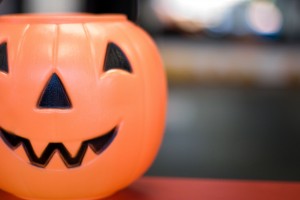 As a kid, Halloween was one of the most fun nights of the year.  I would sprint through the neighborhoods as if I was being chased by a stranger trying to get to as many houses as possible until the last porch light was turned off.  In a way, I was being chased except my pursuer wasn't a stranger.  Oh no, my pursuer was very familiar.  It was my never ending craving for sugar.  When I got home, I remember dumping my loot out on the floor and after checking for staples, razor blades and other creepies, I would chew, crunch, and suck until my stomach hurt.  This would continue for about 2 days until the only things that remained were a few of those nasty peanut butter taffies wrapped in the black or orange paper.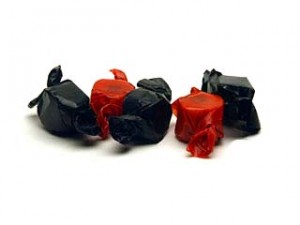 (source)
Yet, not even the waxy nastiness could stop me.  Nor would my aching jaw.
Things have changed.  I don't eat candy.   Not because I'm self-righteous but because almost 3 years ago I accepted my limitation.  I grew tired of being controlled by a 3 pound bag of M&Ms or a pound of Twizzlers. I tried moderation.  I tried portion control.  I tried "one piece of dark chocolate a day". I tried scaring myself out of eating it by reading of its "evils".  I tried talking to myself lovingly as if I was a small child, gently reminding myself that one is enough.  Nothing worked except, when I was ready, refusing it.
Don't get me wrong, I'm still a sugar addict.  I will own that.  There is such thing as too much maple syrup and too much honey.  However, because I don't eat candy or other sweets made with processed sugar my intake is greatly reduced.  GREATLY REDUCED.  Gone are the days of candy and cookie binges.  After all, maple syrup is expensive.
Now when I trick-or-treat with my kids my past and present selves are at conflict.  On one hand, I want to cheer them on as they race house to house with them squealing as the plastic pumpkins are filled to the brim.  On the other hand, I know we are playing with fire and possibly genetics.  I'm quite certain, one not both, of my kids is a blossoming sugar addict.
Right now about 6 pounds of candy is on a shelf above my desk sitting on top of a stack of old Oxygen Magazines.  I'm allowing them to have one piece per day after a meal.  They think I'm the Halloween Grinch and I think I'm trying to be a good mother.  My kids may think I'm about as awesome as a peanut taffy when it comes to candy but I make up for it by joining them in the costume fun.  Brent and I as Princess Leia and Han.  If you want to see more photos of our Halloween check out our family blog.

What do you do with the Halloween Candy?  If you have kids, how do you deal with all of it?  (Any advice is welcomed.)  Did you dress up?
Hugs and High Fives,
Jenn
If you enjoyed this post please Subscribe to the RSS Feed.
or
Sign up to have posts emailed to your inbox.
Pin It