Simple Sweet and Spicy Squash Soup
Like motivation, inspiration comes and goes. Sometimes, I go weeks eating the same thing day after day. Then suddenly, I'm inspired and spend the next 3 weeks experimenting and creating new recipes all crazy like Willie Wonka…but without the sugar…and the top hat.
Here is one of my newest recipes.  It's easy and healthy.  I'm all about ease and, most of the time, about nourishment.  Oh yeah and it's good.  So good, I almost forget it's healthy.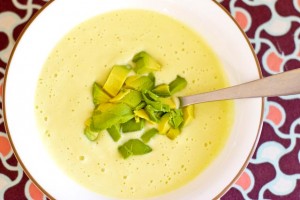 Sweet and Spicy Squash Soup
Yellow Squash, about 6 peeled and sliced squash
1/4 Onion, sliced
1 Garlic Clove, sliced
1 Jalapeño, I use a whole one b/c I like the kick but you can use less.
1/2 Cup Yogurt Cheese (Left over from making whey.)
1 Tbs Raw Honey
Sea Salt, to taste
Pepper, to taste,
Avocado, optional but recommended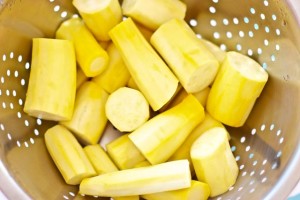 1. Boil the squash until it is  soft.
2. While the squash are boiling, sauté the onion and garlic in a bit of olive oil to bring out the flavor.
(I've skipped this step entirely when I'm in a time crunch or don't want to wash an extra dish. The soup still turned out.)
3. Put the jalapeño, yogurt cheese, honey, in a food processor.  Give it a full pulses.  Add the onions, garlic, and squash*.  Sprinkle in salt and pepper to taste.  Blend until smooth and creamy.  Add some of the water you cooked the squash in if it's too thick for your liking.
4. Top with avocado
*I use a slotted spoon to transfer the squash from the boiling water directly to the food processor.  By doing this the soup is hot and ready to eat right away.  Plus there is one less pan to wash.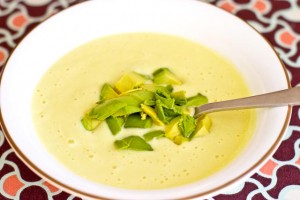 That's it.
Simple dimple.
Hugs and High Fives,
Jenn
This post was shared The Nourishing Gourmet's Pennywise Platter!
If you enjoyed this post please Subscribe to the RSS Feed.
Sign up to have posts emailed to your inbox.
Pin It