Why Jillian? Why?
If Marie Claire is concerned about the influence of bloggers then they might want to go on a witch hunt for Jillian Michaels as the influence of the blogosphere  is but a drop in the bucket when compared to "America's Toughest Trainer".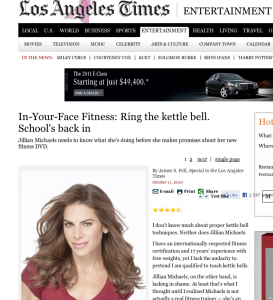 Yesterday, twitter was abuzz with kettlebell enthusiasts tweeting and retweeting the  LA Times article In-Your-Face Fitness: Ring the kettlle bell.  School's back in.
I don't have a problem with Jillian doing a kettlebell DVD.  Kettlebells rock and the more swingers the better!  But teaching hundreds of thousands how to use kettlebells the wrong way?  Hmm…not cool.   Kettlebells are amazing, fun, cool fitness tools that offer a great bang for you buck when it comes to burning calories if used correctly.  In the article, Dr. Mark Cheng (who was a Team Leader at my RKC certification and a super nice guy) says, "Her technique is appalling. What she says in the video and what she demonstrates are two different things. She doesn't break things down into manageable pieces that prompt people to get the correct form, so instead she is enabling bad form… I would not recommend this from a safety perspective." Herein lies the problem with Jillain's dvd and dvds like it. These products give kettlebells a bad reputation when someone developes a preventable injury and then tells all their friends that kettlebells are dangerous.  Kettlebells are not dangerous when used correctly.
This is not the first time she has encouraged unsafe kettlebell form.
Jillian is right on about kettlebells being "explosive" "dynamic" and "fun" while giving a "cardio and strength training workout".  I'd also like to say no one is perfect.  I'm not claiming to have a perfect swing but I have spent the last year training under a RKC senior kettlebell instructor and I believe so much in the benefits of kettlebell training that I went through the RKC certification myself.  So in the interest of kettlebells and my readers, I feel it important to point out some obvious mistakes.
She's wearing "cushy" shoes.  Kettlebells are best done barefoot or wearing hard soled shoes like Chuck Taylors for stability reasons.
Her heels come up off the ground.  (Probably b/c of the cushy shoes.)
She is looking up on her backswings compressing her cervical spine (neck).  The entire spine (including the neck) should stay neutral, as if you have a stick setting on your back from your tailbone to head.
She is not "loading her hamstring and glutes" nearly enough and there is very little "drive".  In other words, she is using her upper body too much to lift the kettlebell instead of her hips.  She needs more "hinge", more backswing, less squat, and more drive (hip thrust) while keeping a neutral spine.
Later in the video she does a "hero swing".  This is certainly not for beginners even when being taught by a certified kettlebell instructor.  For most people, there will not be a need to swing the kettlebell higher than chest level as swinging higher than chest level can increase the risk of  injury for the beginner.
Then, the worst part at 2:14, she fully flexes her spine (bends forward) while swinging the bell between her legs.  If that is not an injury waiting to happen, I don't know what is.  Eeeek!
What I don't understand is why didn't Jillian get a qualified teacher to teach her proper technique before making a video?  I'm sure money wasn't the issue.  Just baffling.
Anyway, here is a video of a well executed swing.  I'm sure you can see the difference. Why can't Jillian?
Even if kettlebells aren't your thing the LA Times article is worth the read because the author also addresses her "Lose Up To 5 Pounds" a week claim.  It's rather amusing but it's not. Really it's not.  It's irresponsible.  Yes, kettlebells can provide and excellent calorie burn when used correctly but as the article points out losing up to 5 pounds a week is nothing more than misleading marketing.
If you want to learn how to use kettlebells safely and effectively, I'd encourage you to look for an RKC in your area or get a book or DVD published by Dragon Door. (Check Amazon for price comparisons.)
I try hard not to be critical person. I'll admit it takes effort especially when I read things like Tracey Anderson telling women to never lift more than three pounds or Jillian's lawsuits over supplements. Still as much as I disagree with their philosophies or wish they would be more responsible, I do think they are ultimately doing more good than harm.  I think.  I hope.
Hugs and High Fives,
Jenn
If you enjoyed this post please Subscribe to the RSS Feed.
Sign up to have posts emailed to your inbox.
Pin It