Oooops I ripped my
hand.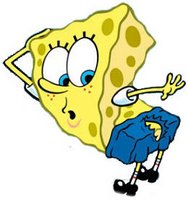 Does anyone else find that SpongeBob episode hilarious?  Anyone?  Anyone?  I bet this girl does.
Unlike Sponge Bob things aren't so funny right now in my life.
I have two days until the Russian Kettlebell Challenge and the scale has been erratic.  Up and down.  Up and down.  My body is bi-polar.  (Oh wait, maybe I'm just a girl with hormones.)  I even borrowed my neighbor's scale to compare it to mine.  I weighed in 2 pounds heavier.  Sigh.  It looks like I'm going to have to do the snatch test with the 35lb but I guess I already knew that.
What I didn't know was that using chalk would tear my hand.  Yesterday, I thought I'd go against my better judgement try one more practice snatch test.  This time using chalk.  I never use chalk.  Fifty some reps into it I felt a "pop" in my right hand.  I looked down and saw this.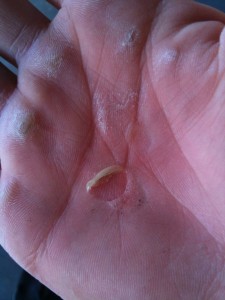 Nice.
Sorry about the lovely photo.  This is not typical.  Callouses are a part of kettlebelling but tearing them doesn't have to be with proper hand care.
The added friction from the chalk caused a callous to tear.  After cutting all the loose skin away it is about the size of a dime.  It hurts.  Today, Brent grabbed my hand while we were on a walk and I winced.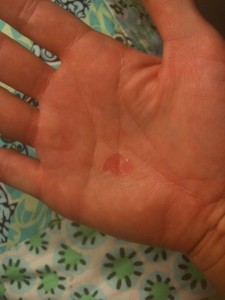 The snatch test is going to be really fun now.  Yippee.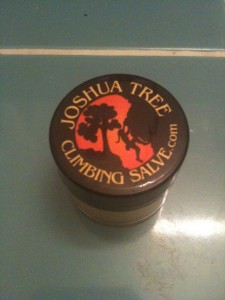 I've been putting Joshua Tree Climbing Salve on it and praying and crying.  A lot.
I think I have PMS.
I actually spent the entire morning crying after reading the schedule for this upcoming weekend.  In the schedule, we are to be "ordered" by our team leaders (seriously that is how it's worded) to take three kettlebells out to the field. A kettlebell one size smaller than the one we use for the snatch test and another one size bigger which for me will be 44lbs.   I don't own a kettlebell heavier than the 35lb. Doug, my instructor, assured me that I'm stronger than I think. We'll see.
The good news is that I'm done feeling sorry for myself and I'm done doubting myself.  This tear in my hand is a result of self-doubt.  I had already passed the test with the 35lb bell.  It was hell hurt but I passed.  I refused to believe in myself and wanted to keep "making sure".  Now my hand is ripped before the challenge.  (In case, your wondering you're not allowed to wear gloves or anything for the test.  You can see all the rules here.)
It is what it is.
I could drive myself nuts saying "if only".  If only I would have been more strict with my food I would weigh less.  If only I wouldn't have used chalk.  If only….
Useless.  Moving forward.  Because that's all we can do when we make less than optimal choices.  Move forward and do the best we can.  Guilt is useless.  Dwelling on the past is useless. Unforgiveness is toxic.
Moving forward is not.
Moving on.
I've missed you guys!  My sister and her daughter came to visit and I was enjoying their company so much I didn't have time to blog. Life always comes first.  I'm sure you understand.  I'll be catching up with you guys this week.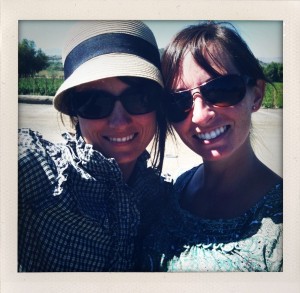 (I'm not always a beast.  See I wear cute hats and ruffles.)
😉
Hugs and High Fives,
Jenn
If you enjoyed this post please Subscribe to the RSS Feed.
Sign up to have posts emailed to your inbox
Pin It