RC (Reduced Calorie) Chili Relleno Casserole
I love Mexican food.  LOVE Mexican food.  Out of all the cheesy spicy goodness to choose from, one of my favorite dishes is Chile Relleno.  A friend gave me a recipe for a chile relleno casserole that uses 2 pounds, TWO POUNDS, of cheese as well as numerous whole eggs, and condensed milk. On occasion, it is worth every bite. However for regular consumption I needed something a little less calorie dense.  Enter my RC (reduced calorie) Chile Relleno Casserole.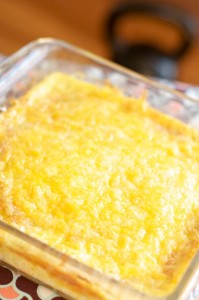 (Like the kettlebell in the background?)
RC (Reduced Calorie) Chile Relleno Casserole
8 egg whites
2 whole eggs
1.5 cups cottage cheese
7 oz can diced green chilis
1/2 cup shredded Mexican cheese
Another 1/2 cup shredded Mexican cheese (optional)
1 tbs butter (melted)
pinch of cumin
sea salt (I use about a tsp)
favorite salsa
Preheat oven to 350. Beat the eggs together.
Stir in the rest of the ingredients and pour into a greased square baking dish.
Bake for about 40 minutes.
Optional: Top with an extra 1/2 cup of cheese 5 minutes b4 casserole is done.
(I usually don't add the extra cheese and I still love it.)
Top with you favorite salsa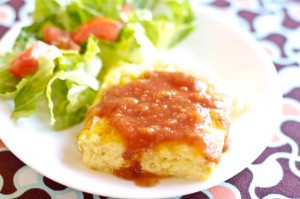 I came across some cool giveaways you should know about too!
The darling, Girl Hero Janetha, is celebrating her blog Meals and Moves one year anniversary.
Check out the loot she is giving away to celebrate.
The adorable Sami at Freckled Foodie is having a giveaway too!!!
Check out the reusable snack/lunch bags by snackTAXIs!!
Hugs and High Fives,
Jenn
If you enjoyed this this post please Subscribe to the RSS Feed.
Sign up for up to have posts emailed to your inbox.
Pin It