Living Room Workout
My cat, Sunny (who I affectionately call Meow Cow), and I watched  the cold rain fall all morning.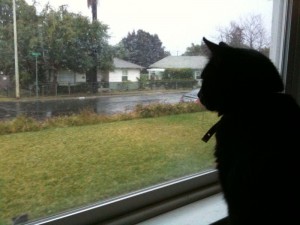 While it was cozy inside, it was too cold and wet to exercise outside.  In fact, I didn't even want to cross the lawn to my garage.  Don't judge.  

  So, I took a living room workout day.
Living Room Workout
Push Ups – 10
Right Side Plank – 30 Seconds
Squats – 20
Push Ups – 10
Left Side Plank – 30 Seconds
Squats  – 20
Push Ups – 10
Plank – 30 seconds
Squats – 20
Perform all exercises back to back with no rest or as little as possible.  After the third set of squats stop and rest a minute or two then repeat the sequence 2 or more times.
Simple, basic, and adjustable to all fitness levels.
A Few Variations
(Assuming form is good.)
Push ups – Too difficult? Do them on your knees or decrease reps.  Too easy?  Increase reps, plyo push ups, put your feet on a ball, or one of the many difficult variations.
Side Plank/Plank – Increase or decrease time as needed.  Here's a video with a simpler variation.  You can also do a plank with your feet or hands on a ball.
Squats – Too difficult?  Decrease reps.  Too easy?  Try jump squats, hold something heavy, or increase reps.
It took me just over 15 minutes to cycle through 3 times and I was spent.  Meow Cow, on the other hand, laid on the chair and watched.  For him, just another day of  burning less calories than he consumes, hence the name, Meow Cow.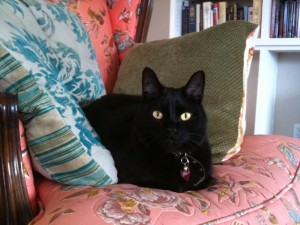 Hugs and High Fives,
Jenn
If you enjoyed this this post please Subscribe to the RSS Feed.
Sign up for up to have posts emailed to your inbox.
Pin It