Houdini Sprint Workout
Sprinting is good for you.  Or so I've read…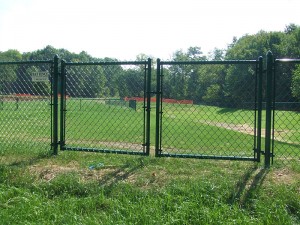 This weekend I decided to go to the local highschool track to get in a sprint workout in hopes of carving my log-like thighs into something more shapely like tubas.  I was disappointed to find the local track surrounded my 8 foot fences and locked.  So I drove to the local city college and found the same thing.  Luckily, I ran into one of the faculty and I asked what's the deal with all the locks and fences.  She explained "vandals".  Grrrrrrrrr.  I will refrain from ranting.  Anyway, more determined than ever to do my sprint workout I drove back to the highschool and drove along like MacGyver in my mini-van.  I came across a gate that I thought I could squeeze myself through.  I was right.  "Ha ha!", I grunted victoriously.  So I did my workout (see below), stretched, and exhausted I got up to leave.  I walked back to the gate where I had easily slipped through and look at the opening in the gate.  Hmmm…it looked smaller. I had fit through that?  I kneeled down and tried to squeeze through.  No luck.  Great.  I starting getting mad thinking someone tightened the chain while I was working out. Because it's couldn't have been my fault.  I quickly became sure someone was thinking "I'll teach that lady a lesson not to use the track when it's locked."  Humph.  I think not.  I held my breath and got one leg, my hips, and chest through but my head started to get stuck.  My defiance quickly turned to "oh crap".  I backed out again.  This was harder than pushing out a baby.  I thought about climbing the fence but my legs were so exhausted I didn't think I'd make it.  So I decided one last time to try and squeeze myself through the gate.  I got down really low (near the ground) and tested squeezing my head through, praying to God it wouldn't get stuck.  Sure enough if my head was two inches from the ground I could shimmy it through.  So I backed out and prepared for my escape.  Slowly, I squeezed one thigh through and then inhaled and shimmied my hips through.  My shoulders and other thigh followed.  Kneeling with my face practically scraping the ground I got my head through.  Then I looked back and  saw my cell phone was just out of arms reach on the other side of the fence.  Not really.  Ha!  But, lemme tell ya, that would have just been simply hysterical.  I stood up and looked around for someone hidden in the bushes laughing their fool head off at me.   For a moment, I even thought about twirling around with my middle fingers up in the air giving a general you-know just in case someone really did tighten the chain and was watching.  But then I decided that's not the kind of person I want to be so I let my Houdini move speak for itself.  
Anyway here is the workout I did and it was awesome.  (Yes I still say "awesome".)  My hamstrings are still sore.
Sprint Workout
1 lap (400 m) slow jog
4 laps sprinting the straight ways and walking the curves.  (In other words 100 m  sprint alternating with 100 m walks or thereabouts for a mile.)
1 lap (400 m) slow jog 
For fun I threw in 10 sets of bleachers.  
Stretch
If you don't have access to a track just go to a park and estimate.  I think this is what I'll do next time.
xoxo
j
Pin It