Banana Nut "Sundae"
Since giving up refined sugar, I'm always trying to find healthy alternatives for the things I miss most.  Last week, I was wishing I could have one small bowl of ice cream.  But I know myself and one small bowl would likely turn into one small quart.  Then another quart and another.  Instead of having ice cream, I threw together this "sundae".  Okay so it's not as good as real ice cream.  I won't even try to convince you or myself but it did satisfy my craving.  It's been over 15 months since I've had real ice cream so at this point I'm pretty easy to please. Nevertheless, this makes a quick yummy breakfast or a very packable snack.
Banana Nut "Sundae"
1 cup non-fat Greek yogurt (you can substitute cottage cheese if you don't mind the consistency)
1 small banana diced
1/8 cup of chopped raw walnuts (or pecans)
1 tbs agave nectar
Pile all the ingredients in a bowl.
340 calories, 40 grams of carbs, 26 grams protein, 10 grams of fat  (An extra bonus: 5 grams of fiber.)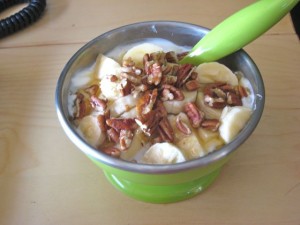 If you are in the beginning stages of trying to break a sugar addiction be careful because of the agave nectar and banana. This doesn't trigger more cravings for me anymore but it probably would have when I was going through "withdrawal". 
xoxo
j
Pin It