Zhena's Gypsy Tea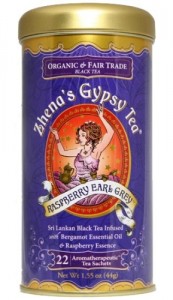 This is my favorite tea. It is so good. It does cost a bit more than other teas but it is well worth it if you are a tea lover. It also makes nice inexpensive gift for someone. My favorite flavor is the Raspberry Earl Grey. It's yummy plain but before I was on my competition diet, I'd put a bit of milk and honey in it and ooooooh a small taste of HEAVEN!
Another great thing about this tea is that it's local, if you live in Ventura. It comes from Ojai, which I consider local. Although Ojai people might cringe at me saying that!

In town, you can find it Lassens or The Vitamin Shoppe. And of course, it's available online.
Hugs and High Fives,
Jenn
If you enjoyed this post you can follow one of three ways! 1. Subscribe to the RSS Feed 2. "like" Girl Heroes on Facebook, or 3. Sign up to have posts emailed to your inbox. Simple dimple!
Check out our family's adventures at New School Nomads as we take a year long RV road trip through the United States!
Pin It