TRX Suspension Training Course Review
Recently (as in last weekend) despite the current craziness of getting ready to leave for a year long road trip, I attended the TRX suspension training course.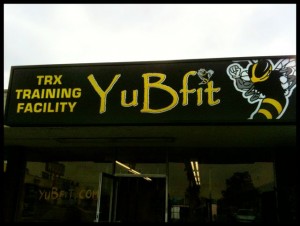 The TRX suspension training course was hosted at YuBfit in Huntington Beach.  It was taught by three TRX trainers, one who was a formal physical therapist.
Here is a recap of  the TRX suspension course objectives.
1. Understand the uniqueness and power of suspension training. – I didn't need any convincing.  Upon arriving at the course I noticed the slogan on the back of the instructor's shirts, "Make your body your machine."  Catchy right?  But get this…when I read that slogan I thought of it as a metaphor for the body being strong like a machine.  You know when you say, "You're a machine" when one of your friends has an amazing workout.  (Please tell me you say that too!)  I'm assuming TRX means that as well but during the course our instructor explained the slogan further.  She talked about how when people go to the gym they sit down on a machine and the machine is the workout or the machine provides the resistance.  However, with the TRX your body provides the resistance and your body literally replaces the machine.  So it it has a literally and metaphorically meaning.  Cool way to think of it, huh!
2. How to set up the TRX in any environment. – This will come in very handy on the road.  I think I've already found the perfect place to attach it to my rv.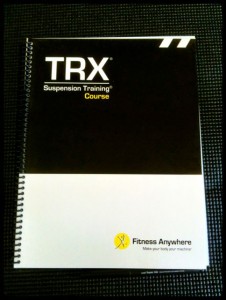 3. Become proficient in a wide range of exercises.  – This was my favorite part.  We practiced a lot of different exercises.  My arms were sore for almost 3 days afterwards but it was fun.  I'm super excited to add some new ones to my routines.  Each participant also got a very well put together manual with over 70 different exercises.
4. Know how to adjust resistance for any fitness level.  – I learned that although I'm fit it doesn't mean I'm always going to use the advanced progressions.  For some exercises the advanced progressions were easy and others I needed to use beginner or intermediate progressions.  This is one of the things I LOVE about suspension training.  It's easy to seamlessly change the difficulty.
5. Know how to lead participants through an efficient and effective workout. –  After listening to a lecture on program design we were split up into groups and we asked to design a program for a specific client.  Then we had to perform our programming choices in front of the class.  It was fun and not only did I learn by working with my group, I learned a great deal for the other groups.
Was the Course Worth the Money?
The class was what I would consider a medium sized class and there were 3 instructors for about 20 participants.  The head trainer, a former physical therapist, really knew her stuff.  I was impressed not only by her knowledge but by her speaking skills.
As a personal trainer, yes.  Continuing education is an important (and necessary) part of being a personal trainer.  Personally, I prefer to earn CEUs through hands on practice rather than reading and test taking.
If you aren't a fitness professional then the course would still have value but your money might be better spend on TRX classes or videos.  Two hundred and fifty dollars is quite a few videos or classes.  While not necessary, keep in mind you'll also get more out of the course if you understand the planes of motion and basic biomechanics.
Overall I'm glad I went.  The course was well thought out and organized.  I learned a lot and look forward to incorporating what I learned into my workouts.
Hugs and High Fives,
Jenn
Check out our family's adventures at New School Nomads as we plan to take a year long road trip through the United States!
If you enjoyed this post you can follow one of three ways! 1. Subscribe to the RSS Feed 2. "like" on Facebook, or 3. Sign up to have posts emailed to your inbox. Simple dimple!
Pin It