31 Days to a Better Body: Day 25 – Make Habits Not Rules
With the popularity of "intuitive eating" a lot of people scoff at food "rules".
I don't consider myself an intuitive eater.  Not that there is anything wrong with intuitive eating.  From what I know (which is only what I've read on blogs), "IE" seems like a healthy approach and many people swear by it.  Personally, I consider myself an informed eater and I'll confess I actually sort of like "rules".  *GASP*  I know.  In the world of "healthy living" blogs that's heresay.  But if you haven't noticed, I'm not the typical health blogger.  I don't eat soy or chia seeds, believe "heart healthy whole grain" cereals are a joke, I try to cook liver, and have yet to consider running a distance that's meant for cars.  "Yet to consider"… I've know to never say never.
While I may not mind food "rules", I don't follow rules. I have habits.  (Except when it comes to sugar…without a "rule" that would be my habit of choice.) A rule feels restrictive while a habit feels proactive.  Sort of like being "stubborn" verses being "determined".  My children are very determined creatures and my hope is someday their determination will serve them well.  😉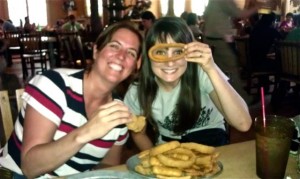 Sometimes, it's just a little shift in perspective that can mentally make all the difference.   When I choose to eat something outside of my food philosophy, I'm not "breaking a rule".  I'm simply choosing to eat something that is not a habit.  Nothing more.  If I order the grilled salmon with veggies in a restaurant it is because I'm practicing healthy habits.  It is not because "I can't" have the fettuccine alfredo because I can if I want.  Likewise, if I order onion rings it's because I'm choosing to eat something that is unhealthy because it taste good.  It's not a habit so it's no big deal.  It's not deprivation, it's a choice to practice what I've learned are healthy habits and it gives me not the food the power.
Note: Do not eat fried food at an amusement park no matter how "fun" it may be.  The above picture is from my trip to Magic Mountain last month and while it may look like fun and games, I ended up very sick in the bathroom. So much for the "magic".
Hugs and High Fives,
Jenn
Check out our family's adventures at New School Nomads as we plan to take a year long road trip through the United States!
If you enjoyed this post you can follow one of three ways! 1. Subscribe to the RSS Feed 2. "like" on Facebook, or 3. Sign up to have posts emailed to your inbox. Simple dimple!
Pin It