Girl Hero Danyelle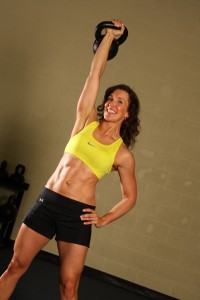 My motivation has been high this week all in thanks to Girl Hero Danyelle! Danyelle is a wife, mother, dedicated martial artist, RCK Level II instructor, and CSCS certified trainer. She co-owns the Baltimore Martial Arts Academy and Baltimore Kettlebells with her husband, Gary Berger. They have two young children.
Before getting into fitness, Danyelle worked as a financial analyst with Citigroup Smith Barney and spent several years after college living and working as a musician. She has a degree in performance from the Eastman School of Music, an MBA from Johns Hopkins University and a Masters Degree from Southern Methodist University in Dallas, TX.
You've had quite a journey! Did you ever dream you would end up doing what you are doing when you were pursuing a career in music?
I never would have guessed in a million years that I would one day be swinging balls of iron! But in hindsight, I see now that life is a journey and not a destination. I never say never anymore, because everything in life is constantly changing. I am grateful for my past experiences and focus every day on my present while being open to anything in my future. I can't wait to see what I am doing in ten years!
You mention the power of "responding rather than reacting in life and in sport". Can you elaborate on that and has that attitude helped you in every day life?
Unfortunately, I can't remember where I read about this so I can't give the author credit. I also hope I am even remembering it correctly. But basically, I read a Buddhist story about how there are three ways to respond to a problem or challenge whether it be positive or negative. First, you can let yourself be reactive and let your emotions (AKA your ego) fuel a knee jerk reaction. Or, you could choose to consciously and thoughtfully respond to the stimulus. Lastly, you could consciously choose not to respond at all in any way and simply let the problem or challenge just float on by you. This has made an enormous difference for me over the last several years! My life is often chaotic and stressful with two little kids and I used to find myself being helplessly carried away on a train of stress throughout the days, weeks, month, etc. This philosophy has helped me feel more grounded in the present moment and better able to step off the train and consciously decide what will affect me and what won't touch me. This is definitely a hard earned skill that I still have to practice everyday but it's been well worth the effort.
You have a black belt in Modern Kung-Fu and "credit a lot of your personal growth and happiness" to martial arts. That's very cool. Could you expand on that?
I met a very unusual guy, whom I later married, that got me into martial arts! Specifically, I started training with him in kickboxing. I was hooked instantly because I was encouraged to punch and kick things like heavy bags and focus mitts really hard! You name it, I got myself all riled up and punched it and kicked it as hard as I could over and over again. It felt great! It wasn't until I got into Kung-Fu and MMA classes that I actually had to face up against real live people instead of just bags and pads. My first thought was, what's the difference? I'll just come out punching and kicking as hard as I can, that should work great, right? Guess what happened? I was crushed, flattened to the floor and thrown on the cement. I had black eyes, bruises, and a busted eardrum. Obviously, my method of coming out in attack mode was not working. I learned from fighting people who were light years beyond me in experience, strength and ability. I observed their style. In most cases, they didn't "attack" their opponent; they waited patiently and let their opponent attack them. The winners stayed calm and quiet in their style and waited for their moment. They practiced restraint and tired their opponent out mentally and physically. It took many years of martial arts for me to begin to understand this. This relates to what I said earlier about responding versus reacting. When it comes to strength and success, the most powerful person is often the most patient person. When I started martial arts training I might have won the World's Most Impatient Person contest, but I work at it everyday and martial arts has enabled me to do this.
How and why did you get hooked on kettlebells?
My former trainer, Joe Sansalone, got me into kettlebells while I was pregnant with my second child, Tristan. We did Turkish get-ups, swings, snatches, and military presses. Shortly after having my son, I also lost my job as a financial analyst. No longer being pregnant nor employed allowed me to focus more on my training with Joe and together we decided to do the RKC Level I certification in June of 2009. My husband, Gary, and I also thought kettlebells would be a great addition to our martial arts school.
I must say, once I got to Minneapolis I was a little shell shocked! Thanks to Joe, I was highly prepared physically for what they put us through but I don't think either of us really expected the boot camp style of teaching they provide. After the first time we were "punished" with swings and told to lay face down in the dirt, I remember I thought to myself "I have a little baby at home, why am I one thousand miles away laying in the dirt with an iron ball next to my head? Why am I here? I must be insane!" But I soon saw that the strictness of instruction at Level I was for the good of us all and absolutely necessary to undo some of the differing styles people came in with to create a uniform RKC style of training. In the end I had an amazing experience, so much so, that I went back again!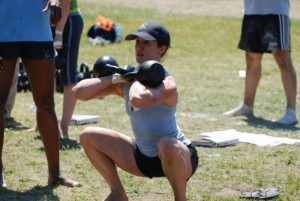 You have passed the RCK and just recently the RKC II. Congratulations!!!! What was the RKC II like? Any advice for those training for the RKC or RKC II?
Thanks, you know how relieved I am! The Level II certification was completely different than Level I in my opinion, yet both were great experiences that I will never forget. Level II focuses more on the subtleties of strength rather than the foundational moves of Level I. Also, the atmosphere of Level II was more relaxed than Level I which enabled me to forge real friendships with my teammates and instructors. I learned a ton while at Level II from the instructors and the fellow attendees.
RKC II for me was non-stop inspiration. When I say inspiration, I mean jaw-dropping fearless strength inside and out! I saw several women RKCs attempt and succeed at personal bests on the bent press and the military press. What these women were doing was definitely impressive but it was the WAY in which they did it which really blew me away. These women were beautiful, modest, strong, and most importantly, they were fearless! Several of them attempted lifts and weren't successful on the first try or even the second or third tries. Yet, they kept going back and trying it again and again. I aspire to have that attitude and I am so grateful to have seen it in action at RKC II.
My advice to anyone considering attending an RKC certification would be to be prepared mentally and physically. Train smart and own all the moves required of you. Make sure you can do your snatch test under any circumstances; tired, hot, outside, inside, hungry, full, etc. Have an RKC check out your form via YouTube or Skype. It's easy to do and I know there are many RKCs out there that would be happy to help. Meditate and learn to relax and control your nervousness if you're feeling it. Do everything you can to prepare yourself. Think of your preparation like money in your self-confidence bank. Go into it without fear and be open to learning and having many, many "ah-ha moments". It's an amazing life enriching experience that you will be glad you did!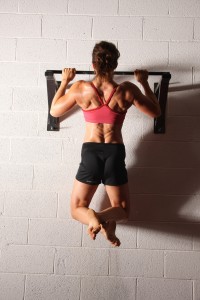 How do you stay motivated to keep training?
Training is like meditation to me. It's my time to forget about all the things on my to do list and internally focus on myself. I usually train alone or with a friend at our martial arts school during closed hours. This way, I don't have to deal with all the distractions that a public gym has. I clear my mind and recharge myself. I feel like training helps me come back home as a better wife and mother for this reason I rarely miss a workout.
I think you can't go wrong when you are motivated by how you feel rather than what the results of your workouts are. That's why I get so frustrated if I have a "bad" workout. It tells me that my priorities are not straight. Perhaps I am setting unrealistic goals for myself or I'm needlessly comparing myself to others. When I maintain my internal focus and I am able to clear my mind I leave my workout feeling rejuvenated and stronger rather than broken down and tired; regardless of whether or not I hit a personal best. After all, there is no point in doing it if it doesn't make me FEEL good.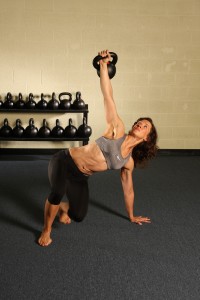 Do you follow a particular style of eating? What does a typical day of meals look like for you?
I informally follow Dr. John Berardi's Precision Nutrition plan the majority of the time. At the core of this program are ten rules of good nutrition. The biggies to me are to always include a lean protein at every meal, eat every 2-3 hours, include veggies in each meal, and to reserve non-fruit and vegetable carbohydrates for post workout. Also, I allow myself to cheat 10% of the time. So if I eat 6 meals a day for 7 days a week, I can cheat at about 4 or 5 meals and just eat what I want (within reason!). This is livable and that is the first and most important feature of any nutrition plan in my opinion. Otherwise you won't stick to it and it won't work. Typically, I stick to the perimeter of the grocery store and also hit up an organic farm for beef and poultry as well as my local produce stands as often as possible. The closer my food is to the earth, the better. So here is a typical day of eating for me:
Meal 1 (pre-workout): Nutrition shake made with tea (either Matcha Green tea or peppermint), whey protein, almond milk, greens+, creatine, and fish oil. I also treat myself to half a peanut butter and honey sandwich, my favorite!
Meal 2 (post-workout): Nutrition shake made with whey protein, almond milk, bananas, strawberries, or whatever fruit is available.
Meal 3 (Here is where I usually incorporate my non-fruit/veggie carbs) Homemade chicken salad on a whole wheat or spinach wrap with lettuce, tomato, cucumber, onion, garbanzo beans, greens, and walnuts.
Meal 4 Greek Yogurt with a handful of various berries, slivered almonds, and a drizzle of honey.
Meal 5 2 hard-boiled eggs and a scoop of natural nut butter (almond, peanut, pecan).
Meal 6 Broiled fish/chicken/beef or bison with a side of whatever vegetable happens to be in season.
However…..as I type this I am on vacation in Myrtle Beach and currently digesting my 3rd ice cream Sunday of the week and have been living on French fries and cheeseburgers almost exclusively. I consciously decided to take the rest of July off once I finished RKC II. At this point, I'm still enjoying the indulgences, but I am also noticing their lingering affects! I give myself a week or two off about twice a year and I come back more motivated to get on track and feel good again.
How do you balance family life, working, martial arts, and your training?
This is a hard one, because I'm really not sure I do balance it all very well. I am extremely lucky that I have a very supportive and understanding husband who helps me out in any way that he can. But I would have to say that overall planning ahead is the only thing that gets me by. For example, I plan our entire family menu at the beginning of the week. I train early in the morning before the kids get up three times per week and try very hard to get home right around the time they get up. I work at home during the afternoon and alternate 30-45 minutes of work with about the same amount of time focusing on the kids. In the evenings, we have a nanny who helps me out while I go to the martial arts school to teach, train, or just work in the office. Usually I don't get home until 8PM at the earliest, so it is really nice to just be able to consult my pre-planned menu and whip up something nutritious for dinner without having to put too much thought into it. Sometimes, I even do the dinner prep work before going into the school each evening. I always make my pre/post workout meals the night before once the kids go to sleep. I keep trying to think ahead to the next thing that needs to be accomplished to save time and try to stay ahead of the tide so to speak. Also, I'm a compulsive list maker; in fact I have been known to make a list of my lists!
Danyelle at 9 months pregnant and 9 months after giving birth.
Any advice for moms who are trying to lose the post baby weight?
It seems like most women want to lose fat and look more "toned" and then do the exact opposite things to accomplish this goal. Instead of doing high intensity intervals and weight training, they take walks or jogs at a steady pace and lift weights that weigh less than their purses! Unfortunately, you have to get out of your comfort zone to make a real difference in your body and get the results you are looking for. For instance, if you do intervals for 30 seconds on/30 seconds off on the treadmill, stair climber, bike, etc. those 30 seconds have better be so hard that you couldn't possibly do 31 seconds. So what if the first time you can only manage one or two 30 second intervals? Next, time, try for 3, then try for 4. You get the idea! Push yourself. Push yourself hard!
Women can do way more than they think they can. A few weeks ago I made a suggestion to three different ladies in my kettlebell class to strict military press the 12kg bell. Without fail, each one of them said something to the effect of: "No, I can't do that! No way, you're crazy!" Guess what happened? All three of them pressed it beautifully – FOR MULTIPLE REPS! This tells me they haven't been pushed hard enough. They were sticking to their 10kg bells because that was where they were comfortable. But building lean muscle tissue and losing fat is not comfortable, otherwise everyone would look like Jessica Biel!
Don't forget, your hard training won't make much difference if your nutrition stinks!
Do you have any specific goals you are training for right now?
I would really like to eventually get that RKC Iron Maiden title. This is the female version of the RKC Beast Tamer challenge (1 rep pistol squat, military press, and weighted pull-up all with the 24kg kettelbell). Right now I can do the squat, I can pull-up 20kg and I am sensing the 24kg press is right around the corner for me. I still have a lot of work to do though and I am determined to relax and enjoy the journey because eventually I will get there. The RKC ladies I saw in Minneapolis this year have showed me what is possible!
And just for fun! If you were going to name a song after your life what would you call it?
This is a tough one! My song would be titled "Dancing with Bulls". When I refer to "Bulls", what I am thinking of is not a giant angry animal trying to impale you to death. I am thinking of more of a cartoonish bull that is sweet tempered and harmless, yet clumsy, loud, messy, and maybe a tiny bit obnoxious. The biggest "Bulls" in my life have been my brothers, my husband, my sons, and biggest of all, me.
Thank you, Danyelle, for sharing your story. You are an inspiration!
Be sure to check out Danyelle's blog at Baltimore Kettlebells or if you're in the area maybe you want to give one of her classes a try!
Hugs and High Fives,
Jenn
Check out our family's adventures at New School Nomads as we plan to take a year long road trip through the United States!
If you enjoyed this post you can follow one of three ways! 1. Subscribe to the RSS Feed 2. "like" on Facebook, or 3. Sign up to have posts emailed to your inbox. Simple dimple!
Pin It