Girl Hero Jennifer
A few years ago, Jennifer was a smoker, barely making more than minimum wage despite being college educated, and was more than 50 pounds overweight.
But then….
Jennifer quit smoking, lost 50 pounds,  got a master's degree in counseling and psychology and became a therapist.
She recently got married and moved to New York with her husband. She made Lemonade from Life, the name of her blog.  Her blog recounts her journey of perseverance regarding her weight loss and her life "redesign".  It is a treasure box of motivation, honesty, and practical advice. I'm honored to share part of her story with you today!
Meet Girl Hero Jennifer!!!
What caused you to make your lifestyle change?  Was there a moment you just knew you had to change your habits?  Was it a major change?
I didn't have an "a-ha" moment like many other women who begin their weight loss journey. For me, it was a gradual realization that if I didn't change my habits, I'd spend the rest of my life feeling uncomfortable in my own skin. I think one reason weight loss is hard is because people focus on the short-term difficulty and forget that a few years of work and dedication towards changing a lifestyle is much less difficult than spending a lifetime being overweight and dealing with all the physical and emotional challenges that come with it. One thing to remember is that if you change nothing now, then a year from now you'll be at the same weight or even heavier. I just got to the point where the daily "treats" and time in front of the T.V. wasn't worth a lifetime of being overweight. I started with what I was willing to do – which was to reduce my calories and keep a food log on Sparkpeople and to walk for an hour and a half, five days a week.
I'm sure you had frustrations along the way.  How did you deal with the frustrations?
During my first few stabs at losing weight – I looked at the process as form of punishment. I was completely focused on the unfairness of it all. Like, why can Jackie eat fries and be skinny? My issue was not changing my routine – I did well with that. I actually loved planning a new change and then executing it. It was always the follow-through that I struggled with. I'd lose 25 pounds and then think that all of a sudden I'd be able to magically eat whatever I wanted again. So I'd fall back into old habits and regain the weight. I felt like I was always dieting, but never getting anywhere. I just keep losing and re-gaining the same 25 pounds. Once I changed my mind set, it was lack of progress reflected on the scale that was my biggest frustration.
You have a great story on your blog about when you were trying to lose weight for your upcoming wedding and your ring needing to be resized.  You say,  "…despite what the scale was saying, my hard work was paying off."  This is so true.  How do you feel about the scale?  I'd love to hear more about your story and perseverance despite the "uncooperative" scale.
The scale and I are not very close. I always find it amusing when people get frustrated when hitting a plateau. They're like "I lost two pounds every week for three months and now, nothing…I'm so depressed." During my process I would have loved to hit a plateau one week, because it would have meant the scale was actually reflecting weekly losses in the first place!
This is one reason I started my blog, because I know there are people out there who give up on weight loss because despite a tremendous amount of effort, they see no difference on the scale. This is absolutely the case for me. For some reason, my body handles weight loss strangely. I don't know if it's because of muscle weight or water weight or the way my system processes fat – I'm really quite ignorant about it. But after the first month – in which I lost eight pounds – my pattern was to lose nothing for months on end. Then every third month – boom – out of nowhere I'd lose five pounds. This was the case regardless of my eating/fitness routine. It stayed the same whether I ate 1,400 calories and walked for an hour and a half five days a week or ate 1,600 calories and did six to eight hours in the gym in the form of boot camps, weight training, running and elliptical. No matter what the effort or eating plan, this was my pattern.
I used to look at it like a curse – I mean I couldn't even modify my eating or exercise plan for maximum losses, because I had no idea what was or wasn't working. My body didn't react to the pizza I had or didn't have one week or the extra two hours or lack thereof in the gym that week. The scale didn't reflect a loss or gain on a weekly or even monthly basis. Luckily, I had my mother cheering me on. I visited my parents about once a month, and she could see the results even though the scale wasn't reflecting them. Her encouragement was enough to keep me going.
Now, I look at my situation with gratitude. Yes, there are times I still get frustrated with the scale. But I realize that my slow and quirky weight loss actually allowed me the time to change my lifestyle, not just my diet and exercise routine. Some people may roll their eyes at this term that every diet and fitness guru seems to throw around. But until you truly get what a lifestyle change means, you'll always just be on a "diet" and struggling with your weight. The good news is that it's a process. I didn't start out understanding what a lifestyle change was – I grew into the knowledge.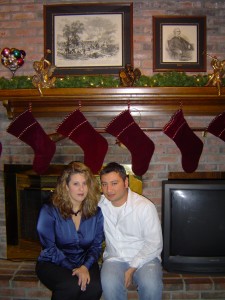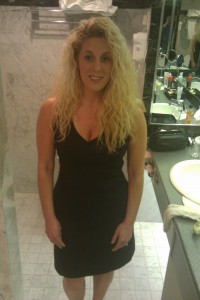 Do you like to exercise?  If so has it always been that way?  If not, how do keep motivated to keep working out?  What is your favorite form of exercise?
I loved it growing up. I was involved in gymnastics, ice skating and cheerleading. But after I gained the weight and had settled into a sedentary lifestyle, I hated exercising. But as my fitness level increased (which only happens if you keep challenging yourself) my love for exercise blossomed again. It feels good to get a great workout. I love boot camp style classes because of the challenge and the results. But to really integrate exercise into your life, it has to be something you enjoy. Forcing yourself to keep doing an activity you hate usually ends up in abandoning exercise altogether.
Motivation is a tricky beast – sometimes you have to chase it hard. Even though I thoroughly enjoy exercise now, this is still a challenge occasionally. I found that having new goals or challenges such as training for a 5K helps. I also love to use events like weddings and beach vacations as motivation. If an event is six months away and it's important to me, I can stay motivated the entire time.
Mainly, I love exercising for the benefits – inside and out. Now, if I don't exercise for a few days, my mood drops and my back starts to ache.
What is your "approach to food"?  In other words, what works for you to maintain your weight?
My approach to food is all about eating what you love – not cramming canned tuna down your throat for lunch three times a week! Some experts out there encourage people to think of food as fuel, and that's it. And if that works for you, that's great. But personally, I think that's denying what a big part of our culture food actually is. We grow up with food being the centerpiece for holidays and most celebrations. We never have Thanksgiving without a turkey or a birthday without cake.
I do try to eat as "clean" as possible by cutting out refined sugar and most packaged products. Most things in a box or a bottle aren't even real food by the standard definition! The key, for me, has been to modify my favorite dishes into healthier versions and to experiment with new and fresh foods. I honestly don't feel deprived, because I love what I eat. I also allow myself a weekly splurge – whether it's a dinner with my husband or a girl's night out. I think if you never have a cupcake or glass of wine – you're not really living. If more than 80% of your choices are healthy ones – then you'll maintain your weight loss.
Education is also key. And I still research so I can have what I crave once in awhile, but do minimal damage. I love pancakes and French toast, but the 2,494 calories in Cheesecake Factory's French toast with a side of bacon isn't worth gaining almost a pound over! Instead I'd choose Perkins platter of 3 pancakes for 423 calories plus an extra 200 calories for syrup. I mean 623 calories for breakfast is still steep – but it's no comparison to 2,494! If you're smart you can have your pancakes and your weight loss, too.
You used to be a smoker but you quit! Congratulations!  Can you share some about that experience?  How did you quit?
Thanks! Yes, I smoked for 14 years. I told myself that I'd quit smoking by age 30. It seemed to me that if I was still smoking at that age, then I'd be a life-long smoker. And the thought of dealing with lung cancer or emphysema was frightening to me. Well, 30 came and went. All of a sudden, I was 32. I knew I had to do something.
I'd tried cutting down before, but that hadn't worked. Meanwhile, I was pursuing my master's degree in counseling and psychology. I was learning valuable tools and about how powerful our thought-processes are. I also learned that doing the same thing over and over and expecting different results is the definition of insanity. I harnessed my power and quit cold turkey by changing my thought process from "I can't imagine not smoking" and "smoking just one won't hurt" to giving myself no option. I literally stopped smoking by telling myself it wasn't a choice. There was no "if" involved. If you leave that door open, sooner or later, you'll walk through it. People might think I'm over simplifying when they ask me how I quit and I say "I stopped buying cigarettes." But really, it's as simple as choosing not to buy them, not putting them between your fingers and not lighting them up.
I've been a non-smoker for five years now. The biggest key to overcoming a bad habit is believing that you can. If I had believed the hype about it being impossible to quit (which is really saying I'm not strong enough to quit) then I wouldn't have been able to do any of what I've done. Another key to success is not believing that because you've tried something a few times – like weight loss or quitting a habit – and haven't been successful that it means you've failed. It just means you haven't found what works for you. One of my favorite quotes is "I haven't failed, I found 10,000 ways that don't work" by Thomas Edison.
You have already achieved so many goals!  What are your current goals? Any goal setting advice?
My new goal is to take what I've learned to help others create the life they want. I'm combining my backgrounds in journalism and psychology to write a book on attaining happiness. I feel like I have secrets to share!
Goal setting advice – now that's a big question! I actually did a five-part series on Achieving Unrealistic Dreams because during my journey to redesign my life, people told me it was unrealistic. I personally believe that if you can dream it, you can do it. The only person that limits you, is you!
Is her optimism not contagious!!!
Jennifer, thank you so much for sharing your story.  You are most definitely a Girl Hero!
If you haven't checked out Jennifer's blog yet.  Go now! It is chock full of encouragement and motivation!  I especially love her 5 Step series documenting her weight loss.
Hugs and High Fives,
Jenn
If you enjoyed this post please Subscribe to the RSS Feed.
or
Sign up to have posts emailed to your inbox.
Pin It