Girl on the Go
And she is on her way to a nervous breakdown.  Kidding.  Sort of.
Between traveling, getting sick, moving, preparing our rental, taekwondo tournaments and normal and not so normal life stuff like going to the grocery or vacuuming, (we may or may not have just vacuumed for the first time since we moved a month ago)  I feel like I've lost my groove.  Lost any sort of semblance to a routine.  Lost most of my motivation.  Lost any sanity (assuming I ever had it).
This past weekend, was our first much needed weekend to relax a bit.  Life has been a whirlwind and it was nice to land back in Kansas California. That's not to say I didn't have a wonderful time in Vegas. In fact, it couldn't have been better.  My grandparents, Cirque Du Soleil's KÃ , Eric Clapton, a king size bed, wonderful meals, Brent, the boys, and a landing a jump kick to someone's head made it a memorable weekend indeed.
I ended up with a first place in forms and a third place in sparring.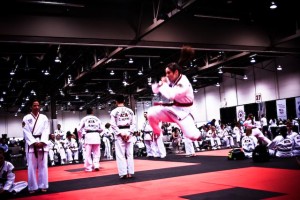 Caught in the middle of a jump front kick.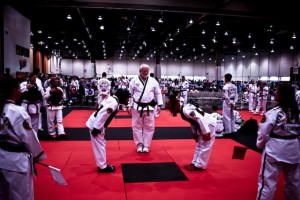 Showing respect.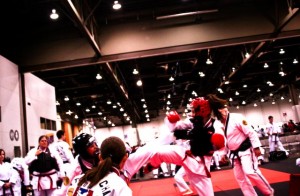 This was from my first match.   She fell  and I had to take a knee.  While I was kneeling, I glanced over at the score.  It was 2 (me) to 4 (her).  One more point and she would win and I'd be out of the competition completely.   I also knew that there was only about 15 seconds or so left so which meant I had to kick her in the head for 2 points to tie and go to "sudden death" or jump kick her to the head for 3 points. I made up my mind to try and land a jump kick to her head .  It was the only way I could win.  Never mind, that I had never landed one in class much less at a tournament but I thought what the heck!  Why not try?  At worst, I'm going to miss and she'll win.  At this point ,she was winning anyway.
We shook hands and then the judge called "spar!"  A few seconds later, I felt my foot hit her head at the top of my jump!  I was shocked!  I guess the practicing in the garage paid off.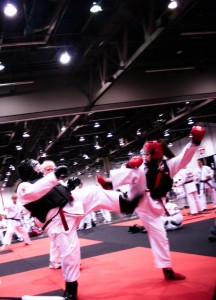 A different match.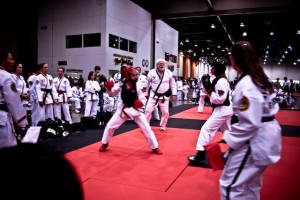 The match I lost…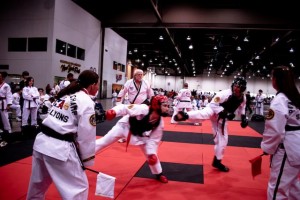 …and I wonder why.  Giving her my head to kick???  Geez.
I started off good and was up 3 (me) to 0 (her) but then she scored a kick to my head for 2 points followed by a kick to the chest for 1 point tying the score.  Then, she got two more points winning the match. It wouldn't be honest to say I didn't care but I will say winning isn't the reason I do taekwondo.  I do it for fun…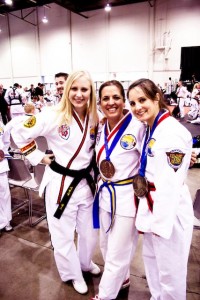 …and friends!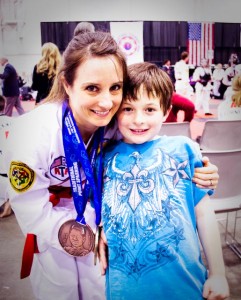 …and to be with my kids!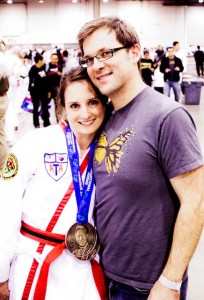 …and to be with my love!
(The kids and Brent decided not to compete this weekend.)
Oh yeah…remember how I mentioned wearing yoga pants on the strip???  What could be better than yoga pants?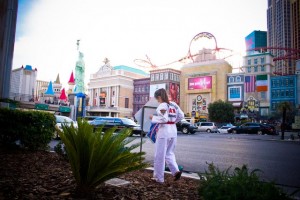 My dobok!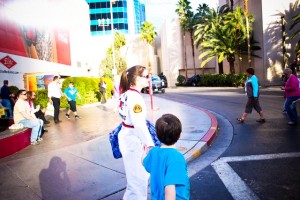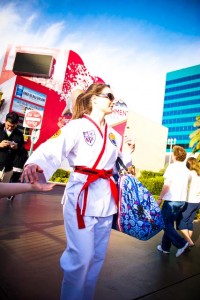 I'm sure Vegas has seen stranger things.
(P.S. I updated my other blog if you want to see more pictures of our trip.)
Hugs and High Fives,
Jenn
If you enjoyed this post please Subscribe to the RSS Feed.
or
Sign up to have posts emailed to your inbox.
Pin It