The 20 Calorie Chocolate Fix
Sometimes I'm shameless.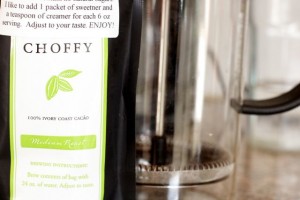 Not long ago I was procrastinating, wasting time, researching when I came across a review of a drink called Choffy.  What caught my eye (besides thinking that would be a cute name for a cat) was "brewed chocolate".  As you may or may not know I quit eating refined sugar over 3 years ago and  in that time I have not had any chocolate except for the one time I made it myself sweetened with honey.  During this time chocolate and Twizzlers is the one thing I have really missed.  Over time, I grew to love my coffee thick and black and often I would tell Brent that it tasted like dark liquid chocolate even though it was coffee.  Then I saw Choffy.  (Is that not the most fun word to say!)
Back to being shameless.
Immediately upon finishing the review, I went directly to the Choffy site and emailed asking for some to try.  I even played the "I'm a blogger and will review it" card.  This was the first and only time I have done this to date but I'm sure it will not be my last.  Told you.  Shameless.  I'm so glad I did because not only did I get a free sample of Choffy I exchanged quite a few friendly emails with the one of the direct distributors who happens to workout with kettlebells too.
Well what exactly is Choffy you asked?
Choffy is 100% organic roasted and ground cacao (cocoa) beans.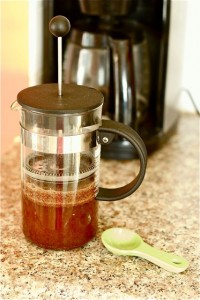 How do you brew it?
In a coffee pot or in a French press.  I used the French press.
What does Choffy taste like?
It's similar to hot chocolate but stronger and unsweetened.  I tried it with black and I tried it with a few drops of vanilla stevia.  Yum!
The nice thing about Choffy was that it didn't make me anxious even after 2 cups!  According to the Choffy site, that is a result of the Theobromine in the beans.  The site states that Theobromine is a gentle stimulant that increases circulation but does not negatively affect the central nervous system.  It also explains the high concentration of anti-oxidants.
Overall, I really enjoyed the flavor.  It certainly gave me a chocolate fix without all the extra calories. Of course, I loved reading about all the health benefits.  Unfortunately, due to the cost I'm not certain we would be able to make it a regular staple in our kitchen but if you love coffee and chocolate it's certainly something you'll want to try!
In other going ons, I'm going to Vegas again for another taekwondo tournament.  I hadn't' been to Vegas since my 21st birthday when I partied it up with my grandma and grandpa.  True.  I spent my 21st birthday with my grandparents.  It was the first of two times I have  ever gambled (the second time was with my other grandma a few Christmases ago) and I hit a jackpot minutes after turning 21 winning $2500.  A "present" that I promptly invested into the stock market.  I was a crazy 21 year old huh?  Anway, I've been trying to pack all night long.  The problem I have a closet full of cute clothes but only wear the frumpy sweat pants so I may end up walking down the strip in a pair of worn out yoga pants.  Remember what happens in Vegas stays in Vegas so if I end up going out in sweats I'm not telling! I'm not going for the strip anyway.  I'm going to kick some heads. 😉 This is my biggest tournament of the season.  The others have been regionals and this is a national.  I pretty much know who will be there from my region but the other regions?  No clue!  Should be fun!  Wish me luck!!
Do you like coffee?  Have you tried Choffy?  How do you feel about Vegas?
Hugs and High Fives,
Jenn
If you enjoyed this post please Subscribe to the RSS Feed.
or
Sign up to have posts emailed to your inbox.
Disclaimer: In case, you missed it a sample size Choffy was provided to me for free because I had the guts to ask for a sample to try.
Pin It