New Horizons
Two nights ago, I cried myself to sleep.
It's been a long time since I've woke up with a pounding headache and swollen eyes.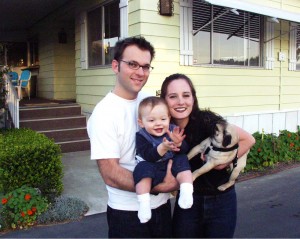 Eleven years ago, my parents helped us buy a mobile home in a nice mobile home park.  Previously, we had been living in a super small one bedroom apartment with a toddler and the apartment was shrinking by the day.  Taking into account the high housing prices in Southern California, our young newly married couple income, and my desire to be a stay at home mom, a mobile home was the best option for us.  Still, we couldn't even afford that at the time so my parents helped us out.  I remember the day we moved in. I felt like a princess in a palace.  (I'd be a low maintenance princess for sure.)
A year later, with more help from both of our parents we were able to buy a an overpriced DUMP (Thank you California.) fixer upper house.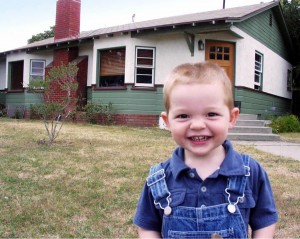 Our freshly painted house and Thing 1.
My parent's kept the mobile home to have a place to "crash" when they would visit.  It worked out beautifully and many many memories were created at the "Crash Pad".  ]
This month, we are moving back to the "Crash Pad", 10 years later.  The reasons for our move are a mixed batter of excitement and sadness.  We are moving to save up for an exciting adventure that lies ahead this year.  We are also moving because this economic mess has left some wounds that haven't yet healed.
My dad and "The Bus".  Yeah, my dad's rad!
Two nights ago, my crazy parents stuffed to the point of being ridiculous packed up their old VW Bus and attached it to the back of a should be illegal very full pick up and drove off.  They looked like gypsies.  They were off to start a new adventure and one that, unfortunately, includes my mom's radiation treatments for cancer.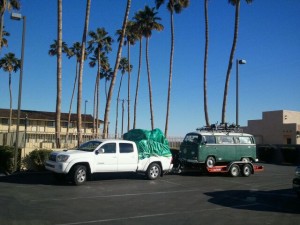 Every time I walk into the empty Crash Pad, my stomach turns, throat tightens, and I have trouble breathing.  I hate the empty rooms.  I miss seeing my parent's stuff.  (I can't even imagine what it's like to really lose someone.  My parent's are just across the country and, yet, I feel like I've lost so much.) My memory floods and I see Thing 1 running around as a toddler.  Unfortunately, I also see our glittery red shag curtains and turquoise polka dotted pillows.  I remember sitting in the living room in devastation the morning of September 11th.  Everything, down to the overgrown bougenvilla, reminds me of the passing of time and that things change.
Change is not always easy but sometimes necessary.
Over three years ago, I was depressed, overweight, out of shape, and addicted to sugar.
Was overcoming my sugar addiction easy?  No, but it was necessary.
Was getting fit easy?  No, but it was necessary.
Was was losing weight easy?  No, but it was necessary.
Was facing my depression easy?  No, but it was necessary.
All these things were necessary if I wanted to breath deep and suck life down into every crevice of my lungs.
I did.
I still do.
Who knows what lies beyond the first steps of trepidation towards change?  I'm betting on new horizons that are bursting with more color and life than the ones before.
Hugs and High Fives,
Jenn
If you enjoyed this post please Subscribe to the RSS Feed.
or
Sign up to have posts emailed to your inbox.
Pin It