Fluffy Friday: Flight PG-13
"Ladies and gentlemen, as we start our descent, please make sure your seat backs and tray tables are in their full upright position. Make sure your seat belt is securely fastened…"
I listened to the pilot's voice over the intercom and double checked my seatbelt even though I hadn't unbuckled it once the entire duration of the flight from Texas to California.  Not even with an empty seat next to me where I lied to myself saying I was comfortable curled up with my son for a little inflight nap.  You never know when when turbulence might hit turning us into human popcorn in the cabin.  I started to shut my eyes when I noticed a girl with Crayola red hair, wearing a white tank top and a rosary reminiscent of Maddona's "Like a Virgin" days, walk down the aisle.  She looked a little out of it but still….didn't she hear the captain?  We are starting our descent.  I wanted to stand up and frantically tap to the glowing seatbelt sign.
Crayola disappeared into the bathroom as we were getting ready to land.  Why didn't the flight attendant stop her?   I waited and watched the lights of Burbank grow brighter thinking about Crayola the entire time.  She was still in the bathroom.  I kept turning my head to see if the little light above the door has switched from red to green.  Why is she still in there?  What if there is turbulence?  Does she know we are about to land?  What if it's a bumpy landing?  Does she have diarrhea?  Will she fall off the toilet?  Is she sitting on the toilet? Doesn't she know we are about TO LAND!!!  I sat in my seat worrying about her in the bathroom.  Then I began to worry about why I was so worried about her.  Finally,  Crayola emerged from the bathroom.
Without her shirt.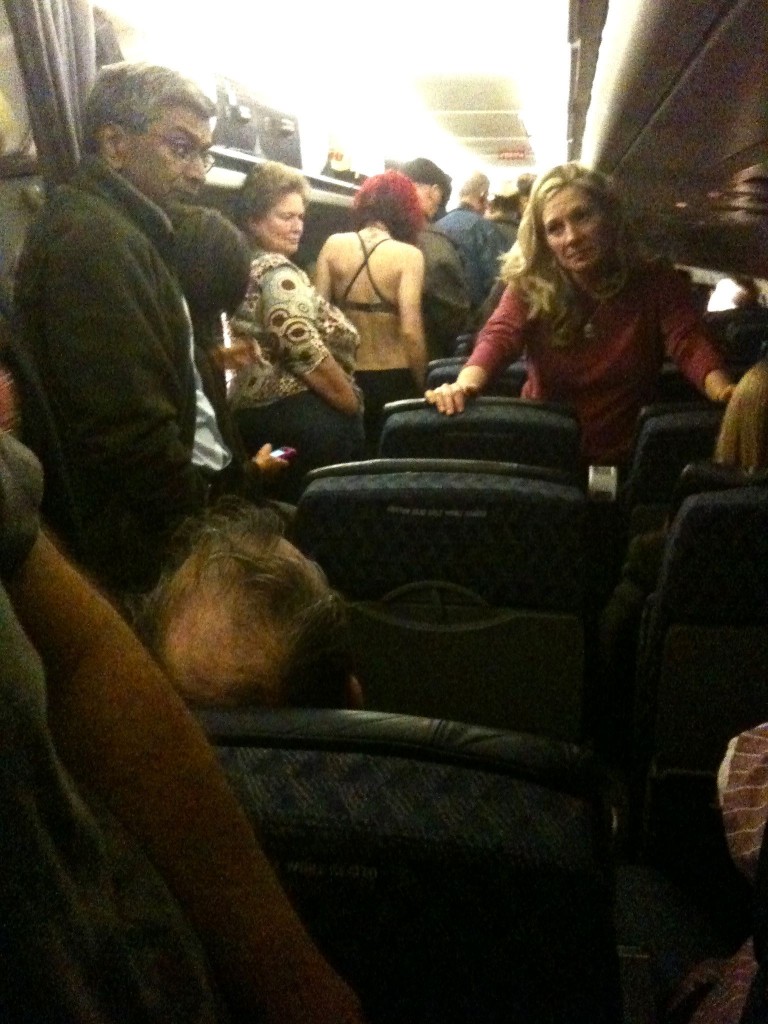 Crayola slowly stumbled to her seat wearing a leopard print bra with her white tank top wadded in her hand.  Passengers looked at her shocked and then quickly turned their heads. According to the flight attendant, she had puked on herself after drinking too much and apparently didn't want to wear a soiled shirt.
My first thought was shock.  What are my kids thinking?  This flight is supposed to be G-rated.  My second thought was, "Where did she get that cute leopard print bra?"   My thoughts were interrupted by the rush of the wheels hitting the ground and a sudden lurch as the pilot slammed on the breaks.  (Can you slam on the breaks of an airplane?)  I forgot about Crayola and prepared to die.  Then the plane stopped and I realized I was still alive along with Crayola and the other passengers.  (The flight attendant told me later that the landing was "rough" landing and the pilot must have overestimated the short runway.)
I looked up and saw Crayola standing in the middle of the aisle.  The surrounding passengers except the creepy one with the camera phone turned their heads either uncomfortable or trying to give her some privacy.
Since we were in the back of the plane we were the last to exit.  Well, almost last.  As we walked off, I saw Crayola huddled in the front row with a flight attendant who had given her a sweater.  Then, I began to worry about how she was going to get home.
Welcome to LA.
What do you think of Crayola's choice to disrobe on the airplane?   Lacks class or an act of courage?  A sign of confidence or lack of self respect?  Would it have been different if she had been a man?  What would you have done if you had puked all over yourself on the plane?  What's the oddest thing you've ever seen on a flight?  What do you think about taking pictures of strangers and then posting them on the internet?
Hugs and High Fives,
Jenn
If you enjoyed this post please Subscribe to the RSS Feed.
or
Sign up to have posts emailed to your inbox.
Pin It