Fusion Fun and Giveaway!
This is a sponsored review by BlogHer and V8 V-Fusion + Tea.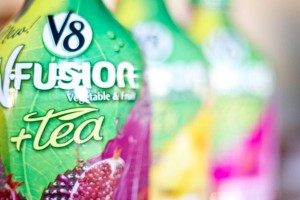 When I was offered the opportunity to review the New V8 V-Fusion + Tea I was reluctant.  Isn't V8 tomato juice?  The only time I have ever drank tomato juice was when I would fly by myself in high school.  It made me feel grown up, like I was a sophisticate drinking a bloody Mary as my converse sneakers tapped my backpack under the seat.  If V8 back then made me feel grown up then V8 Fusion makes me feel like a kid.  I almost want to put it in a sippy cup.  I guess that's what happens when you drink primarily water or plain green tea.  When you taste something new your taste buds go a little nuts.
I have reasons why my primary drinks are pretty boring. Yet, there are times when water or plain green tea won't suffice and I want something a bit more exciting but don't want to go for a soda.  This is where V8 V-Fusion + Tea comes in.  For me, it's a good alternative to soda when I'm stopping by a convenience store on a road trip or anytime I want that little "oomph" that water just doesn't provide.
What I liked
The flavors.  I tried the Raspberry + Green Tea, Pineapple Mango + Green Tea, and Pomegranate + Green Tea. All three flavors were good but my favorite was raspberry.  I'm very sensitive to any sort of "chemical" taste and while I could taste the sucralose, it wasn't overwhelming.
Only 50 calories per glass.  One of the reasons I drink more water than anything else is that I prefer to eat my calories but 50 calories per serving is certainly not going to throw me off track.
I won't kid myself and say it's like eating a plate full of fresh fruits and vegetables but I do like that it's not just "empty calories" like soda.
What I didn't like
It's sweetened with sucralose.  I'm just not a big fan of artificial sweeteners but every once in a while I don't have a problem with them especially when I otherwise enjoy the product.
While I liked the V8 V-Fusion + Tea on it's own, I also used it to give a smoothie a little "oomph".
Vanilla Berry Smoothie
1 Cup of V8 V-Fusion Raspberry + Green Tea
½ Cup of Plain Unsweetened Yogurt
1 Cup of Frozen Blueberries
¼ tsp of xanthan gum*
½ tsp of guar gum
few drops of vanilla
Put everything in a blender and blend until smooth.
*My good friend Deb introduced me to the wonders of gums.
Since California just decided it was summer in November, I also made a yummy pineapple mango popsicle on a chopstick.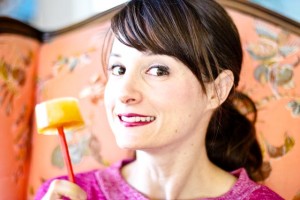 As part of the V8 V-Fusion + Tea review BlogHer is giving away one $100 Visa card to a Girl Hero reader!!!  To enter leave a comment.
For a second entry you can
– Tweet about this post with a link to it (and put your tweet URL in a separate comment below)
– Blog about this post with a link to it (and put your blog post URL in a separate comment below)
– Read the official rules for alternate form of entry.
Sweepstakes runs from 11/15 – 12/10 and is open to US Residents only.
Check out the roundup page to see what 9 other bloggers are saying about V8 V-Fusion + Tea and more chances to win!
Have you tried V8 V-Fusion + Tea?  What is your favorite drink?
Hugs and High Fives,
Jenn
If you enjoyed this post please Subscribe to the RSS Feed.
or
Sign up to have posts emailed to your inbox.
Disclaimer: For this review, I was given the product and compensated for my time. All opinions are my own.
Pin It