Feeding the Monster, Protein Style!
I have had mad cravings (along with roller coaster emotions)this past week and a half.   MAD. CRAVINGS.  The Monster of Present Monster Syndrome (PMS) is drooling at the mouth and ready to chew through anything that is not nailed down.  This is not normal.   Usually, once a month I have about 3-5 days where the peanut butter disappears 4x as fast but not a week and a half of non-stop cravings.  Somebody throw me a bag of Cheetos slay this beast.
So how perfect that my kid's new school* took a field trip to In-N-Out yesterday.  How perfect that yesterday I wrote about the benefits of the superfood, bee pollen, and today the simple pleasure of an occasional visit to In-N-Out.
Thing 1 and Thing 2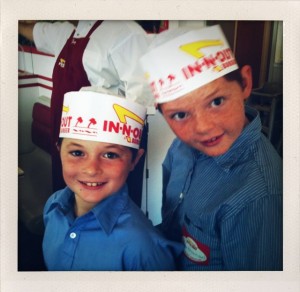 In the Potato Room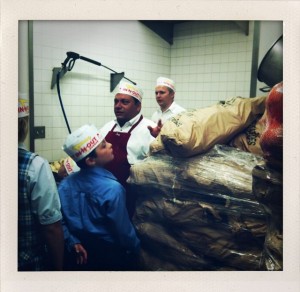 Checking out the onion slicer!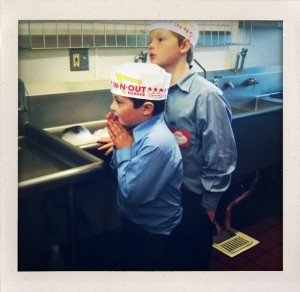 But the best part…getting to slice the potatoes.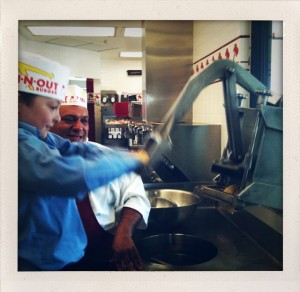 Ka-bam!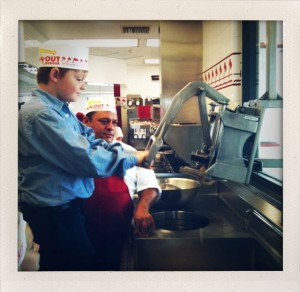 Feeding the monster, protein style.
(I don't even miss the special sauce.)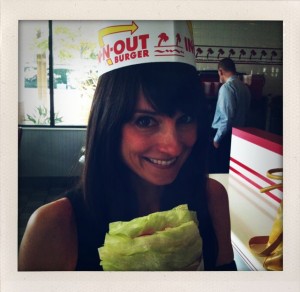 In-N-Out is certainly not health food but for a fast food company they treat their employees very well.  The manager had been there for 23 years and talked about how much he loved working for the company.  All the employees we met had been there for 5 or more years.  (Trying to find a bright side in the not so bright world of fast food.)
As some of you might have guess, my paleo challenge hasn't been going so well this past week and half.  I think I've been at about 75% paleo.   Oh well.  Unlike being refined sugar-free, I'm not sold on the paleo way of life so it's been hard to find the conviction power through the challenge.
Tomorrow we have another taekwondo tournament.  I'll let you know how it turns out next week.
Have a great weekend!!!
Hugs and High Fives,
Jenn
*As some of you know I homeschooled my boys all last year.  Two weeks ago we decided as a family that they would enroll in a small part-time school.  Now they are going to school 3 days a week and homeschooled 2 days a week.  It's working out really well!
If you enjoyed this post please Subscribe to the RSS Feed.
Sign up to have posts emailed to your inbox
Pin It